Passions: I'm being stalked by schlocky daytime TV movies - and I love it
Homicidal hubbies? Demented doubles? What could be more relaxing?
It's the natural fear all new parents have – that the nanny with the sterling references is biding her time until she can abduct your baby. Then there's the long-lost twin who wants to steal your life – figuratively and literally. Or the next door neighbour who simply won't accept a harmless bit of nookie means you're leaving your rich missus.
Evil babysitters, awful stepmothers. strangulating stalkers… yep, we're spending the afternoon watching schlocky US thrillers on Channel Five. Sure, you occasionally get a cosy Aurora Teagarden Mystery – said librarian's Real Murders Club members solve bloodless deaths and face "mild peril" – but more often than not it's crazed killers behind the drapes.
And I admit it, if I'm not slaving away at Scotsman Towers I'm likely slumped in front of the telly devouring Lifetime Original Movies or Hallmark Mysteries with a cuppa and a cream cracker.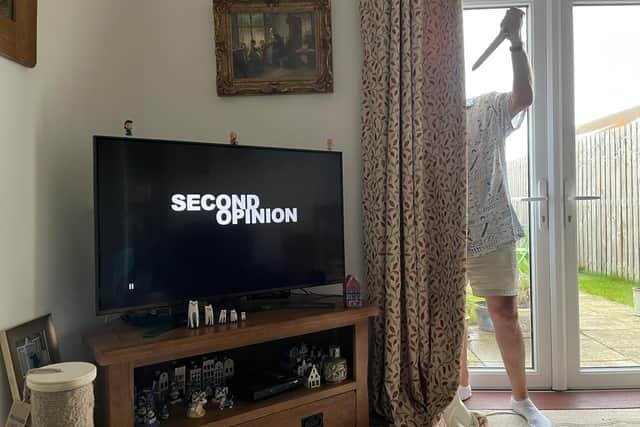 Thing is, while they're formulaic and derivative, that's pretty much 90 per cent of TV offerings. The question is, are you not entertained? And the answer, in my case, is yes, I am. Finish this piece then settle down for today's offering, which Radio Times tells me is Deadly Divorce Party but may show up under another title. That happens a lot with imported TV movies. I couldn't swear to it, but I suspect it's so you'll start watching something you've seen previously and, on noticing the familiarity, stay tuned because you're not quite sure if this is the one with the husband gaslighting the blind wife or the woman pretending to be blind to swindle her dim spouse.
Anyhoo, in Deadly Divorce Party, "recent divorcee Brittany falls for eligible singleton Jake, but her interest soon leads her into danger". Promising.
I don't deny these films, with titles like A View to Kill For, Deadly Prescription and Deadly Illusion (notice a theme?) are sub-Hitchcockian, but Alfred Hitchcock was the master of the genre; being less than a genius doesn't equal terrible.
If I've not convinced you, fear not – in a couple of weeks, Channel Five's afternoon diet turns to all Christmas films, all the time. Pull on your slippers, grab a hot chocolate and luxuriate in a snow-sodden world of cupcakes, coffee shops and cooking contests. Just don't turn your back on the nanny...
Comments
Want to join the conversation? Please or to comment on this article.