Why Scotland risks missing out on renewable energy 'gold rush' – Sian Lloyd-Rees
Countries such as Australia, the US, Vietnam, and South Korea are all seeking to capitalise on the potential of offshore wind. The UK needs to make changes to avoid being left behind
The UK is a leader in offshore wind energy and Scotland is in prime position to capitalise on the global 'gold rush' for renewable power. We are surrounded by seas boasting some of the best wind conditions in the world, while innovations in engineering across the sector have driven down costs.
This potential was highlighted by the ScotWind leasing round, with nearly £25 billion of investment and tens of thousands of highly-skilled green jobs promised.
At Mainstream Renewable Power, we've recently unveiled plans with Ocean Winds to partner on a second 500-megawatt (MW) ScotWind site east of Shetland. This will boost our planned Arven offshore wind farm's total capacity to 2.3 gigawatts (GW), providing enough green energy for almost two million homes.
Such rapid growth is essential if we are to meet the UK's ambitious net-zero and energy security goals. The global energy crisis sparked by Russia's invasion of Ukraine has rapidly accelerated the need for clean energy at an affordable price. But formidable challenges stand before us, posing a considerable risk of hindering pivotal projects that rely on a resilient supply chain.
This endangers our ability to keep pace in the offshore wind power gold rush, a worldwide endeavour currently underway with countries such as Australia, the US, Vietnam, and South Korea all seeking to capitalise on the potential of offshore wind. The UK must ensure it does not miss out.
Wind energy has flourished in the UK thanks to auctions that allocate state funds to extensive wind farms along the UK coastline. The Contracts for Difference (Cfd) scheme is designed to protect developers and consumers from fluctuations in wholesale prices. Currently, companies bid for projects in allocation rounds, and those offering the lowest strike price, which determines the cost of generating energy, emerge as the winners. This competitive process has driven companies to submit progressively lower bids.
However, due to supply bottlenecks and inflation driving up material costs, projects are becoming increasingly unaffordable and are being put on hold. Moreover, the £205 million of UK Government funding allocated for the latest auctions this year is inadequate given the current economic climate, making it challenging to attract potential bidders. This has raised concerns that, as the government encourages and awards contracts solely based on the lowest price, the wind industry may have commoditised itself too far.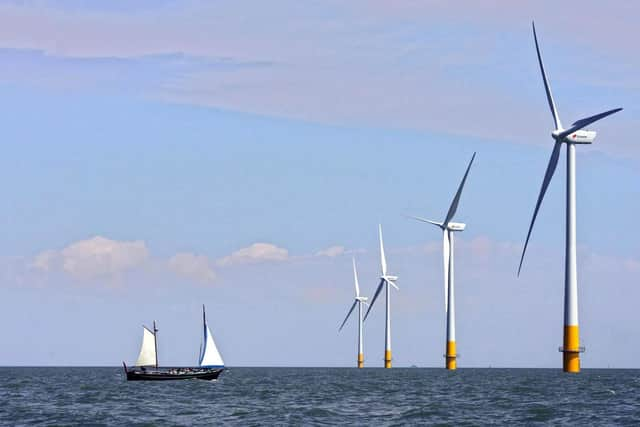 UK ministers hope to see 50GW of offshore wind by 2030 – 5GW of it from floating offshore technology, which is needed to access the resources found in deep waters. These powerful turbines, based away from the coastline, can make massive contributions to the energy grid which gets power into people's homes and places of work.
Megawatt after megawatt can be generated with minimal disruption to the public, even re-using existing North Sea infrastructure in a potential wind-to-green-hydrogen future. Shetland, particularly the Arven project, stands as a prime example, with decades of experience in executing large-scale energy projects and providing ongoing services to offshore industries.
Its flourishing supply chain can offer a wide variety of support services, bolstered by a skilled and firmly established fabricating and engineering workforce. This valuable foundation can be harnessed to achieve ambitious wind and hydrogen targets, supported by strong initiatives to stimulate demand and attract investments.
The waters around Shetland provide ideal wind conditions, with the potential for generating green hydrogen for further transportation to a net-zero hydrogen refinery on the islands. This hydrogen could be sent to the mainland and support industries that are challenging to decarbonise, such as shipping and aviation.
A significant number of cutting-edge technologies originally developed for the oil and gas sector will play a key role in driving down the costs of floating wind and hydrogen solutions. These innovations allow us to achieve scalability. Yet, the supply chain requires support and careful planning for a successful transition. Such change doesn't happen by chance or overnight.
Further reform is needed of the Contracts for Difference scheme, the government's main support system for renewables. There have been positive shifts, with the recent move to annual CfD auctions and promises to cut the time taken to decide planning applications for offshore wind projects. While these aim to boost the pipeline of projects, more needs to be done to lay solid foundations for the transformation ahead. A key issue that persists is the unpredictability and uncertainty surrounding project timelines, making it challenging for developers to plan and invest, which, in turn, affects the supply chain's ability to invest in the necessary solutions. This is particularly true for floating wind technology, which is much more complex than fixed wind.
As a result, the industry is not developing as quickly as it could be, meaning the UK risks missing out on economic and environmental benefits. With a fifth round of CfD deal auctions now underway, it's time for action so that we don't fall behind in building a green power infrastructure.
In contrast to our present market, other countries offer early government investment in supply chain capabilities or subsidies to encourage investment. Unfortunately, we're not seeing the same push as in the US and the EU. Swift action is essential to level the playing field for UK supply chain companies. This will help us make the most of our head start in the floating wind sector.
A revamped CfD scheme that provides the necessary certainty to developers that their projects are bankable much earlier in the development timeline is one way to enable early investment in supply chain, ahead of project construction. By investing in technology and innovation earlier in the development timeline, companies could improve the efficiency and performance of offshore wind projects, which could further reduce the costs of clean energy production.
Given the UK's supply chain expertise in oil and gas and infrastructure, the missing link is apparent – a mechanism to enable early investment in a world-class supply chain. This is not purely an issue for the government, it's down to all of us engaged in the energy industry to provide clarity on where investment is needed and the priorities that build on the strengths already present in the UK. This will, in turn, enable the establishment of the policies and routes to investment needed.
The UK already invests heavily in research and development. Allocating a portion of these funds to adapt existing technologies for related industries would signal the UK's priorities to the supply chain and market. We can't afford to wait any longer. Climate change is already having a devastating impact on our planet, and we need to act fast to reduce our greenhouse gas emissions and transition to a low-carbon economy.
The good news is that the solutions are within our grasp. We have a unique opportunity to use our history and expertise in the North Sea to help tackle the climate crisis. But we need the right support and robust supply chain to make it happen.
Sian Lloyd-Rees is UK managing director for Mainstream Renewable Power, an Aker Horizons company
Comments
 0 comments
Want to join the conversation? Please or to comment on this article.