Nicola Sturgeon's SNP now faces war on two fronts against Alex Salmond's Alba Party and the UK government – John McLellan
Last weekend she was all set to be a feather duster but by yesterday morning she was still cock of the north. Or hen. You know what I mean.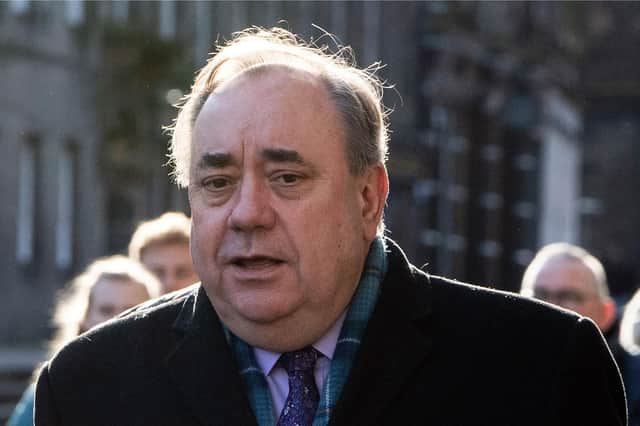 Having survived because Irish prosecutor James Hamilton sold everyone a dummy by dodging the question of whether she misled the Scottish Parliament over the Salmond affair, First Minister Nicola Sturgeon brushed aside the conclusions of the parliamentary inquiry the following day, which on a five-four majority ruled that she had indeed given MSPs a bum steer about meetings to discuss allegations of sexual harassment against her predecessor Alex Salmond.
On the final day of the parliamentary session, the Scottish government's four per cent pay-rise for health workers wasn't as much a rocket-propelled escape from the whole Salmond morass as it was a starting gun for the election campaign and a missile aimed at showing up the UK government's one per cent offer. And yesterday she was confidently announcing that 100,000 new homes would be built in the next decade, an election sound-bite if ever there was one.
Until yesterday lunchtime, the jury was still very much out on whether Ms Sturgeon had emerged unscathed from five inquiries into the whole sordid Salmond Affair; the botched Scottish government investigation into the original complaints, the disastrous judicial review, the criminal trial which cleared him on all counts, the parliamentary inquiry, and Mr Hamilton's Ministerial Code report.
As yet, no-one has carried the can for a scandal which brought the Scottish government, civil service, and Crown Office into disrepute. Worst of all, it left the two female civil servants whose original complaints set off the chain of events feeling abandoned by their employer and thoroughly let down by the system.
From "bestie" to desperate nemesis, at lunchtime the potential for political damage soared with Mr Salmond announcing he would lead the new list-only, pro-independence Alba Party into the May election.
Like "Alex Salmond for First Minister" in 2011, Alba will be at the top of the ballot paper. And this was after unveiling his plan to sue chief civil servant Lesley Evans on grounds which are as yet unclear, but which could put her, and even Ms Sturgeon, in the witness box for a much more intense grilling than a divided committee of MSPs. To paraphrase his book title, Mr Salmond's rage shall never die.
For the first time, the SNP now faces a war on two fronts and the pro-independence movement is presented with three alternatives, and the media circus which will follow Mr Salmond means election publicity for Alba won't be much of an issue. Maybe she'll feel like French First World War commander Ferdinand Foch – "My centre is yielding. My right is retreating. Situation excellent. I am attacking" – but I doubt it.
She now faces outright fury on one flank while on the other the SNP's relations with the UK government are more hostile than at any time since the SNP took over in 2007. It's ironic that Mr Salmond's first administration functioned because of deals struck with the Scottish Conservatives.
How times have changed; in 2019 Scottish civil servants were withdrawn from work on developing the UK's internal market in preparation for the Internal Market Act which was seen as a power grab and a new obstacle in the way of re-joining the EU single market, despite over 60 per cent of Scotland's trade being with England.
Similarly, Scottish transport officials were instructed not to engage with the Union Connectivity Review, despite the benefits of extending HS2 to Glasgow and Edinburgh and upgrading the A75 to Stranraer.
It's the same story with freeports, with the Scottish government insisting on its own "Green ports" approach, and a real possibility the UK government will press ahead in England, leave the Scottish government to it and potentially put Scottish ports at a commercial disadvantage. There is also a dispute about the new Advanced Research & Invention Agency to fund high-risk scientific research because it is UK-wide.
There is a simmering row over the UN Convention on the Rights of the Child Bill which had all-party support, but could yet end up in the Supreme Court for going beyond Holyrood's powers because SNP ministers refused to make minor amendments to ensure compatibility. UK civil servants suspect the bill was deliberately drafted to create a constitutional row over an emotional subject.
The non-cooperation campaign continued this week with the Scottish government's refusal to agree key principles for better inter-government co-operation, including an independent secretariat and a new dispute resolution process, and this is despite Scottish officials being fully involved in producing the recommendations. As one civil servant put it, "it looks as if the Scottish government is not co-operating on work to improve co-operation".
As Salmond supporters split from the SNP, the SNP is slowly decoupling Scotland from the UK by stealth and dispute, but the UK government is determined to press on with direct and visible investment in Scotland because it has learnt the hard way that the "devolve and forget" approach of the past simply plays into the SNP's hands.
"We've been forced off the turf in recent years," said one senior figure this week, but now Scotland is being "hard-wired" into all levels of Westminster activity. Queen Elizabeth House in Edinburgh will be home to 12 UK Government departments, with a significant expansion of trade officials to boost the Scottish economy.
The First Minister's continued stamina for confrontation can only be admired, but as the pandemic draws to a close and hope of brighter future grows, how many people whose lives are not dominated by politics share her appetite for division?
If most people want politicians to work together for the greater good, then a lot of Scottish people are going to be disappointed. It will take a lot more than a feather duster to spring clean Scottish politics, but the question is, as always, who do they blame?
A message from the Editor:
Thank you for reading this article. We're more reliant on your support than ever as the shift in consumer habits brought about by coronavirus impacts our advertisers.
If you haven't already, please consider supporting our trusted, fact-checked journalism by taking out a digital subscription.
Comments
 0 comments
Want to join the conversation? Please or to comment on this article.