The façade was fading by the day and the perspective of time will probably confirm that Ms Sturgeon's political career was cut short by her own fatal flaw – a chronic inability to admit she was wrong. The Gender Recognition Reform Bill exposed that failing to a wider audience. Indeed, for those who believe "Scotland is a village", what more piquant evidence than the role played by a rapist from Kilwinning with a face tattoo and cheap wig in the fall of a First Minister from just up the road in Dreghorn?
It remains a mystery why Ms Sturgeon invested so much capital in the gender legislation. Had she really become so divorced from the need to carry opinion with her that she thought this was just another squall that would pass? If so, it was an historically wrong judgment call.
A symbolic consequence was that the latest opinion poll shows support for independence lower than in 2014. The political cause that got her up in the mornings has descended into a surreal debate about "de facto referendums" which even the trustiest courtiers recognise as a load of nonsense.
What was there left? One of the more interesting passages in her valedictory address referred to the forthcoming "de facto" SNP conference. Ms Sturgeon nobly suggested her departure would "free the SNP to choose the path it believes to be the right one, without worrying about the perceived implications for my leadership".
In other words, "decide what you like about 'de facto referendums' – I'll be gone". In this respect, it was not the SNP she was freeing from a non-existent 'strategy' but herself. The de facto wheeze has run its course and a dead end lies ahead. Time to get out.
Once ratings slide, they tend to go in one direction. It has taken longer than usual in Ms Sturgeon's case because most of the market to which she appealed was concentrated around one issue. Everything else could be tholed in its name. Well, almost everything.
The going was getting tougher and who can blame her for limited enthusiasm about hanging around for a few more years to pick fights with London, drive through the Deposit Return Scheme or field questions about the curious case of the family finances? Definitely time to get out.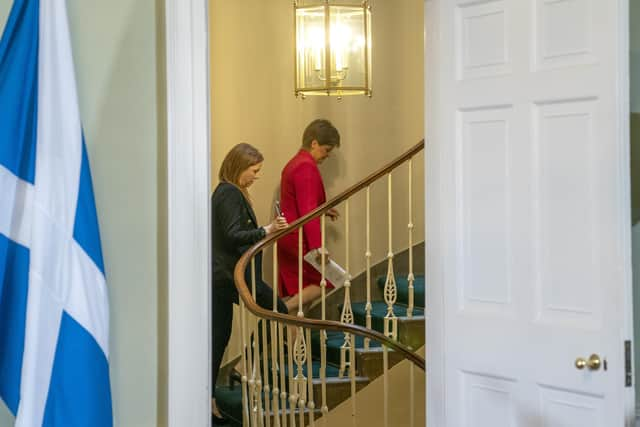 By any measure of legacy achievements on pillars of devolution like education and the NHS, Ms Sturgeon has been the First Minister of Failure. The mere fact of her departure will open up the possibility of a more constructive political discourse and progress on Scotland's many challenges. That will depend on who they choose next.
Listening to her complaints about the polarised nature of Scottish politics, it was not remotely tempting to forget her own critical, continuous role in forging that state of affairs over two decades. More than anyone, Ms Sturgeon thrived on dividing Scotland down the middle and seeking grievance wherever it could be manufactured.
She also mused that "the nature and form of modern political discourse means there is a much greater intensity – dare I say it, brutality – to life as a politician than in years gone by". This is standard stuff from an outgoing statesperson but from Ms Sturgeon it is a bit rich. She made her reputation by treating politics as a bloodsport, with little regard for the quarry. A harsh tongue took her a long way.
It could all have been different in the hands of a different personality. For that, the prerequisite was to accept that the pro-independence side lost in 2014 and it would be a long way back, requiring patience, persuasion and a degree of consensus building.
She had the ball at her feet, bequeathed by her mentor, Alex Salmond, and a very generous budget at her disposal to pursue that strategy. Briefly, she acknowledged that another referendum was off the table until there was consistent evidence of 60 per cent support. If she had stuck to that, it might be a different Scotland today.
However, the strength of her position also proved to be its weakness. While 40 per cent was enough to win elections, it did not take them one step closer to a clear majority of Scottish opinion. So she could be in government as long as she liked, without the boring bits about competence and persuasion.
We were soon back to the familiar politics of grudge and grievance; of proving how hard-done-to we are, rather than demonstrating through enthusiasm and hard work how much can be achieved. Ms Sturgeon never represented the politics of change so much as dogged persistence with a tired mantra.
I tend to think coalescing with the Greens was the first big mistake in her current cycle. She didn't need them but now their influence crops up everywhere, usually in forms that carry little public support. That is one inheritance a new leader will have to reassess.
In a curious way, I agree with Nicola Sturgeon. She had become such a peculiarly divisive figure that Scotland can hardly be worse off by giving someone else a go. But only a change in government will allow devolution the chance to fulfil its potential and free us from the rigidities of a narrow creed.