An 'Oasis of Peace' where Arab and Jewish families live together, is a beacon of hope – Laurence Brass
The children growing up in this remarkable settlement have yet to be tainted by hatred and historical grievances. They are a symbol of hope in troubled times
About 40km to the west of Jerusalem, just north of Tel Aviv lies this quite remarkable settlement. Here, Israeli Arabs and Israeli Jews live together in equal numbers. Here, there is a primary school, where Arab and Jewish children from the village and the outlying community attend in equal numbers. The teaching is bilingual.
Here is also the School for Peace, which runs programmes for Jewish and Arab professionals, and students of all faiths and ages aimed at promoting understanding between the two communities. On my visits to the village (NSWaS), I have experienced the remarkable ethos of all those involved and my distinct impression, against the background of turmoil and strife in the Middle East, is that the village stands as a beacon of hope.
Although its population is a miniscule fraction of Israel's population – and is composed only of people who have consciously sought out this level of coexistence – the residents still hope that it can be a model for a different kind of future. Since its early years, the village has been evenly split between Palestinian and Jewish families. Despite a recent expansion and with 30 new housing units being built, there's still a long waiting list of families eager to live there. The village honours all three of the region's major religions.
The debate on Israel-Palestine in Britain is hugely fractious and the cause of a great deal of pain. In such a climate, the fundamental notion that both Jews and Palestinian Arabs have equal national and individual rights – which, to me should be an uncontroversial, obvious philosophy – has become lost.
I find myself in the minority for advocating a truly "moderate" approach. By "moderate," I don't mean avoiding difficult questions and issues. Instead, I refer to upholding the rights and equality of all people in Israel and the Occupied Territories. In a time where partisan blindness and moral retrenchment dominate, this "moderate" philosophy becomes, ironically, a radical necessity.
We live in a polarised climate, where those on the left and right of politics try to tell us that we must be pro-Israel or pro-Palestine. Well, I refuse these binary definitions. I am pro-peace. Amidst the unrest in Israel and the Gaza Strip, where violence leaves a lasting impact and hope seems unattainable, many feel disheartened. The senseless violence in the region has left people wondering if peace is just an elusive dream.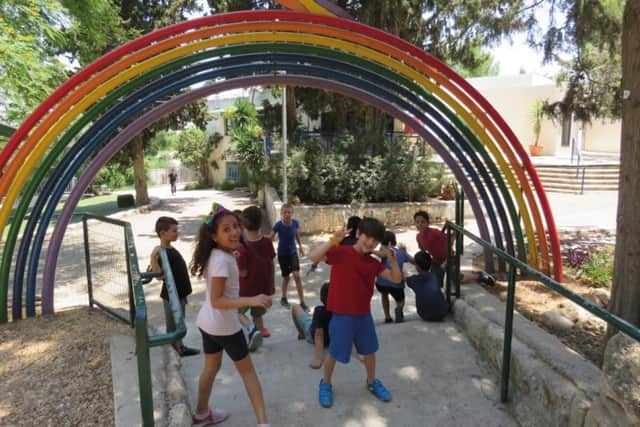 In my opinion, this is a critical moment that demands our attention and action. Can anything be done? Certainly! Do not hesitate. There is much to be done and time is of the essence.
I'm inspired to support NSWaS because they are a group of activists who didn't wait for a peace process to come to them, but instead took the initiative to create their own. Their dedication to practical and tangible day-to-day peace-making is effective in bringing about much-needed change.
What I find truly remarkable about NSWaS is their unwavering commitment to solving issues through non-violent means and with full democratic equality for all, even in the face of differing opinions, tensions, and competing national aspirations. NSWaS is proof that peace can be achieved without sacrificing patriotism or national identity.
They face challenges at every turn, from within Israel and without. They have been victims of physical attacks from far-right Jewish extremists and also disenchanted Palestinians who oppose the village's ethos. The School for Peace has been the subject of not one but two separate arson attacks in the past three years. So, the friends associations throughout the world – we are in seven countries – have been raising funds to rebuild the damaged structure and, miraculously, it has been rebuilt and will reopen this month.
NSWaS embodies a different path. It advocates for a solution grounded in compromise, dialogue and trust. It means seeing beyond one's own biases, understanding the complexities of the situation, and embracing the idea that a shared sovereignty could be the bridge to peaceful coexistence.
However, the refusal to consider shared sovereignty, the rejection of dialogue, and the dismissal of those who advocate for a nuanced approach are hugely problematic. Reducing anyone who thinks otherwise to a problematic label stunts the very essence of progress. It is precisely the kind of reductionism that perpetuates the cycle of conflict.
Now more than ever, it is crucial to embrace a dual narrative in light of the current events unfolding in the region. Although it may be challenging, the stories emanating from NSWaS offer a flicker of hope. The young children of the primary school in the village, who have yet to be tainted by hatred and historical grievances, symbolise a future that is full of promise. They epitomise the potential to rise above ethnic and national origins, underscoring the importance of liberating ourselves from our own biases.
We remain dedicated to advocating for a solution rooted in dialogue and understanding because of the village and all its incredible work. We stand in solidarity with our Israeli partners, both Jewish and Arab Palestinian, in the pursuit of a shared future. And this dream is not just desirable; it's achievable, one step at a time, if we dare to challenge the reductive narratives that blind us and instead choose to embrace the complexity of our shared humanity.
Comments
 0 comments
Want to join the conversation? Please or to comment on this article.