Mum's the Word - The John Muir Way
It's taken a year and a half to walk across Scotland but it was worth the wait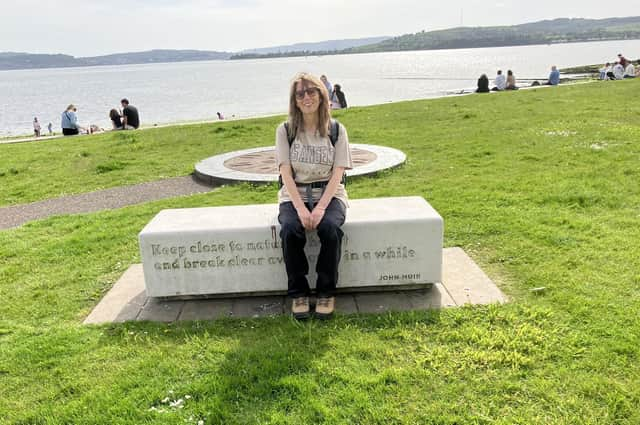 I rarely have any physical accomplishments to celebrate and the Christie childhood mantelpiece never groaned with plastic trophies won by my brother and me in celebration of physical prowess. My one prize at school was a red cloth hardback of Robert Louis Stevenson's Kidnapped but everyone in primary seven was given a classic just for leaving and never coming back. I treasure it anyway.
But now I can claim to have walked across Scotland, 134 miles from East to West, completing The John Muir Way in stretches, starting dubious in Dunbar in November 2021 and arriving happy in Helensburgh last weekend. I didn't know I had it in me.
The final leg comprised "two about 14-mile walks, then an easy eight-ish," according to my walking companion Country Girl, but turned out to be 18.5 miles on day one, 14.8 on day two then a final 13.6, although that included walking around Carntyne searching for a bus back to Queen Street after being ejected from the Helensburgh to Edinburgh train on account of a fire in Airdrie
"Did you know the first day was 18.5 miles?" I ask Country Girl on day two.
"It looked about that when I calculated, so I did it again and it was heading that way, so I just left it. I knew we could do it, if we didn't think about it."
She's right. I'd never have done it if I'd known. Broken into chunks, The John Muir Way is a walk in the park, along the canal, over moors and hills into distilleries and road-side hostelries.
Even walking slowly - I became obsessed with trying to reach a thrilling three miles per hour - didn't hold us back.
"Nah," said Country Girl. "We can't. Kevin Keegan, Gordon Strachan legs…"
"Wee legs or not, I think they'd manage three mph plus," I counter and we reminisce about the days when footballers were long on skill and short on shorts. It's a discussion best left in the hills above Balloch as Youngest Child has educated me on the incorrectness of commenting on people's bodies and the "it's a compliment" defence has been rebuffed, shamed and left hanging in neon tatters on a scaffolding somewhere on her powerwalk home.
"Workies! I stopped and explained," she said. Scary.
But the long and the short of it is, the John Muir Way is behind me, so where next?