Janet Christie's – Walking back to happiness
One step forward, two steps back is the way to go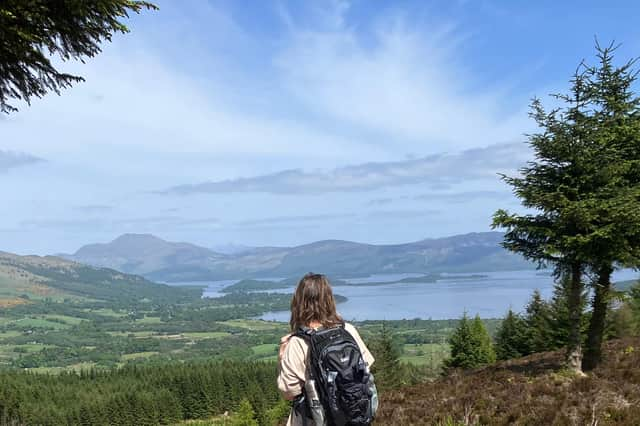 There's a right way and a wrong way to do things - or is there?
We're walking the final leg of The John Muir Way, my pal Country Girl and I, from Kirkintilloch to Helensburgh, covering fortysomething miles over the course of three days and after arriving at a hostel I receive the discombobulating news from a fellow walker in the communal kitchen that we've been doing it backwards.
"Eh? No, we're walking normally, front facing," I say, having left my reason in a pub near Kirkintilloch, where we stopped briefly hours before.
"No, you're walking the John Muir Way backwards," says the walker. "It runs West to East, from Helensburgh to Dunbar," and he looks like he knows what he's talking about with his rosy cheeks, bag of spanner calves and impressive bowl of nutrition.
"Oh right," I say, staring crestfallen at my instant noodles, watching the neon flavouring fizz around the spirals, too tired to fly the fag for Dunbar and the merits of walking East to West.
Revived by the additives, I take it up with Country Girl, planner of walks, reader of guide books and maps, font of zoological, ornithological, botanical knowledge and keeper of statistics, who is doing something sensible with her feet back in the room, in preparation for the next day.
"Aye well, technically it starts in Helensburgh and ends in Dunbar," she says. "So you could say we're doing it backwards."
"But John Muir was born in Dunbar," I say, "and I don't think he ever walked his Way, but if he had, he'd have done it the direction we're going, surely? When he emigrated to the US with his family, they sailed from Greenock, so he was a Go West kind of guy. Isn't this the logical way?"
"It's a question of perspective," she says, a woman of Zen/Yoda-like disposition. "Obviously we're going East to West because we live in the East. But when the route was set, they started it in the West."
"East West, beginning, end," I say. "Yes it is all perspective and where you're coming from. I wonder if Australians ever refer to Up Above?"
"Whichever way, we're almost finished," she says. "Which is sad, because we've nearly run out of Walk. But we might have stumbled on something. We should do the walks backwards. Fancy The West Highland Way from Fort William to Milngavie?