Migrants' preference for England over Scotland gives us 'the gift to see ourselves as others see us' – Murdo Fraser
Scotland's sluggish economy and high tax rates may be putting people off
As Scots, we have a conceit of ourselves that we are one of the most welcoming countries on Earth. But we have a problem we need to address when it comes to attracting people to live here. With so much focus on clamping down on illegal immigration and stopping small boats crossing the Channel, it is easy to lose sight of the bigger picture. The truth is that inward migration to the UK is today at record levels.
Between June 2021 and June 2022, legal immigrants to the UK stood at 504,000 – the highest annual figure ever. In 2022, ignoring temporary visitors, the Home Office issued 1.3 million visas. Even taking account of those on the Ukraine visa scheme that too is a record.
There has been a shift in the pattern of migration post-Brexit. Whilst numbers from the EU may have declined slightly, there has been a substantial increase in non-EU migrants, particularly from South Asia and Africa. The biggest single increase has been in visas issued to those from India – since 2019, work visas for Indians have doubled, whilst student visas have quadrupled. This is good news for our higher education sector, increasingly reliant upon the fees from overseas students.
It is also good news for our economy. The UK, like every other developed economy, is currently suffering from labour shortages, many of them caused by the level of retirals from the jobs market during the Covid pandemic. This is a particular problem in hospitality, agriculture, food processing and social care. Every time I meet representatives of Scottish business, the question of labour shortages is a key concern.
We need to do more to get the economically inactive into the workforce. But with our ageing population and declining birth rate – the second lowest since records began – we also need to import workers. And in Scotland, we have a problem. Analysing where new migrants to the UK settle, overwhelmingly London is their destination of choice.
Far too few end up coming to Scotland. Indeed, of the 12 nations and regions of the UK, Scotland currently sits ninth on the table in terms of attracting migrant workers, ahead only of Wales, Northern Ireland and the North-East, and behind every other part of England. This should trouble Scottish ministers. New citizens tend to go where they see economic opportunities. The fact that so few view Scotland as an attractive destination tells its own story.
We know that, since 2014, the Scottish economy has grown at roughly half the rate of the UK as a whole. Scotland is now the highest-taxed part of the United Kingdom, leading many large businesses, and particularly those in the vital finance sector, to express concern at their ability to attract talented individuals to come and work here. It is little wonder that these concerns percolate through to the views of talented migrants, in terms of where they might want to settle and build careers.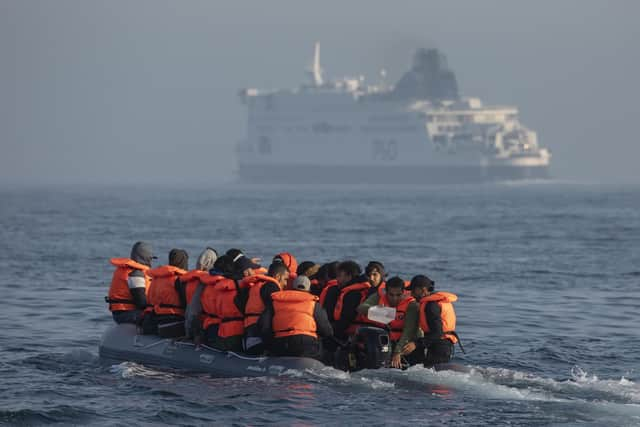 According to a new global study by the Policy Institute at King's College London, measuring attitudes towards people of different ethnicities, the UK is one of the least racist countries in the world, with just two per cent of Britons feeling uncomfortable about the idea of living next door to someone of a different race. Only Brazil and Sweden, amongst major developed nations, score better than us, and we are far ahead of most other European economies and the United States.
I would hope that applies equally to Scotland. But if you go to any major English city, it is noticeable how much more ethnically diverse their populations are compared to us. Perhaps it is little wonder, therefore, that new migrants to the UK are less inclined to make the journey to Scotland.
All of this will make deeply uncomfortable reading for those politicians, particularly in the SNP, who claim that Brexit is the cause of all our economic woes. It is patently not the case that Brexit has resulted in lower inward migration than was the situation before we left the EU, with immigration now double the rate it was prior to Brexit. The issue is that we simply don't have enough of these new citizens coming to Scotland.
That puts the ball firmly back in the court of the Scottish Government. It needs to develop policies to promote economic opportunity and make Scotland an attractive and welcoming place for workers across the globe to come here, develop skills, start businesses, take up employment, invest, and raise families. If Humza Yousaf really is serious about growing the Scottish economy, he should be devoting all the energies of his government to these vital tasks.
We like to think we are a nation of candour. But if you look at the statistics they give us the gift to see ourselves as others see us, and it is clearly not very attractive. We can rightly pat ourselves on the back that we have a Prime Minister and a First Minister from ethnic minorities. But, in Scotland's case, that does not mean we are as attractive a place for immigrants to live as other parts of the UK. The figures show that.
We need to go beyond the 'put the kettle on' warm welcome we often kid ourselves about. We need to build a Scotland of opportunity to attract the talent who will take advantage of those opportunities to make us all wealthier to pay for the public services we all aspire to. If you listen to the rhetoric of the SNP, they try to gull us into the belief we are more welcoming than our neighbours south of the Border. The figures prove that when they say that they are talking to themselves. It is time we spoke to the rest of the world.
Murdo Fraser is a Scottish Conservative MSP for Mid-Scotland and Fife
Comments
 0 comments
Want to join the conversation? Please or to comment on this article.