Lasting change will take more than pulling down statues - Brian Wilson
Some incidents stick in the memory. I recall speaking at an event about Central America in Glasgow City Chambers. Normally, people comment on its grandeur and beauty. My fellow speaker had a different perspective. "Whenever I enter a place like this," she said, "I am reminded how much wealth was stolen from our countries".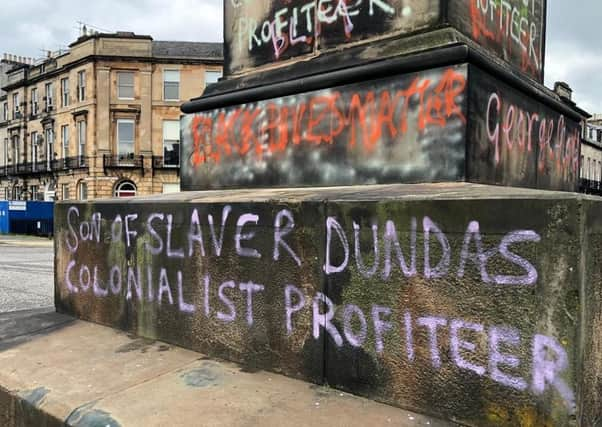 That is hard to argue with.
As in many European cities, grandeur is built on imperial conquest and exploitation of other people's resources. We are arguably no worse and certainly no better.
We are not going to knock down offending buildings and neither is anyone else. As a proxy, we look instead at statues of exceptionally bad people and send for the noose.
I can't summon outrage over Colston in Bristol.
Even less can I empathise with King Leopold II of the Belgians, who has been laid low in Antwerp. As Mark Twain put it: "This bloody monster whose mate is not findable in human history and whose personality will surely shame hell itself when he arrives there".
However, pulling down statues does not solve the fundamental problem of historical ignorance, which remains alive and well. The most sensible response has come from Sir Geoff Palmer of Edinburgh University, who believes statues and street names are better used as teaching tools than consigned to Corporation dumps.
Indeed, their obliteration will further diminish any hope that future generations might actually learn something of relevance about Scotland's past, warts and all. Yet it is through education that evils of racism and other prejudices are best exposed.
There is nothing new about this. Every few years these issues generate headlines which – as with so much else – serve as substitutes for action. Do Scottish children know more about our links to slavery than ten or 50 years ago? I doubt it. The teaching tools remain unused, so let's pull them down as redundant.
I live on Lewis where another monster, Sir James Matheson, held sway. Matheson became rich as Croesus through the mass addiction of unfortunate Chinese in the Opium Wars. At home, his factor loaded evicted Gaels onto emigrant ships already plagued with cholera.
So should Matheson Road be renamed? Of course not. But no child should leave school without knowing about the evil behind the name. The same principle could apply to every community in Scotland but it simply does not happen, for all the years of righteous hand-wringing.
Denial about Scotland's role in slavery runs deep, as confirmed by the classic tomes. For example, Sir Thomas Devine's History of the Scottish Nation, published in 1999, gave slavery two brief mentions. Only more recently has academic work, by historians such as David Alston and Geoff Palmer, started to catch up.
Scotland's most significant act of racial solidarity was when Glasgow gave Nelson Mandela its Freedom in 1981. As then Lord Provost Michael Kelly points out, this contributed to a live political campaign and thus had positive significance. By the time St George's Place was renamed in Mandela's honour, controversy had subsided and Glasgow was proud of what it had done.
That is a useful test to apply. If the objective is to achieve lasting change, it will be done through political leadership which involves risk and facing down hostility. Knocking down symbols may give momentary satisfaction but only sustained action will address that basic problem of ignorance.
So I won't be pulling down statues this weekend. But I have signed a petition calling for a complete overhaul of how issues of race are addressed in Scottish schools. It points out that only one per cent of primary teachers are from non-white backgrounds, which may be more currently relevant than any statue.
It's the same throughout Scottish public and political life, as Anas Sarwar eloquently told Holyrood this week. Scottish Labour has to ask itself a few questions about his own treatment.
There is no shame in a history for which we are not responsible. But at some point, there is a lot of shame in not facing up to it and taking the political actions required to address its legacies.
Comments
 0 comments
Want to join the conversation? Please or to comment on this article.