Labour leader Keir Starmer is no orator but his arguments about stable government, the NHS and modernising the economy make sense – Scotsman comment
Labour leader's speech to his party conference emphasises the need to restore stable government after 13 years of Conservative 'chaos' in which 'things have only got worse'
He deployed effective attack lines on the Tories that will resonate with many voters, particularly those struggling to pay energy bills, mortgages or rents, and feed their families. But he also offered a credible path to a brighter future under a Labour government with "stability" – in contrast to the "chaos" of five Prime Ministers in seven years – as its watchword.
Under the Labour governments of 1997 to 2010, he said, the country had experienced "13 years of 'things can only get better'" – a line from the anthemic song once used as campaign music. In contrast, under Conservative leadership, there had been "13 years of 'things have only got worse'".
To be fair, dealing with the aftermath of the 2008 financial crash, Covid and the energy crisis sparked by Putin's invasion of Ukraine would have tested any government. But Brexit was a self-inflicted blow. And, ultimately, whatever hand they are dealt, the buck stops with the people in charge. Given the current state of the country, it's hard to see tangible signs of progress and easy to see evidence of a nation in decline.
Starmer spelt out the scale of the task ahead in historic terms. "If you think our job in 1997 was to rebuild a crumbling public realm; that in 1964 it was to modernise an economy left behind by the pace of technology; in 1945 to build a new Britain out of the trauma of collective sacrifice; then in 2024, it will have to be all three," he said.
Central to that task would be the modernisation and decarbonisation of the UK economy. The transition to "clean British energy", he said, would mean "cheaper bills for every family" and make the country more competitive – an under-appreciated aspect of renewable energy that the effect of soaring fossil fuel prices on the economy has helped to highlight. "So when Rishi Sunak says row back on our climate mission, I say speed ahead. Speed ahead with investment. Speed ahead with half a million jobs," he said.
The NHS, a priority for many voters, had been brought to its knees and the Conservatives would "put it in the ground", Starmer warned, citing the case of a semi-professional footballer who crowd-funded £15,000 for a private operation on his knee. "How has it come to this? ...the whole point of our NHS is to be the crowd-funded solution for all of us."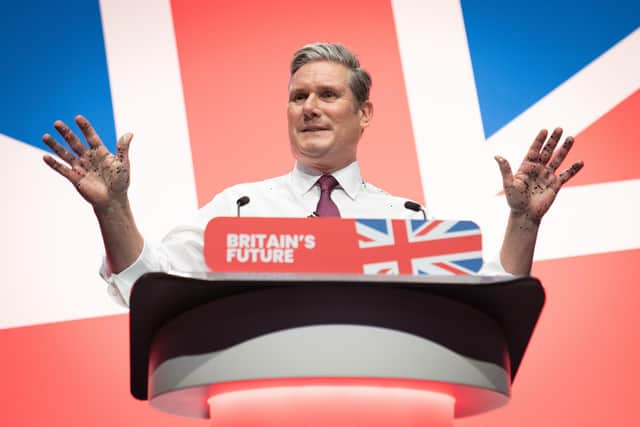 In order to tackle issues of such scale, it was necessary to "break the stranglehold of Tory decline" and "walk towards a decade of national renewal –together". He reached out to Conservative voters horrified by "the descent of your party into the murky waters of populism and conspiracy" and suggested that Labour was "a party that conserves, that fights for our Union, our environment, the rule of law, family life..."
Sunak's speech was a good one and it gave a strong indication of how the Conservatives plan to fight the next election. But his vision is about looking back to the past, clinging to old technologies. Starmer didn't come up with a phrase as memorable as Harold Wilson's "white heat of technology" but after 13 years of hard times, his speech offered a weary country renewed hope.
Comments
 0 comments
Want to join the conversation? Please or to comment on this article.