John Lewis: Troubled employee-owned department store must never be allowed to close – Aidan Smith
Everyone remembers their first time and, as the lights in the roof twinkled like a brilliant constellation and I gripped my mother's hand with trembling excitement, this child of the Space Race reckoned he was about to become the first seven-year-old boy to orbit the Earth.
In fact, our destination was only to ladies' fashions on the third floor but nothing could diminish the thrill of that inaugural mission aboard an escalator. Like you, I bet, my life can be measured out in department stores. That was Goldbergs, which as far as I can remember was the first in Edinburgh with a moving staircase.
Patrick Thomson – PTs – was for haircuts, down in the basement, where the short-back-and-sides tyrants held out for as long as possible against Beatlemania, declining all requests for a moptop. The subterranea of Jenners was toy heaven, a joint celebration of American imperialism and Hong Kong's genius with plastic. Now, both are deemed bad for the planet, but in common with many seven-year-old boys I was a make-believe war-monger and a Johnny Seven OMA – One Man Army, seven guns in one – was going to enable me to achieve all my objectives.
Boots, before the advent of independent record shops, was where I purchased the Monkees album which – admitting this for this time having previously not considered it cool enough – was my first LP. C&A was the place for the suddenly, no-longer-seven, fashion-conscious. And, once kitted out in crackling polyester flares and tank-tops, Binns, under the clock, was the rendezvous-point for love's young dream – provided she bothered to turn up.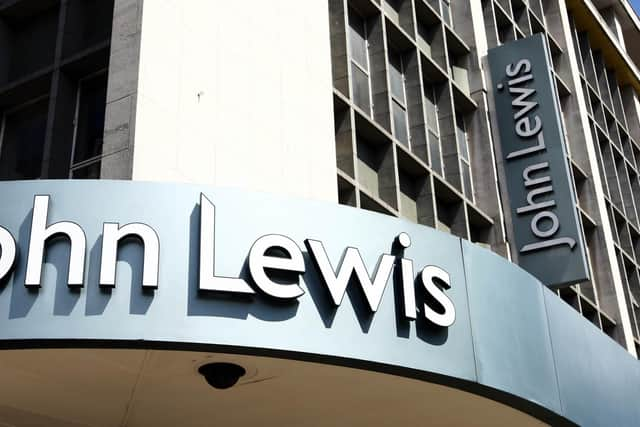 Most of these grand shops are long gone. On and around Princes Street they formed a rite of passage for my generation. We can be wistful about them, just as we can the girls who never kept their appointments at Binns, but that's life and, more crucially, that's business. Commerce is hard-nosed, cold-blooded, unfeeling. Managers miscalculate and muck up; shoppers walk away without a second glance.
Except… look at John Lewis and the extraordinary reaction to the uncertainty surrounding its stores. The company has been accused of "losing its soul". Mary Portas, the retail guru and former Downing Street advisor on high streets, is upset at a plan to change its mutual structure. John Lewis has been 100 per cent owned by its staff for 70 years.
In a letter to chairwoman Dame Sharon White, the presenter of TV's Mary, Queen of Shops, writes: "Your task isn't to turn around just another mediocre retailer under threat of going under. You're fighting to save part of our collective cultural identity. But what's worrying me is that you might think your fight is purely financial. It's not. Somehow in recent years, you've let go of the soul. We've all felt the subtle, but powerful, erasure of what John Lewis is, a severing of what's always set your business apart."
Not just any old lumbering retail monolith (BHS? Debenhams?). Not just a place for buying fabric, but part of the fabric of the nation. If we've gone from a land of shopkeepers to a land of shoppers, then John Lewis defines us more than any other.
The staff are known as partners and have become accustomed to sharing in the profits. This month, though, for only the second time since 1953, it was announced that pre-tax losses for 2022-23 of £234 million would mean no bonus. Demutualising the company would raise extra funds but former John Lewis boss Andy Street says ending employee ownership would be a "tragedy".
Can a department store – profit and loss, bricks and mortar, and in Edinburgh, a particularly unprepossessing combination of the latter – really be said to have a soul? Well, if any of them do, it must be John Lewis. The Daily Mail is leading the wailing over the company's future. Shoppers who've never knowingly purchased kettles and curtain rails anywhere else are filling the letters pages with angst. John Lewis, of course, is socialism in action. The Mail, of course, despises this, or does normally, but will make a one-off exception for a name synonymous with Middle England. It knows which side its bread is buttered on, and John Lewis has always sold a very good range of toasters.
Here in Middle Scotland, the capital branch continued where Binns and C&A left off, equipping me for the next stage in life. My parents bought me a pine dining table for my first flat and – relieved I was finally moving out and keen that I wouldn't be rushing back any time soon – threw in a microwave as well.
But more recently, like the whole of retail, John Lewis emerged from the pandemic to find the shopping nation even more in thrall to online, only to then be hit by the cost-of-living crisis. As energy bills soared, many in the JL massive turned off their Agas. Their favourite store chain quickly offered alternatives but it cannot survive by air-fryer sales alone.
John Lewis has cracked online – too much so, complain those who prefer old-school shopping, and other grumbles concern fewer staff on the floor and a drop from the traditionally gold-standard level of service, prompting some to wonder whether the threat to the bonus has been demotivating.
The outpouring of concern for John Lewis has been compared to the sadness at the departure from Radio 2 of Ken Bruce. Yes, that serious. Some of it emanates from those who haven't visited a branch in years but don't want any more of them to close, which is of course part of the problem. Andy Street talks of "tragedy" if the brilliant model of staff ownership was to end. If I can be parochial, Edinburgh losing John Lewis with Princes Street already so forlorn would be disastrous.
Comments
 0 comments
Want to join the conversation? Please or to comment on this article.