Sam Heughan is a man who rarely stands still. He has a heavy Outlander schedule as Jamie Fraser that sees him sometimes working 12-hour shifts and breaks in filming that are filled with other TV and film work such as Channel 4's crime thriller Suspect and SAS: Red Notice or his upcoming 2023 film, It's All Coming Back to Me, which also stars Celine Dion and Priyanka Chopra Jonas.
Throw in his award-winning Sassenach whisky and tequila, along with charity work for his My Peak Challenge which has raised raised over $7m and helped thousands around the world lead a healthier life, and there's little time to spare. If there is he's likely to be tearing up the tarmac on his beloved motorbike or pounding the streets preparing for yet another marathon.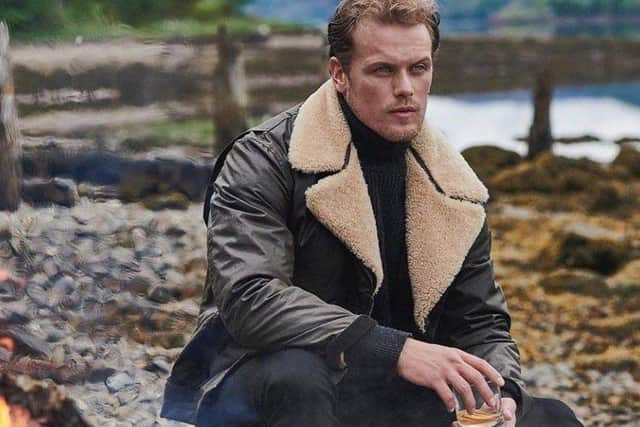 However, last year he slowed things right down and in a break in Outlander filming decided on the spur of the moment to walk the West Highland Way, a journey that saw him discover a whole new way of being and record his travels in his memoir, Waypoints: My Scottish Journey, the follow-up to his previous book, Clanlands with fellow Outlander Graham McTavish.
"I think we all have busy lives," he says, joining me on the phone from Milngavie on the fringes of Glasgow in a break from filming Outlander season seven, "especially now with online, and you get pulled in every direction. It's been incredible, I've been on this great journey, especially with Outlander, but I think I've also hit a point in my career where I'm a certain age and feeling content with where I am but also excited for the future. So it felt like the right time to reflect on how I've got where I am and to be thankful for my life in Scotland and my upbringing, and look forward to new challenges. I wanted to document it.
The book follows Heughan from his birth in Balmaclellan, Dumfriesshire, the dissolution of his parents' relationship, his move to Edinburgh as a teenager and the start of his acting career through his time at RSAMD to his years trying to establishing himself before landing the role of Jamie Fraser in Outlander, and beating his self-imposed deadline of making it before he hit 40.
As the title suggests, Waypoints is a rewarding mix of markers, both personal as he reflects on his life and geographical as he leads the reader along the West Highland Way, fulfilling a long-held ambition to complete the walk which starts on his doorstep in Milngavie.
"Many people are very aware of the West Highland Way but have never done it. It's close to Milngavie and I was looking for a wee adventure when I got this week off last year. It was also a great way to be solitary and get out to do a walk and a bit of reflection. Foolishly, I thought 'I'll just leave, the day before Halloween, it'll be easy', and actually I hadn't really prepared or thought much about it until the rain almost stopped me in my tracks.
Initially throwing himself into the challenge of the 96-mile journey and a climb up Ben Nevis at the end, intending to sleep outdoors and with a 20-mile a day schedule, he is pulled up short by the weather, a heavy rucksack and lack of food and is about to give up, when a chance meeting with Graeme, another walker, sees him learning to take things in his stride, slow down and enjoy the journey.
Was the early setback to his plans a low point for Heughan?
"Definitely, I had taken too much gear and by day two I was completely drenched. Everything was sodden – my sleeping bag, clothes, and I hadn't taken enough food. I was ready to quit completely. I hadn't told anyone I was doing it so I thought, 'oh well, no-one's gonna know and I can just go home and go back to bed". It was Graeme who got me through it. It's interesting that I wanted to have this solitary walk – and I did at times and really enjoyed every moment - but actually it was the people I met along the way that made it even more special."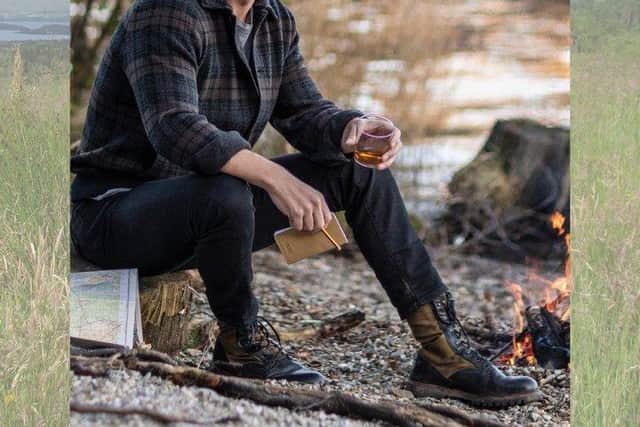 "Especially, on the last day, when I saw Ben Nevis and was so elated and happy, so excited, that I wanted to share it with someone, so I ran after Lucy who I'd met and walked with, to find her and share that moment, the feeling of 'isn't it amazing, we've done it, we're there!'. I would have been happy that I'd finished the walk but just to share that moment with someone else makes it more rich, more special."
And so it is that these days Heughan is resolved to enjoy the moment more and aware that despite his natural inclination to journey alone, he also enjoys company.
"I think it's a constant battle, a struggle with myself, that I do crave being alone, but it's always around other people. Covid was definitely a moment that we all realised, didn't we, that we miss people, we miss interaction, and we are social animals."
Another change since Heughan's West Highland Way experience is his approach to personal goals and the single-minded pursuit of them that's evident throughout the book. Not so much the physical challenges - anyone that's seen him on screen can appreciate he's at home in a gym or running marathons - but more the high bar of achievement that he sets himself.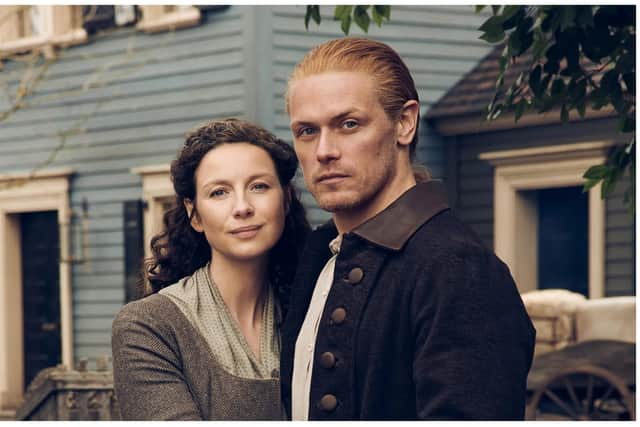 "I've done a large number of endurance challenges, marathons, triathlons and I enjoy the slog, but it was more about feeling I HAD to complete it. The moment I stopped trying to push myself through the walk and thinking I have to finish this distance every day, and thought 'no actually. why not just enjoy the moment?', that was when I really invoked change. I dumped my gear, allowed myself to enjoy some comfort in hotels, and it became such a pleasant experience."
So would he say he used to push himself too much, or is it that drive that has seen him achieve the success he has?
"I don't know, that's a good question. I mean I know for sure that I push myself all the time and I'm always busy and always wanting to achieve more, so I think that determination is the reason that I probably am where I'm at now, that stubbornness and single-minded pigheadedness, or maybe stupidity. But I think this may be a new waypoint that I'm also trying to give myself time to enjoy the moment and reflect. Even things like the other night at The Barbican in London, celebrating the launch of the book."
While it was the perfect opportunity to reflect, writing and publishing a memoir was another matter for Heughan, who is an instinctively private person despite his high-profile role, especially when it came to writing about his relationship with his father who left the family home when he was child.
"I've been very private, especially about family stuff, stuff about my father," he says. "I have grown up without really knowing anything about him. When we were writing Clanlands last year we were looking at heritage and family and clans and I realised that I didn't know anything about mine, only because it was probably too painful for those involved, my mum and everyone else.
"So I tentatively started looking into it and got a researcher to look at my family history and it was fascinating. I'd always thought I was part of this tiny family group - me, my mum and my brother - and actually I realised I'm part of a huge web of people. My roots all went back to Scotland and New Galloway, which is where I was born and brought up, through my father's side. And my mum's side go all the way back to the South of England and even to France where our ancestors came from. So I am definitely Scot-ish, as I like to say, half Scottish and half European."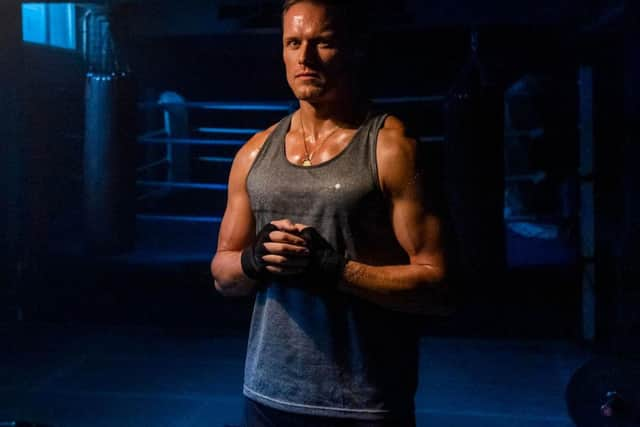 It's his experiences of meeting his dad for both the first and last times as an adult that bookend Waypoints as he recounts how he and his brother made the journey to Canada when their father was ill.
"It's been a really hard subject for me over the years because there was an absence of someone or something and that experience of going to see him, essentially on his deathbed, was very difficult, very intense. The actor side of me was intrigued and sort of watching myself in that moment, studying myself. I thought I could use that in the future. Also in hindsight, I never wanted to be him but actually I realise he's played a huge role in my life, even though he wasn't there. Certainly he's made me the man I am today so I guess I've put it to rest. I acknowledge him and I see his journey, and I'm on a different one. It's maybe something that comes with age and experience, but I'm thankful for it.
"It's not black and white and we all have our journey, our own path to tread, right? It was something I didn't want to do, never wanted to delve in too much because I knew it would hurt those close to me, but actually this is my journey and I wanted to tell my side of it, you know, and it's been very rewarding."
Now that Heughan has the taste for walking, he has other routes in his sights.
"I'm interested in the Southern Upland Way because that goes through where I was born and brought up. And we had Cameron McNeish, the real king of the hills, on our book launch in Edinburgh and he's challenging me to do the Everest Base Camp marathon, which I would LOVE to do. I've always wanted to see Everest and that might be the next one."
"I was going to do the Great Glen Marathon this year but I fractured my knee and tore my MCL [medial collateral ligament] so I couldn't train or run. I'm 100% now but it knocked me out for a while. But it's something I would love to do."
We can't let Heughan go without asking him what's in Season seven of Outlander, which he's busy filming at the moment.
"It's Outlander XL, 16 episodes. We only shot eight last season because of Covid and my wonderful co-star Caitriona was pregnant, so this one is a double. It's huge. Claire is in prison, Jamie is seeking to rescue her and we're dealing with a war of independence in America. It really is action packed and it's going really well."
As the only person in the cast with whom Diana Gabaldon has shared the ending of the story, is he worried about letting it slip?
"I do sometimes think oh god, am I going to say something?," he laughs. But so far he's been tight-lipped.
"Diana's been great and very supportive and always there guiding me as well. I talk about it in the book, show some of the conversations we have and she's even talked to me - because she's writing the last book now - about what do I think. I love that she's done that. She's a great friend now and that's all I could look for."
Did she give him any tips on writing his memoir?
"She said anything you need, any advice or help… and actually I probably would have, but I thought I had this one. She wrote the foreword for Clanlands and was very generous on that, but she's got plenty on her plate at the moment," he says.
One of the stories Heughan relates in the book is his audition, among many others, for the role of James Bond, which saw him meeting with Barbara Broccoli. After losing out to Daniel Craig because he wasn't 'edgy' enough, characteristically Heughan noted the feedback and went on to correct it. Would he love another shot at the iconic character?
"Who wouldn't want to play James Bond?" he says. "But I feel I've kind of done that in SAS: Red Notice which was very much a British Special Forces film and actually a lot more interesting because it was based on a real character Andy McNab, who I got to work with."
As for other roles he'd like to play, Heughan is keen to do some theatre to balance his screen work.
"But I'm on Outlander for a while yet and I have my movie coming out with Celine Dion and Priyanka Chopra soon."
It's All Coming Back to Me is a romantic comedy inspired by the Canadian singer's hit song, and due out in February.
"So that will be exciting, and then we'll see. Some theatre would be great and I've got something else but I can't say. There are definitely plans afoot...
Away from the camera, Heughan is busy with his whisky brand Sassenach, and as the book details his successful alternative career as a barista before he made acting work full time, you can see why it's a good fit.
"We've got really big plans with Sassenach. I've got a new release coming this November and we're going to be in virtually every state in the US and are looking to Canada and the UK bars and restaurants. We've got some really big news, but we cannae tell you yet… and we're working on a Scottish gin that will be out in the summer."
As a late adopter of the concept 'what's the rush?' these days Heughan sounds a little less driven and happier to take his time, enjoying his life right now instead of dashing ahead towards the next goal.
"Yeah, well I'm always going at things 100% and certainly was doing that on the walk for the first two days, then I just realised I was not happy and thought 'why do things if you're not happy?' I think in earlier years I've always done things because I felt I had to, and on the walk I was like 'no, why am I doing this? It's for myself and I should enjoy it'. The moment I slowed down and stopped fighting the walk and the weather and the landscape and actually started to enjoy it, it was a completely different experience.
I'd say that to anyone thinking about walking the West Highland Way, get out there, take your time and just enjoy it."
As he puts it in his memoir:
"We're all just passing from one waypoint to the next. What matters is that we can look back at each stage knowing we made the most of it. I have learned to appreciate the moment."
Waypoints: My Scottish Journey by Sam Heughan is published by Radar, £20 Hardback, also available as ebook and audiobook.