Humza Yousaf's new Cabinet suggests an increase in virtue-signalling and empty promises – John McLaren
If some thought that Nicola Sturgeon was a bit airy-fairy on the economy, then Humza Yousaf would appear to be disappearing even further into the ether.
The grand title for the individual, Neil Gray, tasked with making progress in this realm is the Cabinet Secretary for Well-being Economy, Fair Work and World Peace, sorry, Energy. Concentrating on the well-being economy bit, first off, what does that actually mean? Answer, whatever you want it to. At present, the Scottish Government website refers you to a paper which sketches out what is important in a well-being economy, based on four types of capital – natural, human, social, and produced & financial.
Measures to show how Scotland is doing within these four pillars are pretty narrow and uninspiring at present, with natural and social capital each having only two – greenhouse gas emissions and biodiversity for the former and the gender pay gap and young people's participation for the latter. Human capital has five measures – two of which relate to poverty, one to low educational attainment, one to preventable deaths, and the last to 'active travel' – as does produced & financial capital, two of which relate to measures of inequality.
The whole thing is an amorphous mess, with little in the way of relative measurement over time or comparisons to other countries, and no way of combining the elements into a single measure of well-being progress.
There are others doing similar work in this field who take a very different approach. The Wellbeing Economy Alliance, for example, uses only three high-level measures: well-being, life expectancy and ecological footprint, which they combine into their Happy Planet Index (HPI). This approach throws up radical results, with Costa Rica, Vanuatu and Columbia ranking the highest amongst 152 countries, based on 2019 data. The UK is 14th, not bad.
Where the contrast is starkest is comparing the HPI with a more traditional measure, like GDP per capita. Vanuata has a GDP per capita of only $3,153 but ranks second, whereas the USA is almost 20 times richer, at $62,530 per capita, but ranks 122nd, while Luxembourg is even richer, at $114,304 per capita, but ranks 143rd.
All of this highlights that if you are serious about moving to a 'true' well-being economy, then you need to be straight up about what your goals are and what that means in terms of how you reach them. If you are not serious, but just like the sound of it, as I suspect is the case with the Scottish Government, then you will fall between two stools. It would be better to focus on economic growth – albeit with a steer towards reducing negative externalities like pollution and congestion – and use the consequent increased tax revenues to address inequality and poverty-related issues.
How best to achieve this? Pretty much the opposite of what Yousaf has decided to do. The finance and economy briefs should be kept together and this should be the pre-eminent secretariat, as at the UK level. The effective Scottish Chancellor should be the second most senior job in Scottish politics, its role to oversee the economy – a big task even with many macro powers retained at Westminster – and to decide budget allocations, without having much of a budget of its own, ie from a neutral position. The lack of such a secretariat has long been a weakness in the Scottish set-up.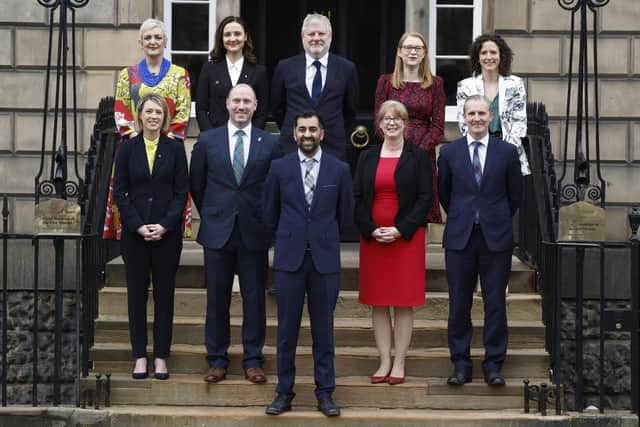 Kate Forbes would have been the ideal person to take up this role. In her absence, it's difficult to see who would be best suited, but the challenge of creating such a position still needs to be addressed.
The current make-up of the Cabinet, the names given to the various secretariats, and the language used around the economy, all lean towards a government that views the economy sceptically. This is both in the sense of their own understanding of it, ie it is a difficult subject to comprehend so best left to others, and in the sense of what it does, ie, it has a tendency to deliver bad things, like inequality and poor wages, as much as good things, like jobs and a rising standard of living.
The recent Scottish Fiscal Commission's Sustainability Report highlighted tough decisions that await those in charge, looking out over the next 50 years. However, soon enough the new government will come up against financial barriers limiting their ability to progress in areas like a new National Care Service, higher benefit payments, improved wage settlements, and reduced NHS waiting lists. In her resource spending review last May, Kate Forbes faced up to these challenges by looking to fix the future wage bill and departmental budgets at an affordable level. These targets have since been weakened or abandoned but the funding gap pressures remain.
A strong Scottish Chancellor, with a remit to look at what the prospects for the economy realistically are and how these marry up with future funding needs, would be in a better place to make the hard calls and steer Scotland through such difficult times than a Cabinet of equals all demanding more funds. At present, the Scottish Government likes to make a lot of commitments to support and progress worthy causes but pays scant attention to how these can be afforded. Hence the UK Government becomes the eternal bogeyman.
More acceptance of internal responsibility would improve the working of the parliament. Unfortunately, the latest recasting of roles feels like a move towards greater virtue-signalling, with even less focus on working with what you have.
John McLaren is a political economist who has worked in the Treasury, the Scottish Office and for a variety of economic think tanks
Comments
 0 comments
Want to join the conversation? Please or to comment on this article.