Getting the jag is a shot in arm for us 'auld dears'​​​​​​​​​​​​​​​​​​​​​​​​​​​​​​​​​​​​​​​​​​​​​​​​​ - Janet Christie
Getting the jag is a shot in the arm for us 'auld dears'
"I'm so jealous of you," says Youngest. This is new. A first, in fact.
"Wish it was me," she says.
No, she's not envying my skill with a baked potato or my original denim flares ('telt ye they never went oot' says my pal Country Girl) and 1980s Solidarity With The Women of Namibia T-shirt.
It's because I've had my Covid jag. Woohoo!
As if there wasn't already enough excitement in my week with a trip to the dentist where I got to chat to more than two people at once, and about loads more than teeth. We did holidays, music and 'oh look at that spider on the ceiling' - anything until they threw me back out into the street and barred the door.
But my Covid jag too. I'm not worthy. However, I am old enough to be shuffled to the front of the queue.
"One of the advantages of being 'an auld dear'," I tell Youngest, reclaiming a phrase I'm getting scunnered at hearing, along with "middle-aged women".
I'd say it was misogynistic, given that it's generally "middle-aged men" who say it, tempting me to make cracks about how pouring yourself into skinny jeans that make you look like a pug prancing on hind legs begging for a treat and that covid beard hiding the lockdown chins is fooling no-one, but that would make me a judge-y old bitch, so I won't.
I say bring age on. What's the problem? It's much better than the alternative, and after a year in which we've all lost way too many friends, family and folk we'll never meet, I'm kicking my height to still be here.
"I suppose it's right that the more vulnerable get it first," says Youngest.
Vulnerable? Just for that I do a Mum dance around the workpod, waving my letter. I dance as much as possible since Middle suggested having the blinds down when I'm online Zumbaing. Payback. Just wait till the clubs are filled with 'aud dears' overdoing it on the dancefloor while his lot are still holed up in the hoose, swiping.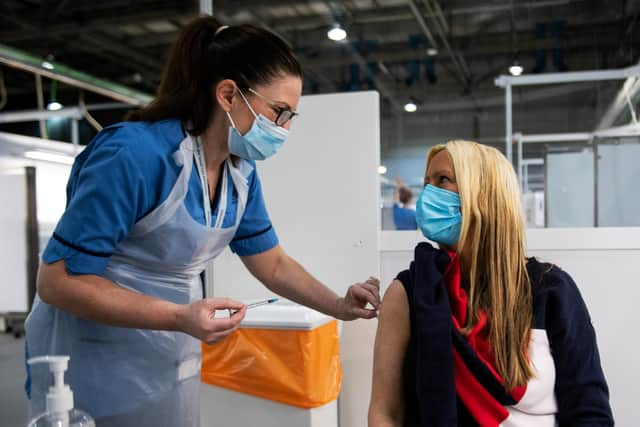 I ponder my brave new world as a comatose Youngest afternoon naps on the sofa.
"You know your First Ever Festival Ticket, last year's, bumped on to this year?" I say.
"Can I have it? You probably won't be able to go. But I will."
"Yeah. Sure. What? No! Anyone but you can have it."
A message from the Editor:
Thank you for reading this article. We're more reliant on your support than ever as the shift in consumer habits brought about by coronavirus impacts our advertisers.
If you haven't already, please consider supporting our trusted, fact-checked journalism by taking out a digital subscription.