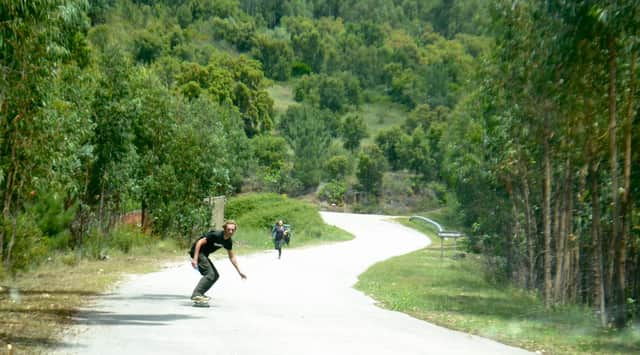 The skate escape.
"Really? He says. "I've just been for a walk, fresh air and exercise. Try that."
"Hmmm. I've got that feeling where you want to get up to something. Remember that?" I ask.
"Kind of. I've been considering a face piercing. But decided against it."
"You know when you were little and used to say 'sometimes the naughtiness just has to come out?'" (I did tell him he wasn't inherently naughty btw).
Like when he hit the headteacher square in the forehead with a rubber and couldn't understand why no-one appreciated such an amazing throw.
Or the primary school trip when he lit a paper towel in the toilets of the National Museum of Scotland with a lighter he'd found on the pavement, got a fright, put it out immediately in the sink, set the smoke alarm off and the whole museum had to be evacuated. Assembled outside waiting for the fire brigade, thinking "I wonder if that was me?", he shared with the teacher and all hell broke loose. Aw. The wee scone.
Or Eldest and stink bombs, or his grass allergy that used to make him crazy on sports day because they'd cut the grass specially, running faster than a speeding bullet, but they couldn't stop him. And don't get me started on what he got up to in Maga... Sigh. Happy days.
"You know that feeling? I say to Middle.
"I feel like that today."
"Come skateboarding. Exercise it off," he says.
He's furloughed from the climbing centre, climbing the walls. Who knew he'd turn out to be such a worker bee - he even reorganised my shed this week, no fee, "just a favour". And Eldest, who's lost both jobs, couldn't be busier, recording and releasing music, meditating, eating sensibly, walking. What happened?
"Skateboarding?" I say to Middle. "Maybe, but remember the lumpy elbows till you got good. Speaking of which, (my dormant inner parent awakes), hope you've got...
"Elbow, knee AND shoulder pads, yup," he says.
"To be honest, no, but I dreamt last night about getting one, so maybe I will."
"Guess what, your brother's going skateboarding with elbow, knee and shoulder pads," I tell Youngest.
"Shoulder pads? He's winding you up," she says.
A message from the Editor:
Thank you for reading this article. We're more reliant on your support than ever as the shift in consumer habits brought about by coronavirus impacts our advertisers.
If you haven't already, please consider supporting our trusted, fact-checked journalism by taking out a digital subscription.