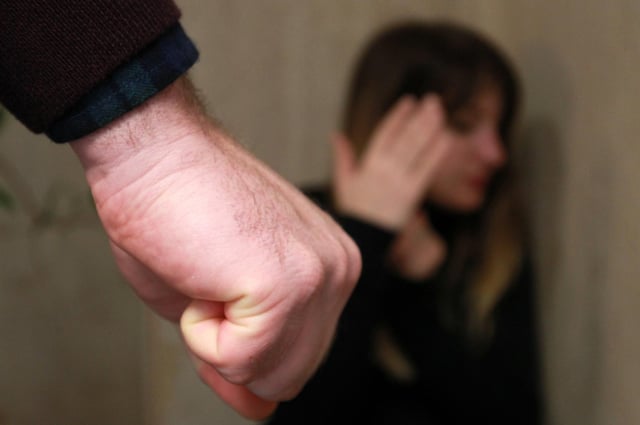 During lockdown, violence against women and girls, particularly domestic violence, has intensified and turned into a shadow pandemic, according to UN Women (Picture: Chris Etchells)
I stopped pouring my heart out onto a page after a teenage romance led to my eldest son. Somehow jotting down how many nappies I had changed in a single day didn't quite have the same ring as "fallen in love" or "fab night at new disco!" And I never regained the habit.
But a global pandemic? Surely that deserves a passing mention among the to-do lists, meetings (TBC) and "pay credit card" reminders that pass for my contemporary record of history.
"Virus!!! Lockdown begins!!!" I wrote, with a firm hand, followed by a few bullet points: "France is cancelled; no social contact; re-organising work in Malawi; book???" before finishing with a sad flourish: "Staying at home for foreseeable future…"
Hardly Samuel Pepys. Not even Bridget Jones. Just a woman trying to come to terms with her life being turned upside down, not quite believing it, but knowing something had changed fundamentally and forever.
My reaction was no different to everyone else when the first lockdown was announced: shock, fear, hypochondria, and a little frisson of excitement at something so untoward happening. A year later, as we remain in a state of stasis until at least the end of April, all I feel is numb, and not comfortably.
If it weren't for re-runs of Frasier, the best comedy ever made, Portuguese red wine and my husband's quiet but comforting presence, I doubt I would have survived the last 12 months with my mental health still intact.
The First Minister admitted that was "not acceptable" but as she has her own personal crisis to deal with at the moment, it's unlikely that the nation's mental health is at the top of her "to-do" list.
There was one other, unexpected, element that helped me survive this most unusual year – my membership of a "women's co-operative constellation". No, I hadn't heard the term either until I took part in research carried out by Professor Sarah Pedersen of Robert Gordon University.
I took full advantage of my hour-long Zoom call with her. "I have met so many wonderful women on Twitter," I bellowed (why do we shout on these calls?). "Women I would have never met in ordinary times – poets, academics, young women, older women, angry women."
"And we have made a difference, even though we are all locked down," I said, pointing to the growth of the grassroots campaign For Women Scotland and the support for Johann Lamont's #sixwords amendment – "for the word gender substitute sex" – to the Forensic Medical Services bill.
"It is amazing how women coming together can make a difference," I finished. "I didn't know we had created a 'women's co-operative constellation', but it is a wonderful thing," I concluded.
Sadly, women's solidarity is not only wonderful, it is needed now more than ever. Take this week's headlines. Just one week.
The gunman who confessed to slaughtering eight people (seven women) in Atlanta was described by a (male) police officer as "having a bad day".
The Office for National Statistics (ONS) was forced by the courts to change its plans for the 2021 Census in England and Wales. The statisticians wanted to make it easier for people to state their gender identity under the question "what is your sex?", but the judge, Mr Justice Swift, ordered that the guidance be rewritten to make clear that respondents should only use the sex recorded on their birth or gender-recognition certificate.
The campaign group, Fair Play for Women, which took ONS to court, said after the judgement, "This is not a problem confined to the ONS. The idea that sex isn't just a matter of being born female or male, and that we all have a gender identity, has become embedded within organisations.
"As a result, sex is being overridden by gender identity in a whole range of public policies without proper scrutiny. It's women and girls who pay the price."
I could go on, but I have run out of words. The oppression of women and girls because of our biological sex is as ancient as humanity itself. The global pandemic has only made it worse.
The fightback has started. We may be stuck at home, but thanks to social media, women of all backgrounds, of all ages, from the Scottish Highlands to the streets of London and beyond are joining forces in a co-operative constellation.
In these times of change, we are coming out of the kitchen and onto Twitter. The sisters are doing it for themselves, standing on our own two feet, and this time we will win.
A message from the Editor:
Thank you for reading this article. We're more reliant on your support than ever as the shift in consumer habits brought about by coronavirus impacts our advertisers.
If you haven't already, please consider supporting our trusted, fact-checked journalism by taking out a digital subscription.