The annual Scottish Crime and Justice Survey, which examines the level of violent, property and sexual crimes in Scotland, found the number of incidents of unwanted sexual touching has risen by more than 50 per cent since 2008/09.
The survey, published annually, also showed that women were eight times more likely to be worried about being sexually assaulted than men (2 per cent versus 16 per cent).
It also showed that half of respondents experienced their first incident of serious sexual assault between the ages of 16 and 20.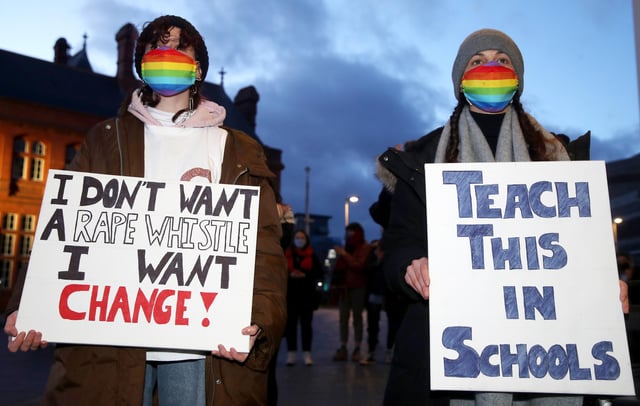 Women hold up placards during a Reclaim These Streets vigil for Sarah Everard.
Overall, the survey shows there has been no change since 2008/09 in the proportion of adults experiencing sexual assault.
It comes a week after the body of 33-year-old marketing executive Sarah Everard was identified in Kent. A serving police officer has been charged with murder and kidnap in connection with the case.
Justice secretary Humza Yousaf said the survey underlined other findings which indicate crime is down, but said work was still needed to make women feel safer in Scotland.
The Scottish Government report also showed the continuation of a downward trend for crime overall, down 46 per cent since 2008/09, with violent crime down 39 per cent with 194,000 incidents experienced in Scotland in 2019/20.
The survey showed a decrease in the number of adults who have experienced at least one incident of partner abuse in the past decade, down from 18.2 per cent to around one in six (16.5 per cent).
However, women are twice as likely to be the victim of psychological or physical domestic abuse (21.2 per cent against 11.2 per cent), with women more likely to be a victim of domestic abuse across all ages.
The number of adults experiencing attempted forced sexual intercourse has risen by a third from 1.5 per cent to 2 per cent, with the number of people reporting unwanted sexual touching up by half from 4.8 per cent to 7.4 per cent.
However, the number of flashing cases is down from 5 per cent to 3.9 per cent.
The survey also showed Scottish women are four times more likely to have been a victim of serious sexual assault, with 16.2 per cent of women saying they have experienced it since the age of 16 compared with 3.6 per cent of men.
Nearly two thirds of victims of rape or attempted rape have experienced it more than once, with more than a quarter saying there are too many incidents to count.
Half of victims were attacked by their partner, with a further 28 per cent attacked by either an ex-partner or someone they knew.
Just one in five (22 per cent) said they had reported the last incident of serious sexual assault to the police, with the most common reason (47 per cent) because they feared making things worse.
Mr Yousaf said: "This latest national survey underlines the findings from other official sources, such as recorded crime and hospital admissions data, that crime, including violent crime, has fallen substantially over the last decade.
"However, the survey shows that both the falls in crime and improved perceptions of safety have not been equally felt. Building on our progress in reducing violent crime, we are working to tackle violence against women and girls.
"This week I will urge Parliament to back our plans to give police and the courts new powers to remove suspected abusers from victims' homes, adding to the world-leading domestic abuse laws we introduced a few years ago.
"However, just as we have cut violent crime through a combination of legal changes and wider education and community interventions, so too it falls on many of us – politicians, parents, friends and work colleagues – to play our part in tackling violence against women, including the misogyny that frequently underlies it."
A message from the Editor:
Thank you for reading this article. We're more reliant on your support than ever as the shift in consumer habits brought about by coronavirus impacts our advertisers.
If you haven't already, please consider supporting our trusted, fact-checked journalism by taking out a digital subscription.