From Balmoral's pyramid to Nefertiti's inspiration to suffragettes, Egypt's influence on Scotland is historic – Susan Morrison
Margaret Murray, 'the Grand Old Woman of Egyptology', wrote that Ancient Egypt showed the way forward for women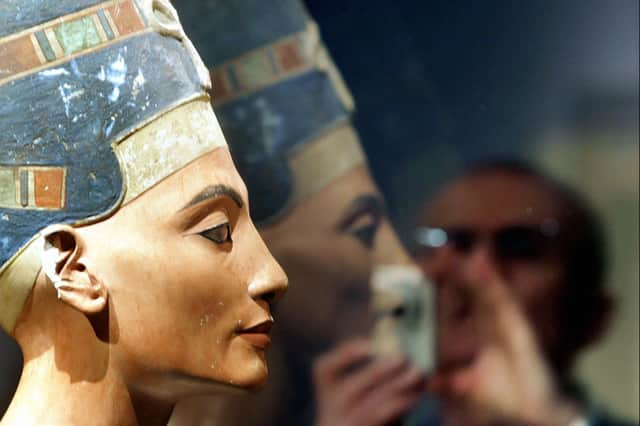 Victorian and Edwardian Scotland was mildly obsessed with Egypt. Walk through virtually any of our townscapes and you can spot the obelisks, sphinxes, and lotus-shaped columns. Even 'Greek' Thompson had a moment and abandoned inspirational Athens to go full-on Temple of Karnak for Glasgow's 'Egyptian Halls'. Our rural landscapes didn't entirely escape. There's a pyramid at Balmoral.
Scottish artists and explorers were at the forefront of feeding this pharaonic frenzy. Men like Charles Piazzi Smyth who, when he wasn't helping to set up Edinburgh Castle's One o' Clock Gun, was busy measuring pyramids, and Alexander Henry Rhind who created meticulous methods for record-keeping and excavation still used by today's archeologists. Hard work under a hot desert sun. Even hotter if you're wearing skirts, shirtwaist blouses and corsets, because some of these tomb hunters were women.
Janet May Buchanan was born in Glasgow in 1866. When her wealthy father died in 1906, he left Janet May a substantial inheritance. She wasted no time in setting up two Egyptian research student associations, in Glasgow and in Edinburgh. Between them, these two organisations helped train young Egyptologists and supported the work of the pre-eminent archaeologist Sir Flinders Petrie.
Miss Buchanan collected like a conquering pharaoh. Even better, she was connected to influential people who had also been bitten by the Egypt bug. Using her own extensive collection and pieces loaned by her friends, she managed to stage Glasgow's first major Egyptian exhibition at Kelvingrove in 1912. It was a stunning success with something like 10,000 people a week coming to view the glories of the Nile. Sadly, Jane May Buchanan never got to see her triumph. She was killed by a car only three weeks after the exhibition opened.
The magnificently named Nora Christina Cobban MacDonald (1873-1937) was an Aberdeenshire lass who studied in Oxford with eminent Egyptologist Francis Llewellyn Griffith. He must have made a good impression, because she married him, and spent the rest of her life working alongside her husband in the deserts of Egypt and Sudan.
Annie Abernethy Pirie Quibell, another Aberdonian, was born in 1862. As a young woman, she originally trained as an artist and her work was exhibited at the Royal Scottish Academy. Flinders Petrie himself chose her to join his team digging at Saqqara and Thebes, recording the astonishing finds made by his team. Annie noted to a friend: "Of all these different dwelling places, give me, for choice, if for not too long a time, a good tomb."
Scottish women didn't wait for the guys to set up a dig. In 1896, Janet Gourlay, from Dundee, began working with Reading-born Margaret Benson, the daughter of an Archbishop of Canterbury. They may both have been born into the height of respectability, but it didn't prevent them from setting up home together, although they much preferred a tent in the desert to cosy domestic bliss.
Together they excavated the Temple of Mut, at Karnak, ran the first all-female excavation team in Egypt, and published the first works of Egyptology written by women. They do seem to have run some very fun digs. The women write of starting their working day by linking arms and dancing their way to the excavation with "fancy steps".
Janet 'Nettie' Gourlay and Margaret Benson were what society then described as "long-lasting companions" for decades. Today, we'd say they were in a relationship. These are only a few of the astonishing women who became obsessed with the land of the pharaohs. In fact, sometimes it seems that the desert was teeming with stern Scotswomen digging, measuring and discovering great treasures to send back home to their equally formidable sisters in Egyptology.
But why the deep interest in temples, tombs and mummies? Well, part of the answer lies in the catalogue for that magnificent exhibition curated by Janet May Buchanan and in the increasing demands for the right to vote. The introduction is written by a woman called Margaret Murray, sometimes referred to as "the Grand Old Woman of Egyptology". As well as being a highly respected expert in the field, she was also a committed suffragette and friend of the Pankhursts. A woman with a flair for the theatrical, she unwrapped a mummy in front of a paying audience of 500 people, the first UK woman to do so.
Ancient Egypt, Margaret wrote, showed the way for women's progress. After all, even ordinary women in the times of the pharaohs were allowed to own property, initiate a divorce and bequeath their own property. They weren't entirely equal to men, but it was still leagues ahead of, say, Athens.
Royal women could become very powerful indeed. Nefertiti, today more famous for her beauty, was carved into the walls of tombs and temples doing some serious hand-to-hand combat with her husband's enemies whilst she was his regent.
Hatshepsut bypassed being regent altogether and rose from 'King's Wife' to 'Pharaoh' in her own right. She had to wear a fake beard to keep the boys happy, but she was clearly good at the job. She held the throne for nearly 20 years. The legendary Cleopatra reduced Julius Caesar and Mark Anthony, two of Rome's greatest generals, to school-boy adoration with her beauty and her intelligence.
Our Scottish queens of the Nile looked at Ancient Egypt, and saw a sisterhood of women working, ruling and even firing arrows from their chariots. These were women to emulate. A suffragette dream, although presumably even the most ardent follower of Mrs Pankhurst would have drawn the line at smiting enemies.
Today digging up and removing the artefacts of other cultures makes us a little uneasy, but you can't help but admire a Scotswoman in a long frock and peely-wally skin determined to dig for her sisters.
Comments
 0 comments
Want to join the conversation? Please or to comment on this article.