Alexander 'Greek' Thomson: the forgotten architect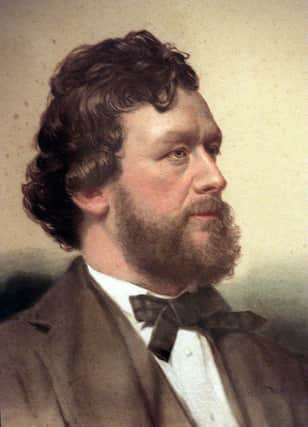 Alexander Thomson – known as "Greek" Thomson – was an architect and architectural theorist in Victorian Glasgow.
Until recently, his work was largely ignored, but nowadays he is recognised as an impressive and influential architect whose buildings deserve critical acclaim.In 1966, the architectural historian Henry-Russell Hitchcock said that "Glasgow in the last 150 years has had two of the greatest architects of the Western world."He names C. R. Mackintosh as one of these great architects, and Alexander "Greek" Thomson as the other. Hitchcock described Thomson as an "even greater and happily more productive" architect than Mackintosh.Another eminent architectural historian, Sir John Summerson, said: "There is something wildly 'American' about Thomson – a 'New World' attitude. You can see it in the villas… a sort of primitivism, ultra-Tuscan." This 'American' style of Thomson's went on to influence architects in New York, including British emigre George Ashdown Audsley.
Tragedy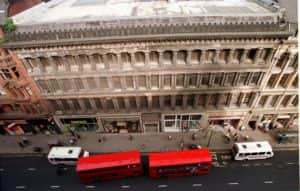 Thomson was born on 9 April, 1817, to a bookkeeper, John Thomson, and his wife, Elizabeth Cooper Thomson. He was the ninth of twelve children, but his father died when he was just seven years old.
More tragedy followed, as Alexander's mother, sister, and three of his brothers died between 1828 and 1830. Alexander's older brother, William, took in the remaining children. They lived together at a house in Hangingshaw, south of Glasgow, with William's wife and child.Thomson's career properly began when he was apprenticed to Robert Foote, a Glasgow architect. Later, he was offered a post in the office of the draughtsman John Baird. Together, John Baird II and Thomson set up their own practice in 1848. As well as his business partner, Baird was Thomson's brother-in-law, having married Thomson's sister, Jessie, in 1847. Thomson was married on the same day to Jane Nicholson, in a double wedding ceremony with Baird and his bride.
The Egyptian Halls Building on Union Street, Glasgow. Built by Alexander "Greek" Thomson in 1871.
Between 1856 and 1857, Thomson designed and built the Caledonia Road Free Church. Sadly, the interior was destroyed in a fire in 1965, but the exterior still remains.It is a notable work due to its asymmetrical layout and its combination of styles. These styles include ancient Greek and provincial Italian.After nine years of working with Baird, Thomson set up a practice with his brother George, heralding the start of his most productive years as an architect. He built two more churches, Queen's Park United Presbyterian Church and St Vincent Street Church.The latter is the only complete surviving church of Thomson's, as Queen's Park Church was destroyed in the Second World War.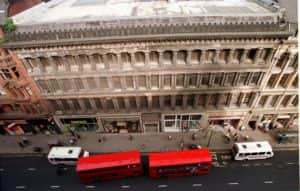 Greek
Between 1856 and 1857, Thomson designed and built the Caledonia Road Free Church. Sadly, the interior was destroyed in a fire in 1965, but the exterior still remains.It is a notable work due to its asymmetrical layout and its combination of styles. These styles include ancient Greek and provincial Italian. After nine years of working with Baird, Thomson set up a practice with his brother George, heralding the start of his most productive years as an architect.He built two more churches, Queen's Park United Presbyterian Church and St Vincent Street Church. The latter is the only complete surviving church of Thomson's, as Queen's Park Church was destroyed in the Second World War. Greek influence Thomson, at first, combined several different architectural styles, such as Greek, Italian, Egyptian and Levantine, but later, the Greek style won through.Perhaps the best example of his Greek influence is Holmwood House, which is now owned by the National Trust for Scotland.During renovations of the house, nineteen panels of classical frieze were discovered, which depict scenes from Homer's Iliad. Thomson has also been credited with the introduction of some elements of sustainable housing.In 1868, he submitted designs to the Glasgow City Improvement Trust, which called for open-ended tenements and glazing, the former providing ventilation, and the latter providing warmth and protection.Alexander Thomson died on 22 March, 1875, in one of his own houses, on Moray Place in Glasgow.He was buried in Gorbals Necropolis four days later. His widow, Jane, joined him in 1889. One of his most important legacies was the Alexander Thomson Travelling Studentship, which allowed Charles Rennie Mackintosh to study architecture in Glasgow.In 1897, William Clunas, one of Thomson's former assistants, wrote a glowing description of his employer: "His general appearance was indeed, very much in harmony with the strength and elegance which he imparted to the structures he designed, while the genial smile which so often overspread his face might be fittingly compared to the finished enrichment which was so marked and pleasing a feature of his compositions."