Edinburgh's student accommodation problems set to get worse with landlords put off by rent freezes and possibly short-term let licensing – Professor Colm Harmon
Edinburgh is facing a city-wide squeeze on housing as demand for rental properties continues to rise and availability falls. The University of Edinburgh has an important part to play in finding solutions to the problem, but we cannot do it alone.
The University of Edinburgh is world-leading, so it is no surprise that people from Scotland and beyond want to study with us. Our students bring around £300 million each year in economic benefit to our region, enrich the cultural diversity of our city, and make positive contributions to our communities.
We provide a guarantee of accommodation for some groups, including all new undergraduates from outside Edinburgh who are studying for the full academic year. This year, we've met this commitment for all of those who applied in time, but we are acutely aware that city-wide housing shortages are having an impact on students after their first year.
Our aim is to keep our undergraduate community at a stable size. Indeed, aside from an anomaly during the pandemic years when more applicants than expected achieved top grades, the number of new undergraduate students joining us remains comparable to 2018 levels.
Ensuring our students have a safe and stable place to live is one of our top priorities. This year, as last year, we will house some 2,000 additional students over and above those who meet the criteria for our accommodation guarantee.
We know some students are worried, particularly amid cost-of-living concerns, and we're targeting help to those most in need. Our accommodation advice service is available to help students find housing appropriate to their needs and we still have options available for those in emergency situations. We have doubled the available funds for students who are experiencing financial difficulties, and we stand ready to commit more funds if required.
There are several reasons housing challenges have spiked in recent years, not least the removal of ten-month leases that suited student renters. The situation has been exacerbated by a slowing in new private-sector developments, rejected planning permission applications for purpose-built student accommodation, and the number of private rental properties across the city falling dramatically.
This pattern is expected to continue as conditions for private landlords become less attractive, with changes to tax relief, additional regulations and rent freezes. We are yet to see the impact of the licensing of short-term tenancies, coming into force from October, but it seems at least possible that more properties will be sold and taken out of the rental market.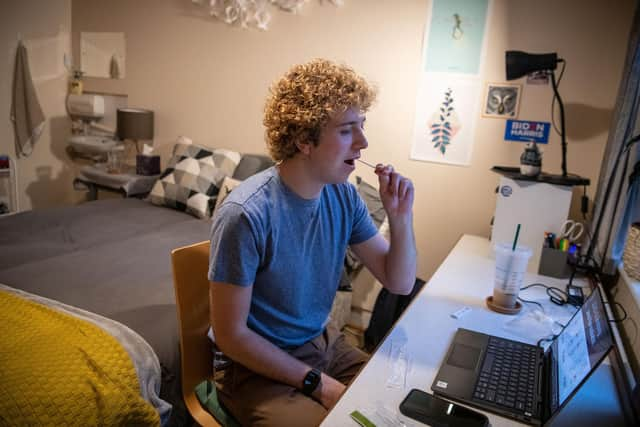 One option is to create new purpose-built student accommodation, and we believe this works best where students can live with others in shared units and not only in studios for solo renters. Another option is to build new residences on our own estate.
We have stated that we will not grow for growth's sake, which also applies to expanding our estate, and we need to address the shortage of student housing while being respectful to the greater Edinburgh community. We have proposals for developments, including within our existing estate, which would free up housing stock for local families and create shared spaces for the community.
We cannot build our way out of this long-term crisis, however. We continue to work with our partners, including the City of Edinburgh Council and other higher and further education providers, to find solutions that benefit all those looking to rent in our vibrant capital city.
Professor Colm Harmon is vice-principal students at the University of Edinburgh
Comments
 0 comments
Want to join the conversation? Please or to comment on this article.