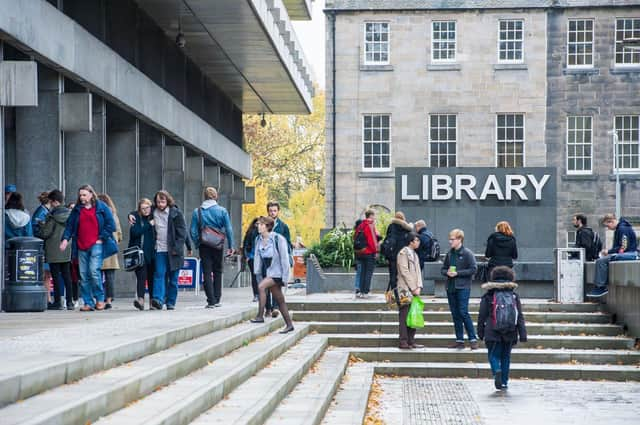 It is one which is patently unfair to hundreds of young people at the very start of their adult life whose futures are being blighted because of circumstances out of their control: their upbringing. If 'privilege' is now a sin, it is not theirs.
The Scotsman has repeatedly written about the importance of closing the educational attainment gap between rich and poor because it is a source of injustice to those born into poverty. It is scandalous that people miss out on fulfilling their true potential and it also diminishes society as a whole, both economically and culturally.
However, tackling one injustice by creating another is foolish, morally wrong and counterproductive. That this is being done by Edinburgh, one of the world's most renowned universities, makes it all the more shocking. If this is indicative of the judgement of our finest institutions, heaven help us all.
Figures obtained by Scottish Labour's education spokesperson Michael Marra show that 555 Scottish students who were not considered to be disadvantaged applied to study law in 2022. None were successful, an utterly flabbergasting result; it is simply not credible that not a single one was worthy of a place. Of 650 applicants from deprived areas or otherwise considered disadvantaged, 170 were given a place.
Marra said the SNP had "broken the promise of a Scottish education by closing the doors of our universities to whole swathes of young Scots". "A basic principle of a Scottish education is now being breached. You study hard, you get the good grades you deserve and you get into university... We now have hundreds of ordinary young Scots applying to our top universities who in reality have no chance of getting in."
When The Scotsman put this to the Scottish Government and the university, their responses completely ignored the question of fairness to students deemed not to be deprived. This suggests that they think they can ignore the issue or that they have no reasoned arguments to make.
Either way, they are bringing efforts to tackle the attainment gap and increase social mobility into disrepute with such an unfair policy. We suspect the backlash may be substantial, and the SNP and Edinburgh University will be partly to blame if things end up going too far the other way.
There are fair ways to level the playing field, such as by making allowance for prospective students from difficult backgrounds with lower exam marks than one who benefited from the finest education, pro-actively recruiting from areas and schools where few people go to university, and providing extra help. But the appearance of a 100 per cent quota for students from deprived backgrounds – and appearances do matter on questions of fairness – is a nonsense. If this is the policy, then surely, at the very least, the others should be told they need not bother to apply.
If students' backgrounds are now so important to the application process, it should also increase scrutiny of the way in which it is decided who is worthy of special treatment. Simply basing it on whether or not applicants come from a deprived area or the performance of their schools will almost certainly mean that some more deserving students with the wrong postcode miss out, while there are many schools, like Royal High and Boroughmuir in Edinburgh, whose catchments include both poor and wealthy areas.
Edinburgh University, which most would expect to take sober, responsible positions, must urgently rethink this most misguided policy.