Applicants who attended good schools or come from less deprived areas also failed to be accepted into several other courses at the institution, including business, Japanese, and philosophy and psychology.
This has prompted critics to claim access to university is effectively closed to "swathes" of Scottish students from less deprived backgrounds due to the cap on the number of Scottish students at Scottish universities and reliance on income from applicants from abroad and the rest of the UK.
Data obtained by Michael Marra, Scottish Labour's education spokesperson, shows that only pupils considered to fall into a 'widening access' category were accepted to nine courses in 2022 by Edinburgh University.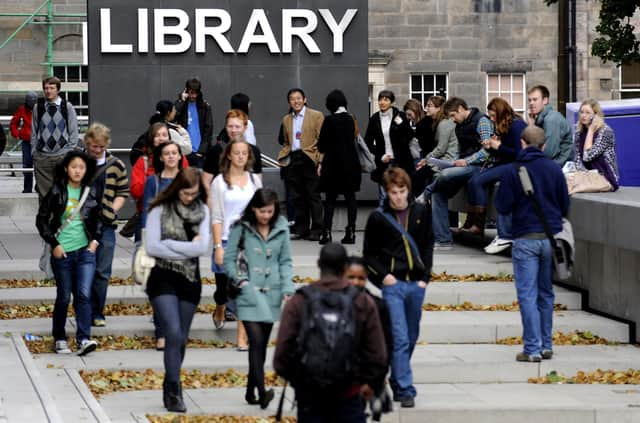 These courses included law, business, history of art, English language and linguistics, English literature, Scottish literature, Japanese, philosophy and English literature, and philosophy and psychology.
Applicants assigned a widening access 'flag' are prioritised for a place at a degree programme, while those with a 'plus flag' are effectively guaranteed a place, Edinburgh University's guidance states.
To qualify for a 'flag', students must live in an area within some of the top 40 per cent most deprived parts of Scotland or come from a low attainment state school.
'Plus flag' applicants include refugees, care experienced students or those from the top 20 per cent most deprived parts of Scotland.
In total, around 1,200 Scottish students applied to study law at Edinburgh last year, with 387 being assigned a 'plus flag', 272 assigned a 'flag', and 555 assigned no flag. Following the admissions process, 168 students with a 'plus flag' were given offers, alongside two with a 'flag'. Not one without a flag was given a place.
Alongside this, 72 foreign students were given places as well as 19 from the rest of the UK out of 815 and 862 applicants respectively.
Mr Marra said the data demonstrated "hundreds of ordinary young Scots" had "no chance of getting in". He said: "The SNP have broken the promise of a Scottish education by closing the doors of our universities to whole swathes of young Scots.
"A basic principle of a Scottish education is now being breached. You study hard, you get the good grades you deserve and you get into university. With that comes the life-changing opportunities that flow from your efforts. It is a promise of hard work and fairness and it is being betrayed by the SNP.
"We now have hundreds of ordinary young Scots applying to our top universities who in reality have no chance of getting in. The door is closed. These institutions still receive billions of pounds of taxpayers' money. Those taxpayers will rightly ask whether a system that excludes their children is a fair one."
Mr Marra said he believed this was due to the "broken" business model for universities in Scotland and systemic underfunding. He said: "The business model imposed by the SNP has broken the promise of a Scottish education. For 13 years they have refused to increase the rate paid to universities for educating Scottish students. The folly of that decision will only be exacerbated by current inflationary pressures to which the Scottish Government has singularly failed to respond.
"All of this leaves universities chasing students from overseas and across the world to pay the cost of teaching Scottish students."
Places for Scottish and EU students, who pay no fees when attending a Scottish university, are capped by the Scottish Government due to their places being fully funded by the Scottish Funding Council. In comparison, there is no cap on the number of foreign students or students from the rest of the UK, both of which bring more in fees than Scottish or EU students.
It costs a foreign student £24,500 a year, or just under £100,000 in total, to study law at Edinburgh University.
Universities Scotland, the body that represents higher education institutions, has highlighted the reliance on foreign student income to "subsidise the cost of teaching Scottish students due to underfunding from the Scottish Government".
A spokesperson for Edinburgh University said: "We take our commitment to widening access very seriously and recognise that a long term and sustained effort is required to achieve meaningful social mobility in communities. More than 80 per cent of our entrants from Scotland consistently come from a state school and the proportion of students from Scotland's most disadvantaged areas has almost doubled since 2015.
"The number of students we can accept from Scotland is capped by the Scottish Government, which means that applicants are only in competition with those who are also within their own fee pool i.e. Scotland, rest of UK and international. This means that the number of places for international students has no bearing on the number of places available to students from Scotland or the rest of the UK."
Jamie Hepburn, the higher education minister, said the number of Scottish-domiciled, full-time first degree entrants had increased by nearly 30 per cent to more than 33,000 in 2020/21.
He said: "UCAS data from last month shows a record number of 18-year-old Scots secured a place at our world-class universities in 2022.
"Our commitment to free tuition means that, unlike elsewhere in the UK, Scottish-domiciled students studying in Scotland do not incur additional debt of up to £27,750, and average student loan debt in Scotland is the lowest in the UK."
Want to hear more from The Scotsman's politics team? Check out the latest episode of our political podcast, The Steamie.