Damning indictment of Swinney's 'lack of candour' reveals much about how Scotland is run – Brian Wilson
There must now be a public inquiry into the Ferguson Marine ferries scandal
A central tenet of how Scotland is run is that nobody within government will be held accountable for anything. No matter how egregious the failure, no minister or civil servant will resign. No matter the costs involved, human or financial, that mutual protection pact will kick in.
An inevitable by-product of this culture is that history repeats itself, impervious to earlier outcomes. Reading Lord Hardie's report into the Edinburgh trams debacle, my appetite for minutiae from 2007-08 soon receded. The trams have been running for years and accountability was long-since evaded. But did anything change?
Referring specifically to John Swinney and Transport Scotland's former head of major projects, Ainslie McLaughlin, Lord Hardie found: "Like all witnesses who gave evidence in person, they testified on oath and their lack of candour calls into question their integrity." Anywhere else, that might be deemed extraordinary.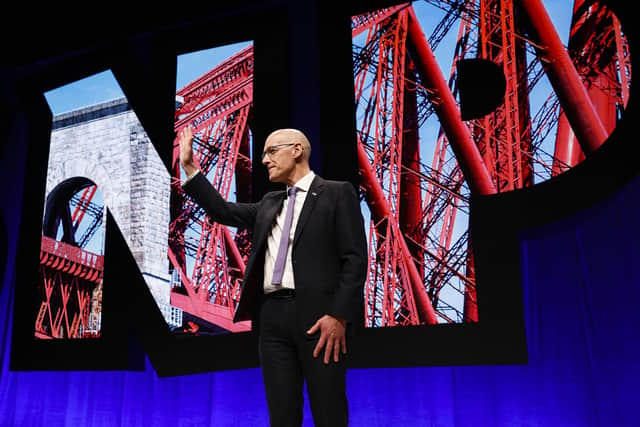 But why should they care? It was long ago in an organisation where "lack of candour" is a credential. Mr McLaughlin rose in the hierarchy and by 2021 ended up, amusingly, as the Scottish Government's director of corporate transformation. He now pitches himself as a "non-executive director and senior leader". Trams are a distant memory.
Meantime, another massive Transport Scotland scandal evolved, again costing hundreds of millions without anyone walking a plank. If there was "lack of candour" about trams, it still reads like an open book compared to the subterfuges used by ministers and civil servants to evade responsibility for spending possibly £400 million on trying to build two ferries, a matter to which I will return.
First, it is worth noting that Lord Hardie devoted a section of his report to how public inquiries are run in Scotland and why this must be reformed. To some extent, this is in self-defence, making the entirely fair point that it wasn't his fault the whole thing took nine years and cost £39 million.
Of course, the unwieldiness of public inquiries suits those who do not want to hold them in the first place. If there are no time limits on an inquiry, no mechanism for setting it up quickly and efficiently, no sanctions against those who give evidence with "lack of candour" and no penalty for witholding key documents, then what is the point?
As Lord Hardie points out, each of these deficiencies could have been addressed long ago. "In many inquiries, the terms of reference include a reporting date, whereas no such date was stipulated by then First Minister, Alex Salmond." So it was open-ended, deluged with 17,000 documents (with crucial omissions) and took nine years to get answers.
Lord Hardie suggests the public might have expected his inquiry "to commence immediately in accommodation and with staff resources already in place". But that is not how it worked "or still works" in Scotland which explains why each inquiry – including the impending Covid one – gets bogged down in interminable delay; the risk of political impact diminishing with each year that passes.
"Each inquiry," wrote Lord Hardie, "must appoint its own administration but there is no single department within the Scottish Government with responsibility for the establishment and funding of public inquiries." This, he points out, was sorted elsewhere in the UK in response to a report in 2005.
All of which takes me back to Transport Scotland, ferries and the overwhelming case for a public inquiry as the only conceivable way of getting at the truth. That is exactly why the Yousaf continuity regime will do everything to avoid one, doubtless pleading that it would take too long. "Just look at the trams," they will protest with wide-eyed innocence.
Public inquiries should only be called for in exceptional circumstances. I would contend that squandering hundreds of millions of pounds, the dubious circumstances in which contracts were awarded, the trashing of Scottish shipbuilding's reputation and the damage done to fragile island economies all add up to exceptional circumstances. Not to mention that great metaphor of Ms Sturgeon's reign – the bogus launch with painted-on windows. How much did that cost the Scottish taxpayer? How much did it cost island economies – and all for a political stunt?
Without doubt, a public inquiry should be held. There should be a reporting date as Lord Hardie called for. There should be evidence under oath with full legal sanctions. And all this should happen without delay while memories are fresh, evidence available and people still in senior posts who must be held accountable.
SNP ministers are desperate to avoid a public inquiry while ethics and the public interest dictate that one should be held. Which will prevail? The ferries scandal is every bit as serious as the trams overspend – and at least the trams are running. Will the ferries ever sail reliably? Do the islands matter so much less than Edinburgh?
It is no coincidence that Transport Scotland, which has long been a rotten burgh within the Scottish Government, is again in the eye of the storm – totally without accountability or remorse. Indeed, the director general of Transport Scotland throughout the debacle, Roy Brannen, was rewarded with the position, director general of net zero. That should go well.
Far from being held to account, Transport Scotland is currently plotting to take more power to itself by merging its ferry division with CMAL, the procurement quango, thereby ensuring that even more control resides at the safest possible distance from those who suffer the consequences. That must not be allowed to happen.
Lord Hardie's damning indictment cannot be ignored. Scotland is run by a clique for whom "lack of candour" and mutual protection is a well-practised code of honour. Their vested interest is in demonstrating untouchability. The public interest lies in demanding "integrity" and a means of establishing truth.
Comments
 0 comments
Want to join the conversation? Please or to comment on this article.