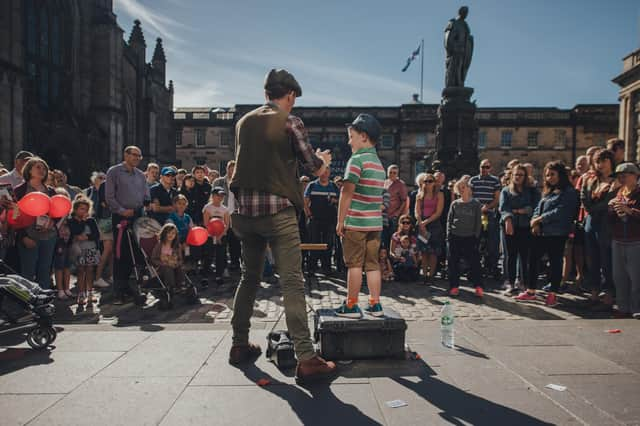 An international celebration that was created to reunite Europe in the aftermath of the Second World War, it has long embraced every conceivable art form, is open to anyone to perform in and is the world's biggest annual event of any kind.
Perhaps the most remarkable aspect of this cultural celebration is that almost all of it can be experienced either inside or within walking distance of the city's medieval core.
For as long as I can recall, this has been both a blessing and a curse in Edinburgh in August.
Ever-expanding festival audiences, combined with the city's growing appeal as a global tourism destination, saw parts of the Old Town becoming seriously congested in recent years. Before the pandemic, the festivals themselves admitted they would have to change to tackle long-standing concerns about their impact on the city and the environment.
It is nearly a year since the first eerie images of lockdown Edinburgh began to fill social media, a sudden and sharp contrast to normality.
By the end of next month, like the rest of the country, the Scottish capital is expected to start to reopen for business under a route map out of the pandemic restrictions.
But any optimism within its long-suffering tourism and hospitality operators is tempered by huge uncertainty over what the summer holds in store.
Edinburgh's festivals may be worth an estimated £1 billion to the economy but, as with all other events, are yet to get the green light to return in any form, sparking anxiety that Edinburgh's long-standing reputation as the world's leading "festival city" is at serious risk.
Ironically, much of the anxiety has come since Boris Johnson's announcement of a provisional timetable for the resumption of events in England without social distancing, which sparked a surge in ticket sales for festivals south of the border.
A deflated cultural sector was left looking in vain for any mention of live events in Scotland's route map, which also went down like a lead balloon with the tourism and hospitality industries north of the border over its lack of clarity.
A nightmarish scenario for many in Edinburgh is that it reopens for business but without any meaningful sign of events which have put the city on the world map since 1947.
It is impossible to imagine the Scottish government is not acutely aware of how much damage would be done to the reputation of the city and its cultural heritage if this were to unfold while festivals elsewhere in the UK go ahead safely.
It is just about possible to see Edinburgh as a totally reimagined festival city, with streets, courtyards, parks, gardens and even empty shop units transformed by pop-up venues, shows and performers, even if social distancing was still needed.
However it may need the biggest ever shake-up of the festivals to go ahead, as well as firm leadership from the Scottish government and the city council to offer real hope for the future and seize the moment rather than admit defeat.
It is a tall order, but those in positions of power and responsibility need only look back to what was achieved in the aftermath of the Second World War for inspiration.
A message from the Editor:
Thank you for reading this article. We're more reliant on your support than ever as the shift in consumer habits brought about by coronavirus impacts our advertisers.
If you haven't already, please consider supporting our trusted, fact-checked journalism by taking out a digital subscription.
Joy Yates
Editorial Director