Mr Trump owed my firm tens of thousands of dollars on the day of the major opening event. He threatened to not pay me. I used my walkie talkie (in those days we did not have mobile phones) to contact the chief financial officer for the casino and told him that his firm was in default of my contract and if there were no pay with either a bank cheque or cash (remember this was a casino where cash was readily available) then there would be no play.
A few minutes later, as the sun set in the sky, a very tall man wearing a long black coat, a black wide-brimmed hat and mirrored sun glasses walked through a crowd of 40,000 people directly toward me and extracted a long envelope containing my cheque. Then and only then, the show went on.
Cheque paid straight into ATM
Upon receiving the certified bank, I asked my wife to please deposit it in a hole in the wall. This was the first year that automatic teller machines were suddenly appearing on every street corner. As the opening was on a Saturday all banks would be closed but fortunately the cash machine accepted our deposit and it was immediately transformed into a deposit.
Now, in the days after one of the most contentious elections ever conducted in the western world, the show is still going on and Trump is still making empty threats.
As I watched him declaring victory without evidence and threatening to sue others to stop the vote counting, I wondered if this may be because of some deep inner fear that I witnessed up close and personal when I worked with him.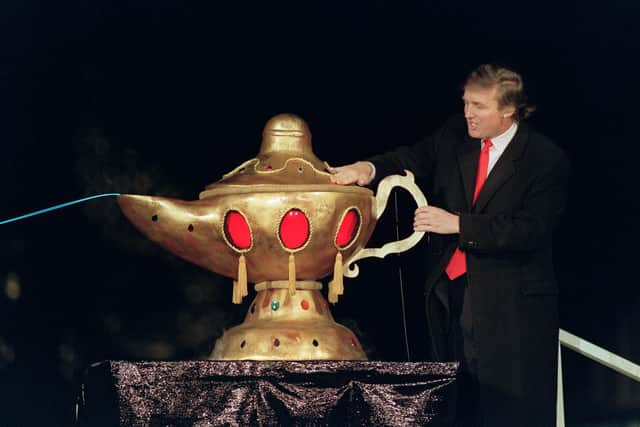 One afternoon I was inspecting the physical set-up for the casino's grand opening as a giant red bow and long red ribbon was being attached to the 52nd floor of the hotel. The ribbon would later be cut by laser beams projecting from an enormous Aladdin's lamp that Donald Trump would rub to summon his inner genie.
During my inspection, Trump and his posse of yes men and women walked swiftly through the site and Trump looked down at me with his imperious eyes and said in a booming voice "If that bow doesn't work tonight you will not be paid!"
Eye of the Tiger
He then turned and started to walk away and I called after him saying "No worries. We will give you a full credit toward your next bow!" He turned back to me and scowled and then continued his walk of terror.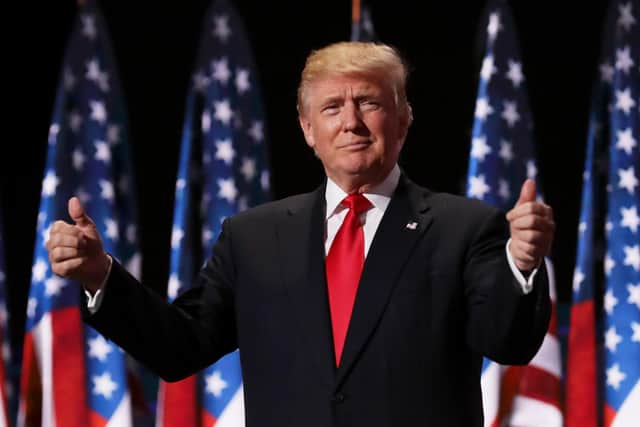 Prior to the grand opening, I produced the Taj Mahal staff-welcome event held in the enormous Trump arena. The programme included a fashion show displaying the glamourous costumes that staff would soon be wearing and a speech by their owner, Mr Trump.
Laser lights were part of this production and although I had been warned not to speak to The Donald I persevered because of my concern for his personal safety. I approached the imperious owner backstage, introduced myself and told him that when he entered to always look forward because we would be shooting laser beams over his head and if he looked backward he might be blinded by the strong burning lights. He agreed to follow my direction and this might have actually been the last time he actually listened to anyone else.
His theme music, Eye of the Tiger, began blaring from loudspeakers and as the bright green beams projected over his large head, Trump began his walk toward the 5,000 members of his staff. However, a mishap occurred and suddenly the laser beams dropped by a metre and appeared to project through Trump's midsection.
Upon seeing this he immediately dropped to his knees, seemingly in fear of being severed in two by the powerful beams. I called out from the wings "It is all right, stand up and give your speech". He looked at me with genuine fear and then rose, walked to the lectern and, though obviously shook up, delivered his usual rant.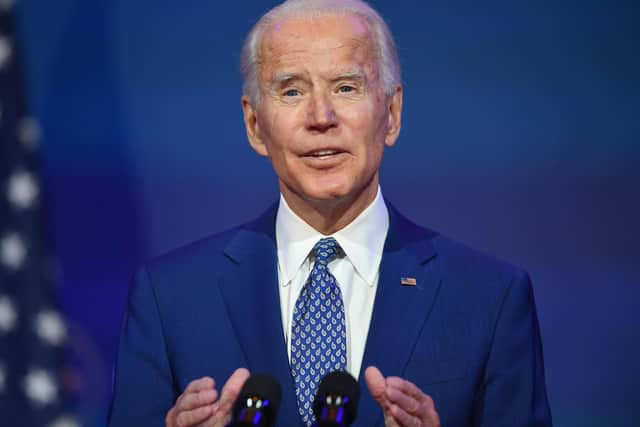 A Scottish invention
What Trump experienced with the laser beam was a moment of uncertainty. Whilst most of us appreciate a high percentage of certainty in our lives, he appears to thrive upon inflicting uncertainty for others and yet he was surprised and even frightened when he experienced uncertainty himself.
The Trump Taj Mahal, having gone through bankruptcy, closed in 2016 is now a Hard Rock Casino. The once-glamorous Taj costumes of the staff are now the property of the ragpicker.
However, once upon a time, in a moment of uncertainty, the man who hoped to be re-elected as President of the United States, followed my directions and actually found his way to the destination that he desired.
But since the election, Trump has demonstrated that he no longer listens to others who may have a shred of expertise, authority and integrity. Just as many years ago, his constant cultivation of uncertainty and unpredictability may now have many more dangerous ramifications for himself and people all over the world.
Remember the hole in the wall that accepted our deposit? I later learned, after moving to Scotland, that the software for the automatic teller machines used throughout the world, was developed in Dundee.
This is still another example of how Scotland has helped invent the world. And that is a good thing, because, I am now ready, willing and even more able to use invention and integrity to avoid being trumped and instead triumph more certainly in the future.
Professor Joe Goldblatt is the author, co-author and editor of 39 books in the field of planned events. He is emeritus professor of planned events at Queen Margaret University. In 1990, he produced the opening of the Trump Taj Mahal in Atlantic, City, New Jersey. To learn about his other views visit www.joegoldblatt.scot
A message from the Editor:
Thank you for reading this article. We're more reliant on your support than ever as the shift in consumer habits brought about by coronavirus impacts our advertisers.
If you haven't already, please consider supporting our trusted, fact-checked journalism by taking out a digital subscription.