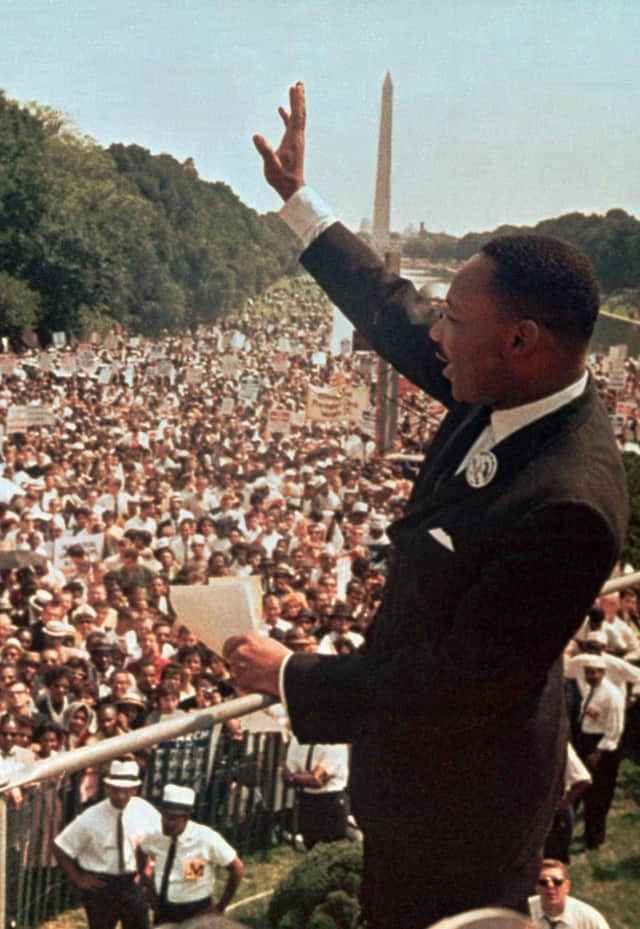 The Rev Martin Luther King Jr acknowledges the crowd at the Lincoln Memorial in Washington DC for his 'I Have a Dream' speech on August 28, 1963 (Picture: AP)
Three weeks after the killing of George Floyd, there is a fear that, on both sides of the Atlantic, the debate about racial justice and the remarkable protests held throughout the world are giving way to a narrow discussion on statues, symbols, Confederate flags and generals, and the names of US military bases. Right-wing extremism is also playing its part.
Revisiting history, contextualising partial narratives, and removing popular myths have their place and remind us that more needs be done to inform and educate if we are to confront racism in America and the United Kingdom. But as one commentator suggested, "as countries steeped in history, we are so ignorant about it, and have delusional relationships with the past".
Our aim must be to change the course of history, not erase it.
A world inspired by one brutal act of racial injustice must not become distracted. Already the media in the UK is moving on, as substance gives way to symbolism. Prime Minister Johnston, following Trump, talks about thugs and law and order, but has said little about racism in the UK, while some Conservative MPs have even suggested it does not exist.
Despite the House of Representatives holding hearings on police reforms, the Republican party is conspicuous by its silence. President Trump, now mockingly described "as the last President of the Confederacy", has weighed in, supporting pro-slavery confederacy leaders by tweeting: "My Administration will not even consider the renaming of these Magnificent and Fabled Military Installations" and "Our history as the Greatest Nation in the World will not be tampered with."
Trump's comments are delusional and shameless, but mainly divisive and illustrate the near impossibility of addressing racism in such a politically poisonous and racially charged America.
The President will use racism to fire up his base as the presidential election closes in, and will embolden those on the extreme right of American politics who support white supremacy, and whose new rally placards proclaim "a knee is the new noose". Given the number of gun owners among the far-right, there is the prospect of serious violence if the campaign for racial justice gains traction.
Slavery built America, but white privilege was the basis upon which the United States was founded. This is the most difficult hurdle to overcome if racial justice and equality are to be achieved. The prospect of whites becoming the minority in America by 2040 will weigh heavily on the minds of more than the extremists.
Often described as America's "original sin", slavery could have influenced the thinking of the Founding Fathers in 1776. But it did not. Since then, America has been living a lie. Racism is deep-seated and is validated, subconsciously, in the minds of Americans by being ignored by the revered Founding Fathers in the Declaration of Independence and the Constitution. The Constitution protected slavery and legalised racial subordination. The Bill of Rights inspired by Jefferson provided no constitutional rights for slaves, whose lives were controlled by "slave codes".
Living in a country that does not have a written constitution, it is hard for us in the UK to imagine how the "sacred" US Constitution shapes lives and is held in such high regard. But in the late 18th century, a place for slavery was wired into the minds of those charged with shaping the new republic.
The Constitution barely mentioned slavery, except for the apportionment of seats to the House of Representatives, where a black person was counted as only three-fifths of a white person: the roots of white supremacist thinking lie in the history of slavery.
12 US Presidents owned slaves
Of the framers of the Constitution and the signatories of the Declaration of Independence, 75 per cent were slave owners. In 1776, slavery remained legal in the 13 states of the new Republic.
Thomas Jefferson, George Washington, and James Madison owned slaves, although John Adams opposed slavery his entire life and once said, "slavery was a foul contagion, an evil of colossal magnitude in the human character". Jefferson, in sharp contrast, described slaves as "untrustworthy, inferior, childish and property", and could see "no way for African Americans to live in a society of free people". This is the same man who wrote: "We hold these truths to be self-evident that all men are created equal and endowed by their creator by certain inalienable rights." Clearly, black people did not qualify.
At least 12 of the 45 US Presidents were slave owners, including eight who owned slaves during their time in office: some slaves were born in the White House.
There is no prospect of Americans reframing or revisiting their history to discuss how their Founding Fathers made a mockery of the idea that "all men are born equal", excluded people of colour from the vision of their new country and set in stone, by accident or intent, the notion of white privilege which is now the most destructive force in the life of 'modern' America, emboldening those who see African Americans as lesser people.
Progress on racial justice will require political courage, leadership, and strategic direction. The popular movement that is emerging must deal with the legacy of 400 years of slavery, which extends well beyond police violence. The vision must be founded on the ideas that being white should not be a privilege and "being black should not be a death sentence".
At key moments in history, leaders have emerged who have changed the course of history – such as Abraham Lincoln with the abolition proclamation in 1864, and Lyndon Johnson, who brought in historic civic and voting rights acts in 1964.
The brutal murder of four young black girls – blown up by dynamite in an Alabama church – by white supremacists in September 1963 was another tragedy in what has become a never-ending list of crimes against humanity.
It was possibly a coincidence, but 18 days before this atrocity, Dr Martin Luther King Jr delivered his famous "I have a dream" speech in Washington DC, in which he called for civil and economic rights and an end to racism in America, 100 years after Lincoln's abolition proclamation.
Reaching out beyond statues, political extremes, and police brutality, he said: "I have a dream that my four little children will one day live in a nation where they will not be judged by the colour of their skin but by the content of their character."
Dr King's "promised land" may be some way off, but, in the aftermath of George Floyd's death, doing the bare minimum will not be enough.
A message from the Editor:
Thank you for reading this article on our website. While I have your attention, I also have an important request to make of you.
With the coronavirus lockdown having a major impact on many of our advertisers - and consequently the revenue we receive - we are more reliant than ever on you taking out a digital subscription.
Subscribe to scotsman.com and enjoy unlimited access to Scottish news and information online and on our app. With a digital subscription, you can read more than 5 articles, see fewer ads, enjoy faster load times, and get access to exclusive newsletters and content. Visit www.scotsman.com/subscriptions now to sign up.
Our journalism costs money and we rely on advertising, print and digital revenues to help to support them. By supporting us, we are able to support you in providing trusted, fact-checked content for this website.