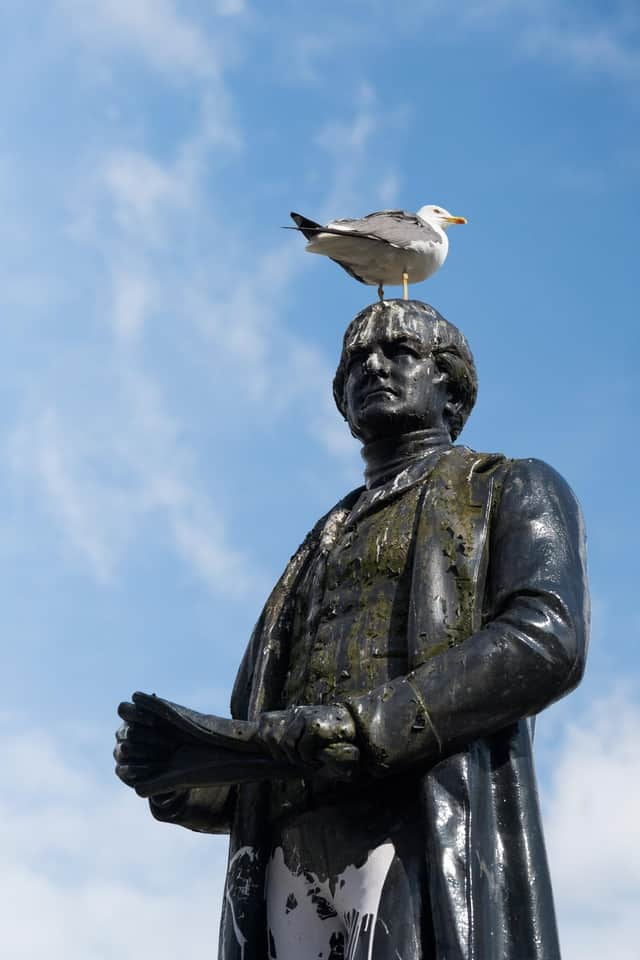 The statue of Sir Robert Peel in Glasgow's George Square, one of many memorials being targeted as the Black Lives Matter movement demands Scotland comes face to face with its ties to slavery. Picture: John Devlin
How far has Scotland travelled in reckoning with the darkest chapter of its history, how might that journey be sustained, and if a hard-won change is achieved, whatever might it look like? Amid the chants and placards, the threats to topple monuments, and the crowds thousands-strong who have defied a pandemic to voice protests and demands, they are the questions that have come to dominate Scotland's cultural conservation.
The grim death of George Floyd has sent shockwaves not just across the US, but throughout the world. The demonstrators who have convened on this side of the Atlantic have shown solidarity with the 46-year-old's family, and stood side by side with African Americans raging against structural inequality and police brutality. Some 3,700 miles from Minneapolis, the protests here may echo many of the same messages, but they are no mere facsimiles of the era-defining uprisings shaking Trump's America. The Scottish demonstrations carry a distinctive timbre and move to a different impetus, asking how we too might build a more equitable future, while reconciling with a past stained by the blood spilt in an Empire's name.
Even in its infancy, the rapidly evolving Black Lives Matter movement in Scotland has set a precedent for the widespread and sustained way in which it has tasked society with definitively confronting the substantial role the country played in slavery, and the transformational impact that trade had on the nation's development. The first question is perhaps the most pressing: what comes next?
Graham Campbell, the first ever African Caribbean councillor in Glasgow, stands outside the Gallery of Modern Art, built as the townhouse of William Cunninghame, an 18th century tobacco and sugar merchant. Picture: John Devlin
The immediate answer should give the prime minister cause for concern; or at least, one of his predecessors. A memorial in Glasgow's George Square to Sir Robert Peel, the 19th century Conservative statesman, whose father – also an MP – supported a petition against the Foreign Slave Trade Abolition Bill, is among those earmarked on an interactive map created by activists. Entitled 'Topple the Racists', it calls for the removal of statues and monuments across the UK that celebrate slavery and racism. With a Black Lives Matter demonstration scheduled for George Square today, it remains to be seen whether the statue to Peel will be targeted, but Police Scotland officers have been on patrol in the square, as well as at the Necropolis.
Peel's is a complicated legacy, although others are even more tangled; a quick pace away, another memorial in the city's civic heart commemorates a man who once accepted an invitation to set sail from Greenock to Savanna-la-Mar to begin a new life as an assistant overseer on a Jamaican plantation. His name? Robert Burns. Another few steps west brings to you Francis Leggatt Chantrey's statue of James Watt, whose father, a West India merchant who traded in slave-grown produce and even transported enslaved people between colonies, subsidised the young engineer in his ground-breaking pursuits.
These are questions which defy straightforward or comfortable answers. There is, however, a newfound urgency to them. After Edward Colston's unceremonious end in the murk of Bristol harbour, authorities in Edinburgh hurriedly moved to propose the wording of a new interpretative plaque on the Melville Monument, one which spells out the ignominious acts of Henry Dundas, and dedicates the towering column to those who remained enslaved thanks to his obstruction of abolition. Only time will tell if that is sufficient to quell the clamour for its permanent removal.
For Graham Campbell, a veteran of Scotland's anti-racism movement, the focus on reclaiming and reassessing our built heritage represents an important step forward. As the first African-Caribbean councillor in Glasgow, the second city of the Empire, he has been cheered by how the Black Lives Matter protests have highlighted the absurdity of commemorating those who amassed astronomical fortunes from slavery without any meaningful historical context.
Anti-racism protesters gather at a Black Lives Matter in Glasgow Green last week. Picture: John Devlin
"In focusing on street names and statues, the movement has brought to the fore how the heritage story we see in our cities is not in conformity with the politics of the society we live in," he explains. "All city centres are designed in keeping with the era they were built in, and in the era of slavery, it was laid out in the image of its perpetrators to reflect their values as British colonial imperialists developing a global superpower. We are a different city in a different country today, and what we say as a city as a stage set for the world to visit has to be reflective of what our people think now."
What that new message should be, and who should give it voice, are being debated like never before. Like Sir Geoffrey Palmer, professor emeritus at Heriot-Watt University, Campbell would like to see greater use of plaques to provide an unvarnished addendum to the history of those who have been memorialised. He points to a recent installation at the University of Glasgow, which makes clear how the land on which its Gilmorehill building was raised was owned by Robert Bogle, a West India merchant who derived his wealth from enslaved Africans.
There is a sense, however, that the surging momentum of the Black Lives Matter movement could sweep away such subtleties and insist that a slew of offending statues are banished from skylines for good. Edinburgh's city fathers may have issued a mea culpa on behalf of Henry Dundas, but their leader, Adam McVey, has admitted he would not object to its removal, and Humza Yousaf, the justice secretary, has said he scratches his head over why statues memorialising luminaries of slavery remain in situ.
Among those tasked with contemplating the broad sweep of what has gone before, however, the suggestion of tearing down such monuments is tantamount to criminality. Professor Sir Tom Devine, the nation's preeminent historian, told Scotland on Sunday that politicians should not be concerned with removing statues, but reflecting on the "avalanche of evidence" cataloguing Scotland's connections with slavery, and assessing how it can be used to educate the public.
The statue of Edward Colston, a 17th century slave trader meets a watery end in Bristol harbour. Picture: Tom Wren/SWNS
"The destruction of any of these artefacts would censure the past," he reasons. "It would be destroying historical evidence. There are ways round the issue, for example by drawing attention to the iniquity of a person commemorated by a statue, without necessarily coming to a decision to remove it entirely."
Others, though, urge Scots to see oursels as ithers see us, and Eric Miller has a unique perspective on the subject. A professor at Loyola Law School in California, he has played a leading in role in seeking restorative justice for the victims of slavery and Jim Crow segregation laws, representing the victims of the 1921 Tulsa Massacre – regarded as the single worst incident of racial violence in US history – and imploring Congress to pursue specific legal remedies. As the grandson of a Jamaican migrant who came to Glasgow in 1919 in search of work, he is also a mixed race Scot who left his homeland in the 1990s. His relationship with the old country is a complex one.
"I think that history is important, but putting up a statue is a form of endorsement," he tells Scotland on Sunday from his home in Los Angeles. "In the US, the state puts its weight behind wrongdoers to remind black people who is boss. In the south, the idea is: just because we lost the war, don't think you can dominate us.
"I don't think that's what we're doing in Scotland. But we don't have to put our civic weight behind people we now know did terrible things. Merchant City is essentially built on the blood and flesh of enslaved people. We should acknowledge and account for that.
Professor Sir Tom Devine says the "pessimism" he once felt about public engagement with Scotland's connections with slavery "may have been misplaced."
"That's why I hate the 'removing history' line. In taking down statues, or removing street names, we are not removing them from history. We are actually more likely to include them in history. What we are doing is refusing to allow the city that represents us to endorse men like John Glassford as someone we should literally look up to. If we are famous for putting a cone on Wellington's head, why not do the same to our own? They don't deserve our recognition, let alone our civic endorsement."
If the statue question has formed a foundation and a visceral, visible outlet for the Black Lives Matter response in Scotland, it is also being built on with numerous other issues, not least some soul-searching over whether the present momentum will coalesce into meaningful change, or simply peter out. Devine concedes the "pessimism" he felt as recently as a decade ago about wider engagement with the subject "may have been misplaced." While astonished by the current protests, he sounds a note of caution that they may serve as a "public frost". He elaborates: "It might disappear as quickly as it began, especially after George Floyd's funeral. It is difficult to keep something like this going."
Resolving that, he believes, requires a candid assessment of how far Scotland has come, and how far it has yet to go. His 2015 book, Recovering Scotland's Slavery Past was one of an increasing number of wake-up calls to Scottish society by scholarship. Together with the likes of Dr Stephen Mullen's It Wisnae Us: The Truth About Glasgow And Slavery, published in 2009, its findings simultaneously shocked and confirmed truths that were there all along in the archives.
Amnesia and denial have long characterised the nation's response to its history with slavery. Devine attributes that to the immaturity of the study of modern Scottish history and pinpoints the moment of change having taken place less than a generation ago. The new millennium, he argues, brought a "new understanding borne out of a new self-confidence", one which empowered Scots to accept that "not all was positive about the nation's history".
"I personally don't think the material I and others have published recently would have been acceptable to a Scottish audience in the later part of the last century," he concedes. It is a hypothesis supported by the events of the past two decades. The bicentenary of the Abolition of the Slave Trade Act in 2007 catalysed conversations around slavery, with a modest series of exhibitions and the commissioning of a 56-page pamphlet by the then Scottish Executive. Its discourse lacked the radicalism some historians insisted upon, but the very act of its publication helped break a long, shameful silence.
Graffiti is daubed on a statue in Edinburgh in memorial of Robert Dundas, 2nd Viscount Melville, the son of Henry Dundas. Picture: Jane Barlow/PA Wire
It was followed by an explosion in Scottish historiography and academic analysis, and arguably culminating with the 2014 Commonwealth Games. In Glasgow, the sporting pursuits were complemented by a vibrant cultural programme which did not shy away from Scotland's treatment of those nations who shared the roots of Empire, as the likes of Louise Welsh, Jackie Kay, Alan Riach, and James Roberts scrutinised Scotland's relationship with the North Atlantic slave trade. The flow of books, documentaries, stage productions, and studies has been more or less constant, if not so high-profile, in the six years since.
For all the chipping away that has been going on, Devine takes the view that Scotland has been slower off the starting blocks than England and the US, in large part due to the relatively small size of its black and minority ethnic population. "If you look at the story of how England developed before the anniversary of the abolition of the slave trade, the most energetic and influential proponents of that time of celebration and contemplation were people from the immigrant West Indian community," he says. "But less than one per cent of the Scottish population are of that ethnic origin, according to the 2011 census, so their impact on this realisation has been much more limited than in the US or England. It's not completely absent, but it's not been the political force that's been drawn upon elsewhere."
"Scots are still going through the process of facing up to the reality of the past, and how it should be remembered. England went through that ten to 15 years ago, and America's been doing it for generations."
Cleo Lake, a Green councillor who served last year as Lord Mayor of Bristol, senses a similar disparity, but is optimistic about Scotland's future. She considers herself a proud Bristolian with Scottish and African-Caribbean roots – her maternal grandfather, Big Bill Campbell, was a Scots-Canadian musician who, together with his Rocky Mountain Rhythm Band, popularised country and western music among British audiences in the first half of the 20th century thanks to broadcasts on Radio Luxembourg and variety shows. He was also, his granddaughter reflects, an inveterate racist.
"There's been a conflict between celebrating who he was, and what he achieved as an artist, and what we know about his views," she says. "My mother was told he was only a few steps away from the Ku Klux Klan in terms of his attitudes."
Lake, who removed portraits tied to the slave trade from her office while serving as mayor, was hosting an online Black Lives Matter demonstration last week when she heard that Colston's statue had been torn down. "I remember jumping out of my seat, with a huge smile on my face, and shouting, 'On your feet!', 'On your feet!' " she laughs, almost surprised at her instinctive reaction. The event gave the veteran social justice activist cause to reflect not only on her own heritage, and as a 40-year-old black woman how the anti-racism movement has changed since her formative years.
"There is now a far greater number of young people getting engaged, and although the focus on British enslavement of people has tended to focus on England, I do get a strong sense of Scotland tackling these issues," she says. "One of the protesters at the event here was of Jamaican descent and originally from Birmingham, but used to live in Scotland. He said he only realised how racist society was when he moved back to England."
Campbell also feels a new generation is seizing the day. "Myself and people like Sir Geoff were wire cutters at the fences," he laughs. "It's the young people who are storming the trenches."
Increasingly, all those involved in the Black Lives Matter movement are asking what will be the legacy of its ferocious energy. David Pott, a longstanding campaigner who founded the Lifeline Expedition in 1997, a movement designed to not only raise awareness of British complicity in the slave trade, but to offer an apology to those nations which suffered incalculable losses at its hands, believes the current wave of anger has put things on a "knife edge".
"It can lead to violence, destruction, and mayhem," he says, "or it can be a constructive anger which seeks out justice." Pott, who also founded Flag Up Scotland Jamaica, a project designed to highlight the historic injustices the former nation brought upon the latter, and to forge closer ties between the two, takes the view that restorative justice schemes are key to salving centuries-old wounds.
"Repairing the damage is important, and I think we need to explore every avenue with monetary reparations," he argues. "I have always said that reconciliation is about developing meaningful relationships which lead to change – you don't make progress by people on either side shouting at one another."
Indeed, one of the most high-profile acts to date in Scotland's awakening has been the University of Glasgow's commitment to work with the University of the West Indies in Jamaica to establish a Glasgow-Caribbean Centre for Development Research, and to raise and spend £20m towards its cause over the next two decades. The new institution's overarching goal is to stimulate public awareness about the history, and impact, of slavery, and its initial tranche of research offers an instructive insight into the practical steps being taken to eradicate slavery's debilitating legacies.
In a region with the world's highest per capita amputation rates due to type 2 diabetes, Scotland – the country which reaped a fortune using the slave labour on Jamaica's sugar plantations – will now be directly funding efforts to avert the public health crisis it helped create. Campbell, whose great-grandfather owned a former slave plantation in Jamaica, is a vocal supporter of such commitments, but points to the irony of how so many trained Jamaican health professionals have aided the NHS. A reciprocal act, he believes, should be followed by a wider outreach effort.
"Reparative justice can ensure the countries we benefited from are decent places to live today, with healthcare, education, social systems that help the people thrive," he says. "In a similar way to how Scotland is twinned with Malawi, we should have a relationship not only with Jamaica, but places like Sierra Leone, where Scots ran Bunce Island [where slaves were held before being transported to the colonies]."
Along with greater BME representation in the workforce and public office – points made forcefully in recent days by Yousaf and Scottish Labour's Anas Sarwar – Campbell, the SNP councillor for Glasgow's Springburn and Royston ward, also wants to see more done in schools. Scotland's part in the Atlantic Slave Trade is taught at National 4 and National 5 levels, but it spans only a 37-year period, and ends in 1807. But as Campbell notes, abolition only ended the slave trade; it did not end slavery.
"We need to teach children about what was perpetrated before and after that date," he insists. "There's no excuse any more that we don't have the Scottish material to learn about this. We have the potential resources to decolonise the curriculum, and that's a major demand coming from the Black Lives Matter movement."
Pott, too, would like to see closer educational ties between the likes of Scotland and Jamaica, and highlights unique individual opportunities, such as at Bathgate Academy, a school built using the profits of John Newlands, a notorious plantation owner. For his part, Devine says the education of young people about Scotland's slavery connections is the single most important factor going forward. "We've now moved on to the next sphere of understanding that historic set of events," he says. "How do we commemorate them? How do we make sure they're not forgotten, and become an integral part of the nation's history, warts and all?"
Those questions will continue to be asked for however long it takes. Our nation's journey into its past has been an iterative process, and the answer of how far it has come differs depending on who you ask. What is undeniable is that Scotland has taken great strides since the dawn of the 21st century, but it is perhaps worth considering the assessment of those on the receiving end of the open, inclusive brand of internationalism we are fond of projecting to the wider world.
Some 5,000 miles away in California, Miller, an expatriate from a country in which he saw his father denied promotions because he was black, and where he encountered first-hand the scourge of racism growing up, has been impressed by how Scotland is considering its complicity in slavery, yet still finds it "weird" that so many of his compatriots presume the nation is immune to racial prejudice.
"As Scots, we should be used to our Jekyll and Hyde character, and be willing to call ourselves out," he says. "We have a history, I'm sure, of solidarity with enslaved people that goes alongside our history of oppressing enslaved people, just as we have a history of solidarity with, and oppressing, people on the basis of religion.
"I recognise that being called out for saying something hurtful feels hurtful. We don't want to be the baddies. But sometimes, we just need to recognise that people we care about are hurting. Your Scottishness does not depend upon my non-Scottishness.
"Robert Burns is a Scottish hero because he faced up to his Scottishness in all its diversity and fashioned it into a unity of personality and poetry. This is the challenge Scotland presented him and which still faces us: to seize the contradictions of our Scottish character – a character manifestly more diverse than it was in Burns' day – and to work it into a new and greater whole."
"I think that's what's going on in Scotland right now, and it's about time," he adds. "We'll be better for it."
A message from the Editor:
Thank you for reading this story on our website. While I have your attention, I also have an important request to make of you.With the coronavirus lockdown having a major impact on many of our advertisers - and consequently the revenue we receive - we are more reliant than ever on you taking out a digital subscription.Subscribe to scotsman.com and enjoy unlimited access to Scottish news and information online and on our app. With a digital subscription, you can read more than 5 articles, see fewer ads, enjoy faster load times, and get access to exclusive newsletters and content. Visit https://www.scotsman.com/subscriptions now to sign up.
Our journalism costs money and we rely on advertising, print and digital revenues to help to support them. By supporting us, we are able to support you in providing trusted, fact-checked content for this website.
Professor Eric Miller believes those who made fortunes from the slave trade "don't deserve our recognition, let alone our civic endorsement." Picture: Loyola Marymount University
A Black Lives Matter cone is placed on the Duke of Wellington statue in Glasgow. Picture: Jeff J Mitchell/Getty Images
Cleo Lake, the former Lord Mayor of Bristol, whose heritage spans Scotland and the Caribbean, said she jumped out of her seat after the statue to Edward Colston was torn down. Picture: Bristol Green Party