Dominic Raab's bullying and other politicians' bad behaviour has damaged trust in democracy. Voters' judgment may be severe – Christine Jardine
Bated breath was a pretty common phenomenon at Westminster this week as we all waited for Adam Tolley KC's report which would decide the future of the then Deputy Prime Minister Dominic Raab.
Even after it was delivered to the Prime Minister, we still had to wait as Rishi Sunak took his time deliberating what the verdict actually was and whether Raab's behaviour towards staff had breached the ministerial code. The outcome could have implications for his leadership too.
Finally, it was the Deputy PM himself who took the plunge, admitted the report had not gone his way, and resigned. But in so doing he opened fresh floodgates of controversy as his graceless resignation letter pointed to so-called "thresholds" for behaviour and perceptions of professionalism in government. Not least when he asserted that: "Mr Tolley concluded that I had not once, in four-and-a-half years, sworn or shouted at anyone, let alone thrown anything or otherwise physically intimidated anyone, nor intentionally sought to belittle anyone".
I completely understand Mr Raab's desire to defend himself and explain that he had never intended to offend or intimidate. But in its many pages, the report does describe his behaviour at times as "abrasive" and "intimidating", while describing incidences of table banging and going further than necessary with criticism.
To somehow regard that as acceptable as a result of the pressure of government is to be tone deaf to the feelings of staff. In the furore which surrounded first the wait for the report and then the fallout from Raab's resignation, we heard claim and counter-claim about the alleged influence of that word 'woke'. As if somehow the condemnation of bullying and harassment is a damaging fashion encouraged by extremists determined to undermine good government.
I have been on the end of an angry rant from a minister who was frustrated by general circumstances, jumped to conclusions and overreacted. It wasn't pleasant. Neither was it acceptable.
However, I like to think I carry the scars with me as a reminder of how easy it is for otherwise reasonable people to go too far. And I don't see dealing with bullying as pandering to 'woke' or any other culture but rather trying at all times to remember that our behaviour has an impact on others.
While there is a clear problem in how both Dominic Raab and the Prime Minister have dealt with this individual case, it is also indicative of a much larger issue for the body politic. Dominic Raab is just the latest in a lengthy list of politicians and Conservative ministers whose behaviour has been questioned in recent years.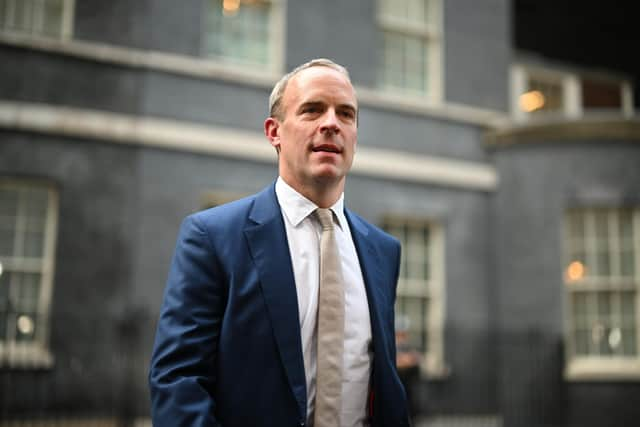 In the past few months alone, Nadim Zahawi, Matt Hancock, Scott Benton, Henry Smith and, of course, Boris Johnson have all created headaches of varying degrees for the Prime Minister, who has himself had tricky questions to answer about his family's financial interests. The constant stream of accusations, damaging Whatsapp conversations, compromising videos and forced resignations at Westminster has undoubtedly undermined public confidence in the Conservative government and democracy as a whole.
We hear it every day on doorsteps in our constituencies and see it reflected in opinion polls which have the formerly seemingly unbeatable Tories now facing an uphill struggle in the next election. And they are not the only ones.
If this Conservative government has set the bar for behavioural standards particularly low, the SNP has managed to slip under it with their own accusations, a Covid conviction, and a live police investigation. The public is heartily sick of it.
Every week I hear from constituents who are struggling to make ends meet in a cost-of-living crisis which is challenging all of us. I have families living with health-threatening damp mould growing on the walls of their home, which is too small and in need of repair, but is all that a council short of adequate housing can offer them. Pensioners who are forced into DIY extractions because there are no available NHS dentists in their area.
What they most want from their politicians is that we focus on those issues. They do not want to have to compete with allegations of bad or even criminal behaviour to get the attention of either of their two governments. While UK-wide opinion polls chart the fall from grace of Conservatives, the ones taken only in Scotland reflect a similar disillusionment with the governing party at Holyrood. The latest analysis shows the SNP's popularity at its lowest level since the independence referendum nine years ago.
The problem for all of us, of course, is how to drag our politics out of this mire before it causes lasting damage to public confidence in our democracy itself. And we must not underestimate that possibility. Unfortunately, the actions of a few reflect badly on the majority of us who find their behaviour as unacceptable as others do, and create an impression of public standards that is unfair on some.
Although the Raab controversy may now be behind this government, there are still plenty of questions to be answered by those in power about their own, and their administration's behaviour. There is already the possibility of a by-election in Rutherglen over the behaviour of former SNP and now independent MP Margaret Ferrier, who admitted putting the public at risk when she breached Covid laws to travel the length of the country on public transport. And my own party have called for a by-election in Dominic Raab's seat – the latest to have the opportunity to rid themselves of an errant Tory MP.
But we would all do well to remember that a general election is now potentially less than a calendar year away. Those who have played fast and loose with public trust may find their constituents are not inclined to put up with it any longer.
Christine Jardine is the Scottish Liberal Democrat MP for Edinburgh West
Comments
 0 comments
Want to join the conversation? Please or to comment on this article.