Dominic Raab: Deputy Prime Minister resigns amid bullying accusations as Oliver Dowden appointed as replacement
Dominic Raab has resigned as Deputy Prime Minister after an inquiry found he acted in an intimidating and aggressive way with officials.
The long-awaited inquiry upheld two bullying allegations against Mr Raab, forcing Rishi Sunak into a reshuffle as he lost one of his closest allies in Government.
Downing Street had taken time to consider the report, in a perceived attempt to buy time, but acted quickly after the resignation by appointing Oliver Dowden as the new Deputy Prime Minister. Alex Chalk has been appointed as the new justice secretary.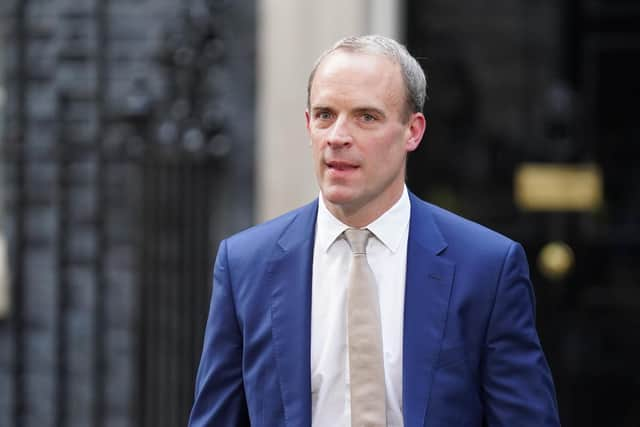 Mr Tolley's independent report found Mr Raab acted in an "intimidating" fashion with "unreasonably and persistently aggressive conduct" in a work meeting while he was foreign secretary. He also committed an "abuse or misuse of power in a way that undermines or humiliates" with a staffing move, which Mr Raab argued was key to Brexit negotiations on Gibraltar with Spain.
But Mr Tolley said Mr Raab "introduced an unwarranted punitive element" while his conduct was inevitably "experienced as undermining or humiliating by the affected individual".
On a separate occasion while running the Foreign Office, Mr Raab was found to have caused a "significant adverse effect" on a civil servant after conveying a threat. He was said to have issued "unspecified disciplinary action", suggesting there had been a breach of the Civil Service Code.
In a separate strand of the investigation, Mr Tolley praised the Ministry of Justice complainants' "courage" for coming forward with allegations that launched the inquiry.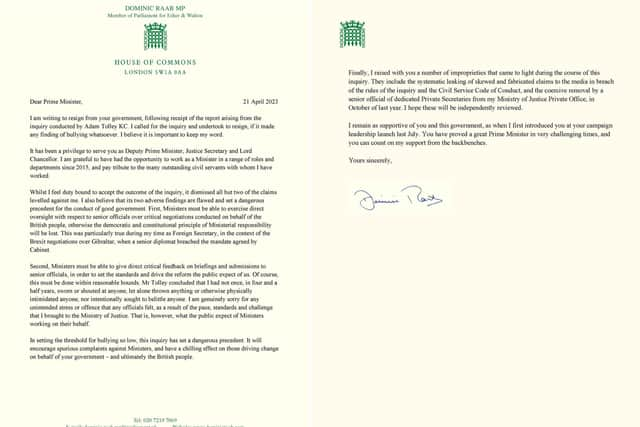 Though he did not make any formal findings about Mr Raab's conduct in relation to these claims, Mr Tolley did say Mr Raab acted in an "intimidating" manner at meetings with policy officials. He made "unconstructive critical comments" about the quality of work, including criticising the absence of "the basics".
Mr Raab was found to have criticised the "obstructiveness" of officials and described some work as "utterly useless" and "woeful". Though he stopped short of describing the conduct as bullying, Mr Tolley's findings were consistent with what he said what would amount to the offence under the Ministerial Code.
Behaviour that could be characterised as offensive, intimidating or insulting, or amount to a misuse of power in a way that undermines or humiliates, would fall within the description of bullying, the lawyer wrote.
Mr Tolley said Mr Raab's conduct as Brexit secretary could not be characterised as offensive or malicious, though he said it was "experienced as intimidating, in the sense of excessively demanding".
In a resignation letter to the Prime Minister, Mr Raab said: "I am writing to resign from your Government, following receipt of the report arising from the inquiry conducted by Adam Tolley KC.
"I called for the inquiry and undertook to resign, if it made any finding of bullying whatsoever. I believe it is important to keep my word. It has been a privilege to serve you as Deputy Prime Minister, justice secretary and Lord Chancellor.
"I am grateful to have had the opportunity to work as a minister in a range of roles and departments since 2015, and pay tribute to the many outstanding civil servants with whom I have worked. Whilst I feel duty-bound to accept the outcome of the inquiry, it dismissed all but two of the claims levelled against me.
"I also believe that its two adverse findings are flawed and set a dangerous precedent for the conduct of good government."
The MP for Esher and Walton said he was "genuinely sorry for any unintended stress or offence that any officials felt, as a result of the pace, standards and challenge that I brought to the Ministry of Justice".
Mr Raab warned "setting the threshold for bullying so low, this inquiry has set a dangerous precedent". "It will encourage spurious complaints against ministers, and have a chilling effect on those driving change on behalf of your Government – and ultimately the British people," he said.
The Tory MP saved even stronger language for an article published on the Telegraph website, as he sought to get ahead of the Tolley report's publication. He wrote the "Kafkaesque saga I endured was shorn of the safeguards most people enjoy", arguing the normal rules of fairness were not followed.
Mr Raab said the only warnings he got about his behaviour before the inquiry was launched were "informal tip-offs" that "unionised officials were targeting me and other ministers". He added: "The claim I threw tomatoes was not even put to me and, separately, led to a Whitehall press officer being investigated for spreading misinformation".
The resignation comes months after the Prime Minister sacked Nadhim Zahawi as Conservative Party chairman amid controversy over his tax affairs. Sir Gavin Williamson – another key Sunak ally – resigned only days into his premiership after it was alleged he sent expletive-laden messages to a former chief whip.
FDA union general secretary Dave Penman called for an independent inquiry into ministerial bullying following the investigation. "His [Mr Raab's] obviously reluctant tone and dismissal of the complaints says more about his conduct than any findings will," he said.
"This resignation is not a vindication of the current system, it's a damning indictment of the inadequacy of a process that relies solely on the prime minister of the day to enforce standards."
The Liberal Democrats demanded a by-election in Mr Raab's Esher and Walton constituency in Surrey following his resignation.
Comments
 0 comments
Want to join the conversation? Please or to comment on this article.