Covid retail crisis: Why the Scottish government should open its own Debenhams-style stores – Jim Duffy
The king is dead, long live the king. And that is exactly the mantra that we would expect when big outfits like Debenhams and the Arcadia Group go into meltdown.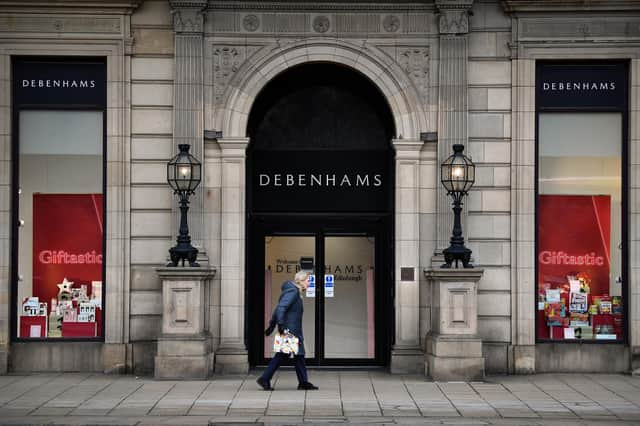 As two giants of the high street fail, for a variety of reasons, two newcomers should take their places. There should be new entrants waiting in the wings, ready to gobble up the high street and shopping mall space, bringing new life to each. But sadly, on this occasion, there will be no up-and-coming retail offering. Scotland will be left with barren spaces, while landlords suffer the consequences. However, I have a bold suggestion…
Of course, Mike Ashley may buy up brands within the Arcadia group. Such is his nous, or some would say ego, that he could make a go of TopShop once more. There is still some semblance of a brand there, albeit Kate Moss is washed out and the brand's current owners – Sir Philip and Lady Green – look like they belong in a waxworks.
I am sure it will not be long before they are summoned before a committee at Westminster if they do not pony up and rejuvenate the ailing Arcadia pension scheme. Some say TopShop has had its day. Even my 22-year-old daughter who is big into fashion was most dismissive of it when I suggested Ashley might buy it. The verbiage thrown back at me included "shabby" and "pricey".
No magic bullet
Notwithstanding that many will want to pick over the bones of these once-great retail empires, I wonder if there is a better way to create new retail businesses, before Amazon buys up the spaces and uses it to quite literally take over online and offline retail. Could we create a new Arcadia Group or Debenhams within the next decade that would add vibrancy to what may soon look like graveyards within the country's malls? And how innovative and daring could we be in that challenge? Stand up, Kate Forbes.
Ostensibly, there is no magic bullet that can put right the years of decline that killed off Debenhams. We cannot pay off supplier debts and landlord invoices. Like all insolvency situations, these just die on the vine, sadly. But, we can have a go at creating and boosting entrepreneurship in Scotland. Notably retail entrepreneurship, which always seems to be overlooked by those agencies with "enterprise" in their name. So, let me paint a picture of a Debenhams 2.0 store near you in 2021 with the Covid threat diminishing.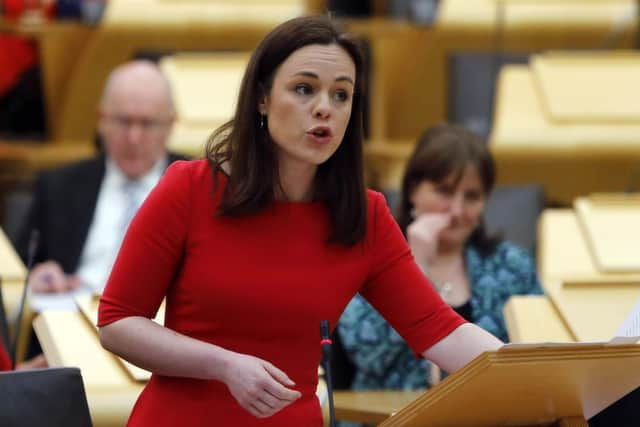 First up Kate, just as you can step in and buy an airport or a shipyard, you can rent a retail space. Let's look at the Scottish government leasing a vacant Debenhams building for 12 months. You pick up the tab. The accounting mandarins can run a spreadsheet on costs, which in the current climate of massive debts, will be tiny. Minuscule. That's the hard bit done.
Next, you let the whole of Scotland know that it is open for business. You, Kate Forbes, have your very own premium retail space that you want filled to the gunnels with entrepreneurs new and old. That's right, you are offering premium space at a massive discount to startups, growing businesses and established ventures. How else will I get my "Craghopper" fleeces now that Debenhams is closed? And you want it to be open to all ventures who want to sell.
Terrific produce and talent
Imagine the ranges of goods that would be attracted to this space. Artisanal bread and sourdoughs that will make the mouth water. Healthy snacks, chews and food, home-made and beautifully packaged. Doggy treats from small-scale startups making organic food for man's best friend.
Beauty products made in folk's kitchens with the best of ingredients. Jewellery and trinkets forged in young folks bedrooms as they learn new skills and now can sell their stuff. Beautifully scented candles made from soya wax. And indeed so many other amazing and exciting products and foods and things that we, the public, have ever seen before. Getting in front of customers is the hardest thing of all in a new and growing business.
But how will this all work in terms of rents etc? Well, each business or sole trader or entrepreneur is given a set amount of space in our new Debenhams 2.0 store. Enough space to unpack the goods they have brought, set up pop-up stands and counters and branding. All sectioned off so it looks well-organised and thoughtful. A bit like a decent indoor market.
Each business pays based on what they have sold. A percentage of sales each week is what is used to help pay costs. It is as simple as that, Kate, and while it will not even wash its face commercially for you, it will create something far greater – hope.
This store will be packed out with terrific produce and talent. It will be full of energy and positivity. Those who get a space will cherish it and if they grow and grow, they will always remember it and give back. The public will flock to it. A whole raft of new stuff to buy, eat and use. Word will get round and each old Debenhams site will be pointed towards you – to replicate the success of the first one. Maybe even call the new store 'Hope', in big letters above the door.
In my playbook, this is the only way we will bring back new retail growth to the high street. We have enough charity ships, bookies and coffee shops. Rents are too high and the barrier to entry for small businesses is a burden.
This is a big, bold and innovative experiment, Kate. But then, that is what makes nations great – being bold. Good luck!
A message from the Editor:
Thank you for reading this article. We're more reliant on your support than ever as the shift in consumer habits brought about by coronavirus impacts our advertisers.
If you haven't already, please consider supporting our trusted, fact-checked journalism by taking out a digital subscription.
Comments
 0 comments
Want to join the conversation? Please or to comment on this article.