Retailing 'not sustainable' if business rates relief ended
Retailers will not be able to survive a return to full business rates, industry experts have warned, as new figures revealed that almost one in five of business premises in Edinburgh were eligible for a full exemption of rates under emergency covid relief.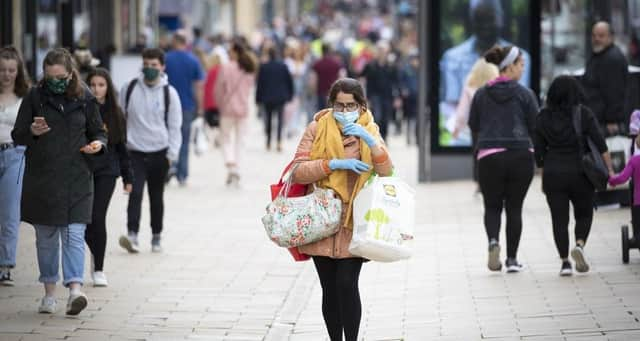 Official Scottish Government statistics show that 19 per cent of Edinburgh commercial property was in receipt of the Scottish Government's 'Retail Leisure and Hospitality Rates Relief' initiative – the highest rate in Scotland - which meant that rates were entirely waived during the coronavirus crisis. Scotland-wide the figure was 11 per cent. All occupied – including shuttered – retail, hospitality and leisure businesses were given automatic full rates relief.
Many retail, hospitality and leisure businesses have been forced to shut for various periods during the pandemic, with many businesses in level four areas of Scotland still under strict lockdown rules.
David Lonsdale, director of the Scottish Retails Consortium (SRC), said that the relief had been "vital" for the sector and warned that if a return to full rates is implemented in April, it would not be "sustainable".
Even businesses which were not eligible for full exemption were given a 1.6 per cent rates relief during the pandemic.
The government publication showed that almost three quarters of non-domestic properties were receiving a relief other than the 1.6 per cent universal relief as at 1 July 2020, up from 64 per cent from 31 May 2019. Most of these were receiving 100 per cent relief. The total value of all reliefs awarded as at 1 July 2020 was £1,679m, of which £965m is attributable to reliefs introduced to support businesses through the COVID-19 pandemic.
Edinburgh had the largest number of commercial properties – 4,280 – which received business rates relief through the Retail, Leisure and Hospitality Relief scheme, followed by Glasgow at 3,790.
The SRC's Mr Lonsdale said: "The 100 per cent business rates waiver during the current financial year has been vital for the retail industry in Scotland, much of which has had to cease trading twice thus far during the pandemic. With retailers' revenues continuing to fall short, and with shops unable to trade at capacity due to physical distancing restrictions and caps on numbers in stores, next April's abrupt 'reverse cliff edge' - which is set to see a 100 per cent re-instatement of business rates – is simply not sustainable.
"Revenues and costs continue to be out of kilter and returning to a business rate poundage at a 21-year high is unthinkable. A phased re-instatement or further discount will be required, and hopefully clarity will be forthcoming soon from Scottish Ministers on rates reliefs for the coming year."
Public finance minister Ben Macpherson said: "From the beginning of the coronavirus (COVID-19) pandemic, the Scottish Government has done everything possible, within its limited resources, to help Scotland's businesses. Providing rates relief has been a key part of our efforts and the figures published today highlight how effective this has been.
"Every business property in Scotland was in receipt of some kind of rates assistance by 1 July and our two new COVID-19 reliefs – 100 per cent retail, hospitality, leisure and airport relief and a 1.6 per cent relief available to all non-domestic properties – accounted for £965 million of the total £1,679 million paid out. This rates relief support in 2020-21 has been a lifeline and businesses now require details of what the position will be in 2021-22.
He added: "The financial restrictions of devolution mean our ability to offer relief next year depends of the equivalent policy being extended in England and I urge the UK Government to provide clarity as soon as possible. If the UK Government brings forward an extension of their current business support, with consequential funding for Scotland, we are committed to creating a tailored package of business support in 2021-22, including rates relief, that best meets Scotland's needs."
A message from the Editor:Thank you for reading this article. We're more reliant on your support than ever as the shift in consumer habits brought about by Coronavirus impacts our advertisers.
If you haven't already, please consider supporting our trusted, fact-checked journalism by taking out a digital subscription.