Climate change: Jessie Greengrass's The High House is a vision of what happens if we fail to act – Laura Waddell
If you are not yet anxious about climate change, you will be after reading The High House. It's on page 127 that I see a giant arrow pointing "You Are Here".
"I tried to see these things as I thought Francesca did: not as a part of that long, slow slide, entropy, which grinds and grinds, which is beyond our intervention, is out of reach, winding us towards our end, but as something fresh and acute – a set of circumstances which could have been prevented, once, but now had gone beyond repair – but it was too much to bear. I closed my laptop, closed my eyes. Lay in the dark and waited for sleep to come, and when it did, I dreamed of nothing at all."
Francesca is mother to Pauly and stepmother to Caro, and for most of the book she is absent. A high-profile climate change activist, the children frequently watch her on the news.
To Caro, old enough to bristle at her parents, Francesca is a disapproving, pessimistic presence. When her father buys flowers to greet Francesca's return home from the maternity ward with baby Pauly, Caro's first thought is that Francesca will moan about the waste.
But by this point in the universe of Jessie Greengrass's book (throughout which I kept wondering how close it was to our own timeline) the family know they are the lucky ones, eking out remaining time on an increasingly inhospitable planet. "We are all at the mercy of the weather, but not all to the same extent."
They live in the global north, in a climate which floods, but not always catastrophically; and has eerily long summers not yet too hot to bear.
The High House is a family property once used for seaside holidays, set higher than the rest of the village, renovated by Caro and Pauly's parents with the tools for self-sufficiency; a vegetable garden, a mill for grinding wheat, and a barn full of supplies.
One day, when Caro is minding the baby while her parents travel for work, a rushed phonecall comes. She hears her father telling her he loves her, and to go to The High House. On the news, Caro sees a storm has overpowered the US East Coast, Francesca's image superimposed over footage of carnage at the hotel they had been staying in. "Things happened slowly, then all at once."
At the High House, they meet Sally and grandfather Grandy, the last villagers, tasked with tending chickens and vegetables. This is the era of last things: the last time the ice cream van appeared for the last tourists; the last of the butter, after which there are no more grocery deliveries.
The foursome shack up together, waiting for the weather to worsen, feeling the fatigue of efforts to stop cold and damp getting in. Soon the High House is an ark, and there's no more dry land. "We should have done something, I said, we should have tried – Tried what? asked Grandy, and I knew that he was right, but still it didn't rinse us clean from blame."
This is a book about climate disaster, and how three generations of people cope with it. Caro's icy feelings towards Francesca, and her issues of abandonment, thaw only in the long term as she realises that for all her doom and gloom, Francesca is the one who prepared the High House for the children's shrunken future.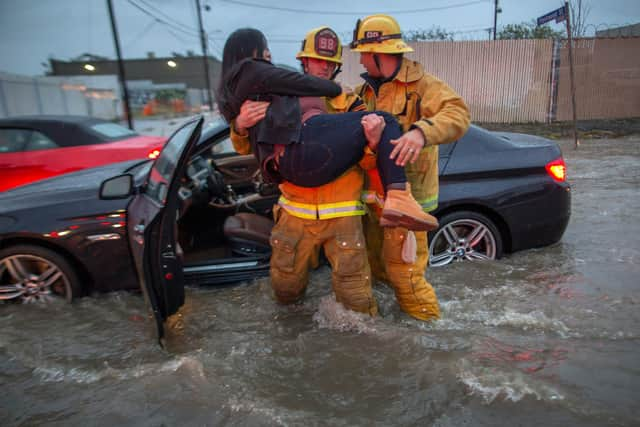 The remaining four ask whether it's better to live on as they are or to have been drowned earlier, and they think they're glad to still be living. Grandy, in his quiet, loving way, faces the future by teaching Sally the lay of the land. Once he is old enough to understand, Pauly will spend his whole life, however long it is, knowing there will be no more human contact. But still, they make the most of it. They sing carols on Christmas day, and watch the birds until they're gone.
By the end I felt a tightening in my chest. Not only admiration for what I had read, but fear, which I had swallowed down, one calm and often beautiful sentence after another. The High House managed to shock my system in a way that the attention-grabbing antics of Extinction Rebellion have not done as I scroll past them, nor the morally overwrought tomes about how nice trees are, some lauded with awards and which have tempted me to reach for the chainsaw myself. It is the difference between hectoring and storytelling.
The small, shrinking, intimate shared world of the book's characters comes alive through their introspection; like any of us they are guided by love, determination, fear, and shame.
I am a longtime Greengrass admirer. Her psychoanalytical first novel Sight, also notable for its fine sentences, is the story of a multi-generational family, while at the same time the history of how humans have come to see inside the body and brain, attempting to reach and understand one another. Her short story collection, An Account of the Great Auk, By One Who Last Saw It, which was so clever I got goosebumps on my skin.
Caro, once the situation is past the point of return and quickly escalating, reflects on how she, too, once dismissed disasters as far away, happening to someone else: "…I watched news footage of families under tarpaulins. They looked resigned, as though they already understood what they had become a part of, and I tried to stop myself from crying because I was ashamed of my tears, which were neither compassionate, nor empathic, nor kind, but came because I was afraid, very suddenly and directly, for myself."
How many of us can say we're different in our attitudes to climate disaster, rather than complacent and apathetic until it touches us personally? If the book reflects our reality, we'll only feel that fear and sense of urgency once it's too late.
A message from the Editor:
Thank you for reading this article. We're more reliant on your support than ever as the shift in consumer habits brought about by coronavirus impacts our advertisers.
If you haven't already, please consider supporting our trusted, fact-checked journalism by taking out a digital subscription.
Comments
 0 comments
Want to join the conversation? Please or to comment on this article.