Brexit mythology created 'Schrodinger's Britain', simultaneously cut off from Europe but magically able to enjoy all its fruits – Laura Waddell
Farmers bemoan 'increased red tape, a worsening economic situation, damaging free-trade deals, a trail of broken promises' as a result of Brexit
Have you truly been inside a foreign city until you have been inside its supermarkets? Last week I was in Germany. Of particular interest, Lidl. Other than the dizzying array of Haribo, reliable, chewy pretzels and the novelty of erdbeere (strawberry) juice, what I couldn't quite get my head around were the wine prices.
For a perfectly palatable bottle of white wine, there were lots of options to be had around the four or five euro mark. In fact, it could be difficult to find anything priced higher; if it existed, it was tucked away from the rows on prime display. My benchmark for a supermarket wine was way off, the discount pricing compounded by Germany's comparatively low alcohol tax.
I drank it on the balcony of my rental apartment while smoking pre-rolls from High Society, a French CBD chain of Swiss-grown hemp with a soothing luxury minimalist aesthetic and a branch round the corner, and watched yellow trams sail by on the tree-lined street outside. Around a week ago, at 8pm in Berlin, it was dark already. A preview of the gloom soon to descend over the evenings here at home.
For a bottle the same price here, the conversion of four or five euros into pounds would buy little palatable – and little of it. As a cost-cutting measure, I'd recently swapped my weekend wine for good cider, enjoying in particular Angioletti rosé from Italy which lives up to the promise of its pretty lavender bottle. A tumbler of sweet, crisp, fizzing apple is nice as autumn comes in.
It's easy to forget, especially in this advanced era of consumer convenience and supermarket hegemony, just how much food and drink the British mainland imports to keep the supermarkets we are so familiar with stocked as they are now. The high street doesn't always get its due for how specialist its shops can be and once always were. In craft – butchery, baking, ale-making – and also in expertise.
In particular, I think of the knitting shops with their mesmerising tubes of buttons and walls of wool, all numbered and coded. The patterns are incomprehensible to me. I can produce stripy scarves, but must consult YouTube each time I take a notion to cast on, which is generally when the heating goes on. All the women in my family knit. My grandmother is the fastest, the rapid, regular pace of her needles click-clacking indicative that her generational muscle memory – for that is what knitting often is – has been exercised the most. Buying online conjures none of these feelings.
Drawing on a historic, political mythology of British greatness, the various pro-Brexit campaigns conjured a sort of Schrodinger's Island, wilfully cut off (to spite mostly ourselves) from European coordination while simultaneously never inconvenienced and perfectly resourced – just don't ask too many questions. As it turns out, it has exposed the holes in self-sufficiency and disconnects between local producers and conglomerate retailers who have worn down the high street.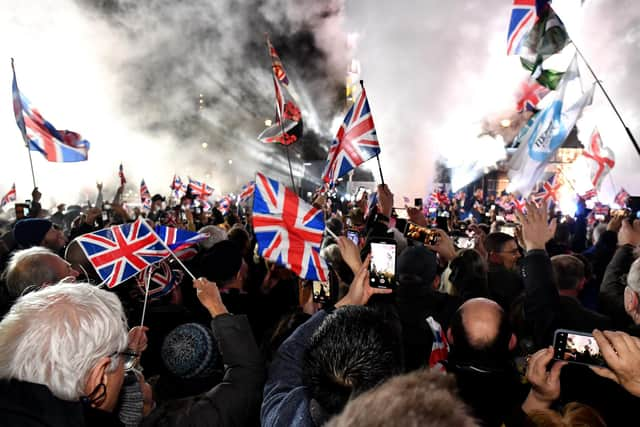 The hinted boost to domestic farming has not materialised. A survey by the industry magazine Farmer's Weekly – from June of this year, seven years on from the vote – was summarised as "increased red tape, a worsening economic situation, damaging free-trade deals, a trail of broken promises – it seems that farmers and those working in the ancillary industries are far from satisfied with Brexit".
The separation between farm and table is a gap in knowledge commonly highlighted, both as a food literacy issue and as a criticism levied at food manufacturers who obscure the less-than-appetising truth about how their products are made. But the United Kingdom has another gap in knowledge, a casual complacency about how much of the wide range on our shelves originates from beyond our borders.
For city dwellers, like magic, food appears on supermarket shelves at 7am (if not available 24/7). That's what British consumers now expect to see. To find an empty space instead surprises us. Disruption frustrates and latterly frightens us. The shortages from Covid were a sight I had certainly never seen in my life, the widening gaps on shelves a contributing factor to the apocalyptic atmosphere in the days leading up to the first lockdown and the first sign that everyday life as we knew it was changing abruptly. Unless we take a special interest, rarely are we forced to think, during the process of buying food, about the fact it comes from all over the place.
We can feel the cost of that now. There has been the quadruple whammy of the global pandemic, war in Europe, a recession – and, of course, the thing Britain voted for – Brexit. At the airport, I shuffled through the longer queue clutching my black (at a push, navy) passport, ruing once again the grand self-sacrifice and stupidity of it all. If Scotland's membership was bound to Scotland's vote, we'd still be in the EU right now.
A German airport official was directing passengers wheeling cabin cases from the Glasgow flight to the correct arrivals line. "EU? Any more EU for the shorter queue? No? Well, you voted for it," he shrugged, in apparent good nature. Dragged out of the EU, we are the embarrassment of Europe, I feel a flash of understanding for Americans travelling in the era of Dubya, apologetic of his impact on their national image. In the grand scheme of things, holiday queues are nothing. The impact on the cost of living is an everyday stress – the kind of worry that's difficult to ever switch off.
Comments
 0 comments
Want to join the conversation? Please or to comment on this article.