BBC Scotland is being taken for a ride over Nicola Sturgeon's Covid briefings – Brian Wilson
Selfless in my duty to readers, I watched Monday's edition of the long-running Nicola Sturgeon Show on BBC Scotland, though it might also have been called Pointless.
The weekend statistics did not reveal much while the star's daily monologue was devoted to trailing what she might or might not say the following day about changes to tiering levels.
So was there nothing worth reporting to the anxious nation, to justify this devotion of air time? Well, of course there was – if this really was a "public health update" rather than the exercise in political spin and news management it has long since become.
At least since the previous Friday, Ms Sturgeon knew that figures she had for weeks been quoting for test-and-trace in Scotland, repeatedly describing them as "excellent", were inadvertently inaccurate and seriously misleading. That story remained unspoken.
If a health professional had been fronting this briefing, as happens in most countries, his or her professional reputation would depend on being open and honest about such a revelation, explaining the cause of error, expressing regret and moving on.
Testing bombshell
Ms Sturgeon is not a health professional but a skilled manipulator of information who has been given an extraordinary platform to dictate the agenda on her own terms. To paraphrase Edgar Allan Poe, the oftener she speaks of her clarity and frankness, the faster we should count the spoons.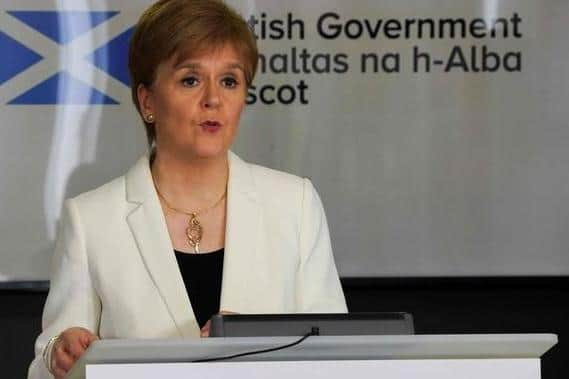 Accordingly, my complaint is not with her. I expect nothing else. But is there any point at which BBC Scotland will face up to the fact they have been taken for a very protracted ride, surrendering along the way an editorial duty of care to viewers and listeners?
Fortunately, Scotland still has its independent print media and a diligent journalist, in this case Chris Musson of the Scottish Sun, noticed what had happened and how the data had been changed on the Public Health Scotland website without announcement via a press release far less ministerial statement.
If I was a BBC Scotland editor, faced with the front page of Wednesday's Scottish Sun – "Testing Bombshell – Messed and Protect" – I would want to know: "Why did Sturgeon not tell the country this on Monday? How can we justify giving her this platform when she uses it to withhold the stories that actually matter?"
I feel confident no such questions will have been asked for the show must go on and the broadcasters have abrogated to Ms Sturgeon and her fixers, to a quite shameful extent, the right to control format and content. Everyone responsible must know it is an abuse but decline to call it out.
Satire not really allowed in Scotland
Did the altered image of Scotland's test-and-trace system matter? Well, of course it did. Testing and tracing has been critical to winning this battle from the outset. It has been puzzling it took so long to crank up but we had recent assurances it was working well when it wasn't.
An Edinburgh University infection and immunity expert, Dr Christine Tait-Burkard, describes the adjusted figures as "a relatively big concern" and believes "a good look into the system" is called for. More weeks have been lost on a crucial step towards reducing the spread of the virus and escaping from the economic damage.
That is disappointing but everyone can make allowance for human error which was presumably responsible for feeding in the wrong kind of data. What is unforgivable is that there was no intention on the Scottish Government's part of owning up to it.
Clearly concerned lest Ms Sturgeon does not receive sufficient air-time, Thursday's Reporting Scotland sought her view on the great issue of the day. Some might have thought 'test and trace' or possibly the charge by an SNP-chaired Holyrood committee that her government was being "deeply disrespectful". Alas, no.
Rather, she was invited to opine on President Trump and offered the sage advice that it was time for him to put "country before ego". Satire is not really allowed in Scotland but sometimes life does improve upon art.
A message from the Editor:
Thank you for reading this article. We're more reliant on your support than ever as the shift in consumer habits brought about by coronavirus impacts our advertisers.
If you haven't already, please consider supporting our trusted, fact-checked journalism by taking out a digital subscription.
Comments
 0 comments
Want to join the conversation? Please or to comment on this article.