It was her courage that broke me. I cried as I read the reports of how, after more than 24 hours of torture at the hands of a man masquerading as a woman, his primary school-aged captive still had the mental strength to overcome her fears and plan her escape.
Trapped in Andrew Miller's home in the Scottish Borders, the girl grabbed her chance of freedom while her abuser slept. As reported in The Scotsman, she knocked a glass off a table, then turned on a light to see if he would wake up. When he didn't, she fled the bedroom down to the front door, only to find it locked. So, she called 999 from his landline. The police rushed to her rescue and arrested Miller – a former butcher – still asleep, dressed in woman's underwear, his bra stuffed with fake silicone breasts.
Contrast her bravery with the gutless behaviour on Thursday of Deputy First Minister Shona Robison, a powerful, influential woman in her 50s. Asked, in the wake of Miller's guilty plea to what the judge described as "abhorrent crimes of the utmost deviancy", whether she stood by her claim last year that "there is no evidence that predatory and abusive men have ever had to pretend to be anything else to carry out predatory and abusive behaviour", she looked shifty.
There was no empathy for the young girl who Miller had lured into his Jaguar by pretending to be a woman. Not a trace of contrition about her ridiculous claim that abusive men never pretend to be something else to commit their heinous crimes. No sign that she – a senior lawmaker – had reflected on the safeguarding issues around self-ID, the policy promoted by her last year when she steered the Gender Recognition Reform bill through parliament.
She simply trotted out the defensive lines that she and her advisers have honed over the years. In Robison's political bubble, to even suggest that there may be safeguarding issues if men, still in possession of their genitalia, are allowed to self-ID as female, is considered transphobic. And questioning the policy – which has been rolled out by stealth across the NHS, the Scottish Prison Service, in schools and in organisations such as Girlguiding Scotland – is tantamount to hateful bigotry.
Even when Adam Bryson, a double rapist, flaunted his blonde wig and she/her pronouns in court earlier this year, the architects of self-ID stuck to their misguided principles. Trans women are women – even if they are convicted sex offenders.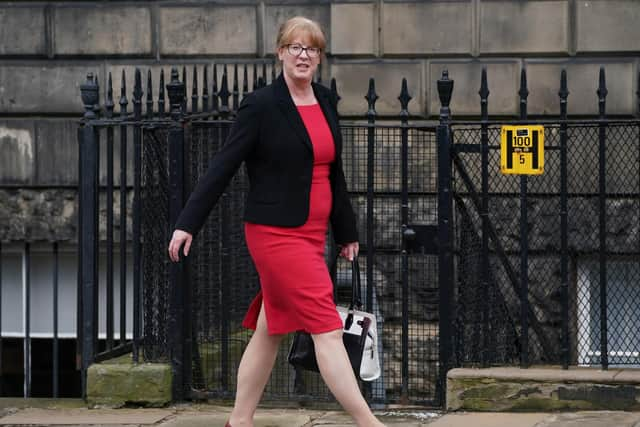 Is it any wonder that women across Scotland are filled with rage? For years now, women's rights campaigners have tried to engage with senior politicians, civil servants, equality campaigners – the full panoply of public sector progressives – on this issue. Time and time again, they have been met with a proverbial hand in their face and a sneer. Or simply ignored.
In an astonishing interview with LBC radio on Thursday, Rennie called for "a proper, calm, measured debate". He went on: "Trans people need to be protected within this debate. But equally we realise we need to have protections in place so that people don't use the cover of pretending to be a woman in order to damage somebody else. That's where the challenge is."
The sound of thousands of women banging their heads off the nearest brick wall reverberated around Scotland as they learned of Rennie's comments. This is exactly the point they have been trying to get across to politicians for at least five years. A message that the majority of MSPs have until now ignored, or worse, dismissed as invalid.
Willie Rennie's realisation that there are safeguarding dangers inherent in the principle of self-ID may have come late in the day, but it is welcome. The question is, what is he – and his party – going to do to try and repair the damage already done to safeguarding?
First, he will need to persuade his party leader of the merit of re-opening the debate, which he may find challenging. Cole-Hamilton made his feelings clear when, at a victory rally following last December's vote on gender self-ID, he singled out trans campaigner Beth Douglas for special praise. "It was for Beth and for you guys that we were doing it," he smarmed. Women and girls didn't merit a mention in his gushing tribute.
But the biggest hurdle to restoring sanity to this crucial policy area is the Deputy First Minister. Shona Robison is the one person in Scotland who could persuade Humza Yousaf to reconsider the safeguarding issues arising out of self-ID. She could dig deep and find the courage to admit that she got it wrong when she said predatory men never pretend to be something they are not to abuse.
She could stand tall in the parliament and say that, considering recent events and after listening to women, she thinks we should look again at the impact of self-ID on safeguarding. She could be a fearless protector of women and girls. Or she can remain silent, cowering behind the small but powerful transgender lobby. The choice is hers.