After former SNP chief executive Peter Murrell's arrest, a Scottish election is even more 'imperative' – Brian Wilson
Can it really be just seven weeks since Nicola Sturgeon intimated her impending departure and I recalled here her insistence, when Rishi Sunak took over at Westminster, that a general election was "a democratic imperative"?
Turning Ms Sturgeon's words against her then might have seemed like a debating point more than indicative of expectation. A lot has become clearer in seven weeks and now the "democratic imperative" is stronger than could have been imagined.
The inescapable fact is that Humza Yousaf's elevation has no legitimacy within the Scottish National Party nor, by extension, Scotland as a whole. It is pretty clear it was facilitated through deception by concealment, visited upon even those entitled to vote.
Mr Yousaf will not escape from that reality. Not next week, not next year nor however long his tenure lasts. The Scottish Government he appointed will carry no credibility for as long as the disputed nature of his own position hangs over it. Far better to recognise that now.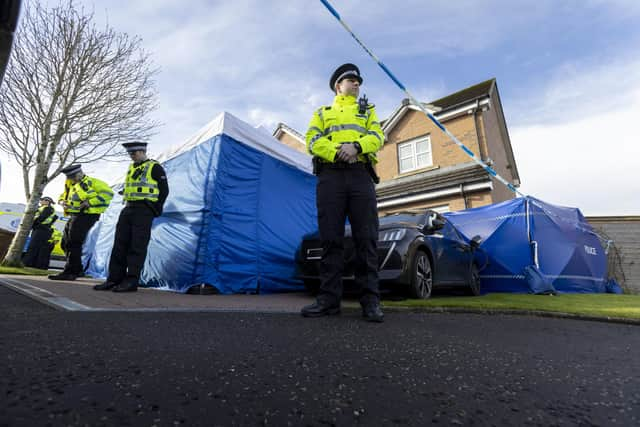 Asked if the SNP leadership election would have had a different outcome if Peter Murrell had been arrested a few weeks earlier, Mr Yousaf replied: "To me, that sounds like a bit of a conspiracy theory that somehow we are in cahoots with Police Scotland."
This confirms he has adopted at least one of his predecessor's favourite tricks – denying something that was not postulated, then claiming to have answered the question. In this context, it is obviously unnecessary to suggest that Police Scotland conspired with anyone, in order to seek Mr Yousaf's opinion.
The real choice is between two possible scenarios. The first is that Nicola Sturgeon had no awareness her husband might soon resign and then be arrested but quite coincidentally decided one weekend in February, contrary to all previous indicators, that she was going to pack it in. A press conference was hastily arranged and a leadership contest triggered.
The other scenario is that she knew perfectly well, in principle if not in detail, that trouble lay ahead, that her position would become untenable and that departure from office was an urgent necessity which could, if secured quickly, give time to compose her own narrative, abetted by the usual enablers. Books, driving lessons and the quiet life called. So move on.
Well, take your pick. The longer this goes on, the more questions will arise about who knew what and when. As the anointed insider who had the full weight of the SNP establishment behind him, Mr Yousaf will have to provide quite a few of the answers. That's the downside of billing oneself as "the continuity candidate" and an immense admirer of all that has gone before, as he so recently did. Too late now to recant, Mr Yousaf.
It seems implausible that he would retain his 52-48 advantage in a re-run of the contest. Quite apart from the SNP's domestic affairs unravelling, there are plenty other grounds for buyers' remorse, not least the fact he is a voluntary prisoner of the Greens and an agenda which has strangely little to do with the environment.
Even if his spurned rival, Kate Forbes, was to be magicked into Bute House, it would not assuage the "democratic imperative". First, she would lose the Greens and even a nominal majority. Second, she would have only a small minority of her own MSPs behind her, so anxious were most to pledge allegiance to Mr Yousaf. Where would a Cabinet come from?
Ms Sturgeon's old mantra about Scotland having voted for the SNP, therefore they were licensed to do what they liked, is already sounding like a very auld sang. She got her narrow majority off the back of Covid. Now she's gone. Her party is a mess and there is no mandated majority for the First Minister. As dramatic events continue to unfold, diversions from the work of government will become overwhelming.
The absolute certainty is that Scotland did not vote for what we are currently landed with. So in one last salute to Ms Surgeon's sanctimony where others were concerned, let's embrace her "democratic imperative" without delay. Scotland deserves an election now.
Comments
 0 comments
Want to join the conversation? Please or to comment on this article.