Donald Trump shuns prison questions as he plays golf at Turnberry
Donald Trump has shunned questions over his mounting legal woes as he arrived at his Turnberry resort to play golf.
The former US president waved to onlookers as he hit the fairways of his flagship international resort, but declined to speak to journalists, and did not respond when asked if he thought he would end up in prison.
Earlier this month he pled not guilty to 34 counts of falsifying business records. He is also facing a civil trial over allegations he raped an advice columnist in the 1990s, with a judge denying a request from Mr Trump's legal team for a mistrial.
On the second day of the 76-year-old's first visit to the UK since being voted out of office, the scenes surrounding Turnberry were relatively subdued. Having flown in to Glasgow Prestwick Airport from Aberdeen, Mr Trump arrived arrived at the South Ayrshire property in a nine-vehicle motorcade shortly after 12:45pm, where he was met by Turnberry's staff, nearly all of whom were wearing red baseball caps emblazoned with the slogan, 'We Make Turnberry Great Again' – a riff on Mr Trump's political mantra, 'Make America Great Again.' As Mr Trump walked up the steps to the hotel's entrance, they removed their hats and waved them.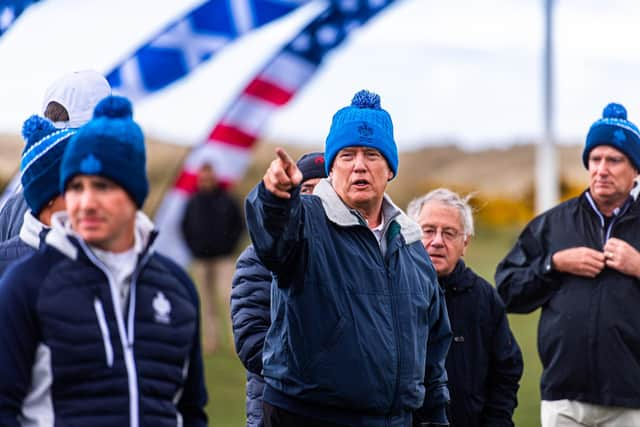 Mr Trump's second son, Eric, an executive vice-president at the Trump Organisation, was also in attendance, as was Ralph Porciani, Turnberry's veteran general manager. Pipers from the band Caledonan Cowboy Collective were playing Scotland the Brave as Mr Trump arrived.
After meeting with some of the resort's workers, Mr Trump emerged in a golf cart around 1:45pm, before playing a round on Turnberry's famous Aisla course, flanked by agents from the US Secret Service. The US government agency has previously paid Mr Trump's firm significant sums to cover the cost of his visits and those of his children.
Mr Trump was also expected to take part in the unveiling of a plaque in memory of Nole Remagen, an agent with the US Secret Service who died after suffering a stroke during Mr Trump's visit to Turnberry in July 2018.
Unlike that trip during Mr Trump's presidency, which saw snipers take up position on the roof of Turnberry's grand hotel, and various protests around the vicinity of the property, Tuesday's proceedings were low key.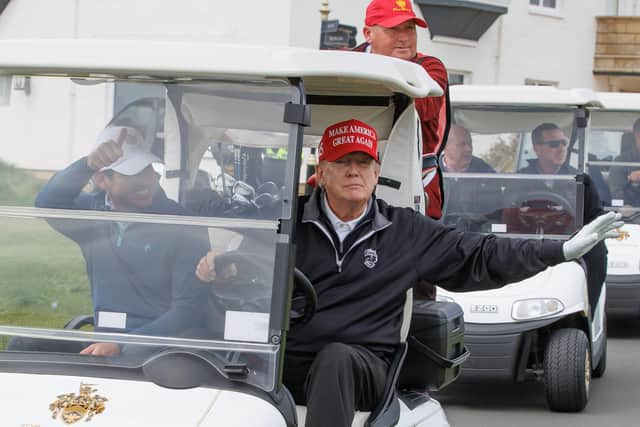 Only around a dozen or so people turned out to watch as Mr Trump arrived. One onlooker, David Dempsey, a retired taxi driver from Ayr, said he was a fan of Mr Trump.
"He's an entertainer," he said. "I like him, he's a good laugh." Another of his supporters, Bill Harland, a 66 year-old from Stirling, wore a Trump mask and MAGA baseball cap, which received Mr Trump's approval. "I like that guy," he said as he drove past on his cart.
There was a notable Police Scotland presence outside the resort, with officers stationed outside the clubhouse and patrolling the grounds. However, only one protestor could be heard shouting at Mr Trump, who on Wednesday evening is due to give a live interview from Turnberry to Nigel Farage on the GB News channel, as he played golf.
Earlier, management at the resort ordered The Scotsman to leave the property ahead of Mr Trump's visit. Investigations correspondent Martyn McLaughlin was initially allowed access, only to be approached moments later by security, who advised him he was being removed from the site at the behest of management.
The Scotman arrived at the resort at 10am, and after being asked to show identification – an official NUJ press card – was granted access to the site. However, minutes later, the same member of the security team approached to explain the access was being rescinded.
"At the moment, they've asked me to remove you from the site," he explained. "They didn't give me a reason. It's just for the time being, you probably will be allowed back on. Have you got an appointment to come in today, for the event? The manager of the hotel has asked me to remove you.
"I'm sure they will give you a reason. I think it's all the press at the moment. I'm not entirely sure, but I will get you a reason."
Around ten minutes later, Ricky Hall, Trump Turnberry's director of golf, came out of the clubhouse to explain the decision to The Scotsman.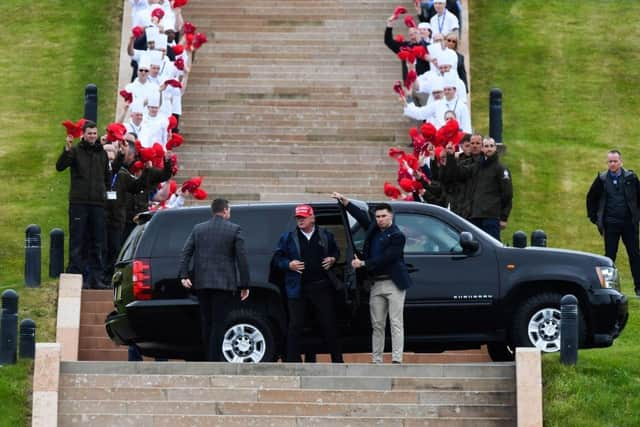 "There's not an official press event, we've been strictly advised no press allowed on the property," he said. "There is no press access. The only access to the car park and the hotel is for the people that are on the list that the security forces and the police have.
"There's no press event being planned. The only press event was the little press event yesterday at Aberdeen."
Mr Hall said the only press permitted on Turnberry's grounds were those attending a golf day in aid of the charitable foundation set up by the former Celtic footballer John Hartson.
The Scotsman and its sister title, Scotland on Sunday, have covered Mr Trump's Scottish business affairs extensively in recent years.
We revealed how architects enlisted by his firm drew up plans to build hundreds of luxury properties, leisure facilities, and shops by Turnberry, but they have been repeatedly rejected by planning officials.
The latest accounts for Turnberry's parent company show it ran up annual losses of £14.7 million in 2021, the eighth consecutive year it has been in the red under his ownership.
His inaugural resort in Aberdeenshire lost more than £696,000 in 2021. Under Mr Trump's ownership, the cumulative losses for both his Scottish resorts stand at more than £76m.
Golf Recreation Scotland, the parent company of Turnberry, is reliant on intercompany loans worth over £131m. Trump International Golf Club Scotland Limited, the firm behind Trump's resort in Aberdeenshire, has a £40.6m interest free loan from Mr Trump.
Comments
 0 comments
Want to join the conversation? Please or to comment on this article.