Scottish universities receive £34m in US Pentagon funding for research into drone swarms and cutting-edge explosives
The projects funded by the Pentagon include studies into cutting-edge explosives, drone swarms and 'human performance enhancement'.
Universities across Scotland have received tens of millions of pounds in funding from the Pentagon over the past decade, sparking major ethical concerns over their ties to the defence sector at a time when higher education finances are coming under increasing strain.
The Scotsman can reveal that at least eight universities in Scotland have shared £34 million in financing from the US Defence Department since 2012, with several of the nation's most eminent institutions each receiving seven-figure sums.
Since 2017, nine universities have also received £6.7m from a Ministry of Defence (MoD) directorate in Porton Down, Wiltshire, bringing the total funding from the US and UK defence agencies to at least £40.7m.
The tranche of money has helped to bankroll research with widespread potential military applications. The projects funded by the Pentagon include studies into cutting-edge explosives, drone swarms, helicopters, and 'human performance enhancement'.
For example, one project involving the emerging technology of amorphous explosives, awarded by the US Army, is classified as supporting "basic research that is related to or has potential for leading to the improvement of army programs or operations".
The financing from the Defence and Security Accelerator (DASA), part of the MoD, has underwritten research into radar systems capable of monitoring ballistic missiles and spy satellites, the development of enamel for transparent armour, and 3D visualisations for live unmanned aerial vehicle operations.
One researcher at a Scottish university who worked on a Pentagon-funded project, said they felt pressured to carry out the research given the money involved. The academic, who wished to remain anonymous, said: "There is an expectation to accept this money, to do the work and don't think too deeply."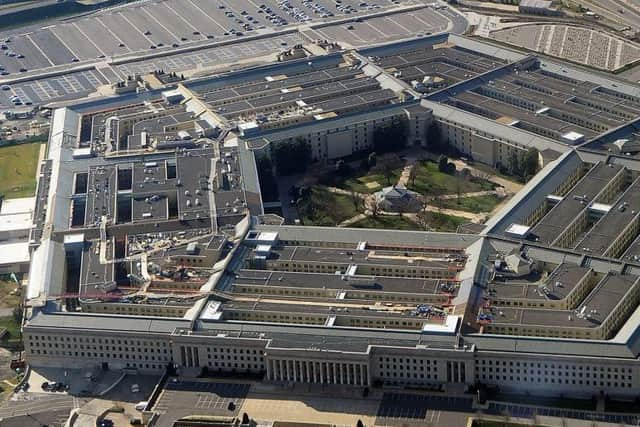 Amnesty International UK warned Scottish universities were putting their global reputation at "significant risk" of becoming implicated in the development of technology that can be used to "devastating effect", pointing to its own research into undercounting by the Pentagon of civilian casualties in Iraq, Syria, Somalia, and Afghanistan.
The details of the defence funding comes at a time when Scotland's university sector has condemned the Scottish Funding Council's (SFC) decision to pull £20m in funding. Universities Scotland, which represents every higher education institution in Scotland, has described the cuts as "dismaying".
While the vast majority of the funding received by universities continues to come from the Scottish Government via the SFC, the Pentagon is providing significant sums.
Explosives, helicopters, and drone swarms – the research projects bankrolled by the Pentagon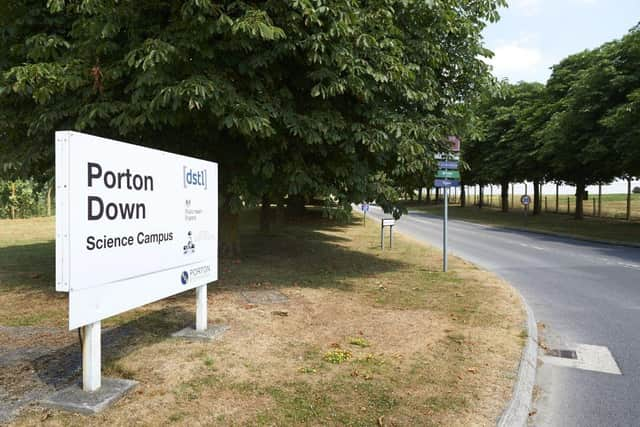 In all, the eight universities – Aberdeen, Dundee, Edinburgh, Glasgow, Heriot-Watt, Robert Gordon, St Andrews, and Strathclyde – received $42.37m (£34m) from the US Defence Department between 2012 and 2022, according to The Scotsman's analysis of open source databases of publicly-declared US federal government grants.
The single biggest recipient was St Andrews, which received over $14.4m (£11.5m) in the form of over 50 grants, contributions, or research and development contracts. They include research into naval sonar signals, and a study into the "physiological costs" of diving.
The University of Edinburgh received $11.2m (£9m) via more than 40 grants and research and development contracts. Its projects included research into lead-based ballistic modifiers, a study into amorphous explosives, and the use of 3D printed wearable biosensors.
The University of Glasgow received more than $9.4m (£7.5m) from at least 29 grants or contracts. The money financed studies into the manoeuvrability of compound helicopters, an analysis of the radar signature of small drone swarms, and cognitive science research into "human performance enhancement". Strathclyde received $5.8m (£4.6m), followed by Heriot-Watt ($976,000/£783,000), Aberdeen ($411,000/£330,000); Robert Gordon ($70,000/£56,000) and Dundee ($17,000/£13,000).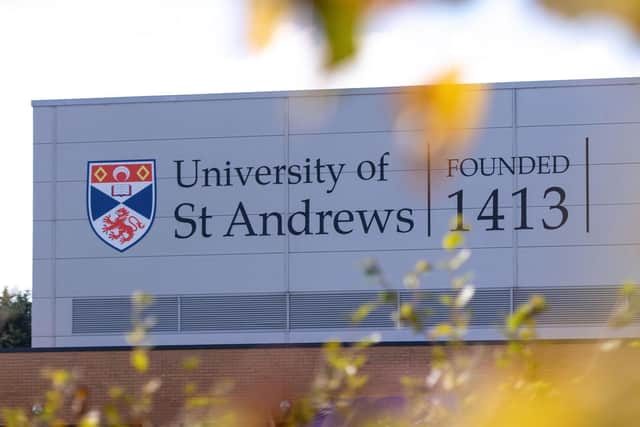 Anna Stavrianakis, professor of international relations at the University of Sussex, who has studied the influence of arms firms and the military in higher education, said: "With the US, it might be the UK's most trusted partner, but you still want to be doing a risk assessment into how these technologies might be used, and the reputational damage if they use them in ways we wouldn't.
"Academia at its best is an international endeavour, but the question is about the militarisation of that funding. For example, even if we just focus on security, what goals and ends are Britain's best intellectual talents being put towards?"
Dr Stuart Parkinson, executive director of Scientists for Global Responsibility, said there were questions surrounding the use of the research, pointing to one project, entitled 'data mining in social networks' as an example.
"They're going to be looking at that for military reasons and to find an application," he explained. "It could be for jobs marketing, public perceptions of the military, or trying to track activists and peace campaigners. There are all sorts of ways that research could be used to help the military punish its agenda and undermine public accountability.
"Another element of this is trying to tie researchers into networks where they are allied to defence ministries and private arms companies, so that there is less criticism, or criticism is only expressed internally."
Dr Parkinson said the lack of transparency meant it was impossible to establish the full extent of the military funding. "The data is so poor, you can just get a figure and say 'this is what we can find', but it's probably significantly bigger," he said.
Human rights organisation warns Scottish universities are putting themselves at 'significant risk'
Around $15.3m (£12.2m) of the US funding was made directly by the Pentagon itself, but other defence agencies awarded millions of pounds. They include all three main branches of the US armed forces, and the Virginia-based Defence Threat Reduction Agency. Some of the projects are ongoing, and are not due to be completed until 2025.
The Scottish institutions are among 87 universities across the UK that have received a total of $187.9m (£150.8m) from US defence agencies over the period. Oxford received the most with $16m (£12.8m).
Those universities who have shared in more than £6.7m from the MoD via DASA are: Strathclyde (£2.4m); Edinburgh (£1.2m); Heriot-Watt (£1.2m); St Andrews (£936,000); Glasgow (£330,000); Aberdeen (£180,000) Dundee (£179,000); Stirling (£164,000); and Abertay (£99,000).
Oliver Sprague, military, security and police programme director at Amnesty International UK, said: "Many Scottish universities have a global reputation and conduct vital research, but they must acknowledge that their involvement in the area of military research directly funded by the US and UK defence departments puts their institutions at significant risk of becoming implicated in the development of technology that can be used to devastating effect.
"For example, Amnesty field investigations have found alarming evidence of civilian casualties as a result of both US and UK military operations. In 2020, Amnesty concluded that the Pentagon was under-counting civilian casualties in Iraq, Syria, Somalia and Afghanistan – killings which may have put the United States in violation of international law."
Last December, two Democratic politicians, Elizabeth Warren and Sarah Jacobs, alleged the Pentagon was undercounting civilian casualties from US military operations, and claimed it was not giving "appropriate weight" to external sources when investigating civilian casualty reports. The Pentagon introduced a plan last year to reduce civilian casualties, and has said it reviews all civilian casualty reports.
Emma Cockburn, Scotland co-ordinator for the Campaign Against Arms Trade, said: "Universities have a responsibility to expand the minds of their students and encourage them to produce knowledge that seeks to contribute positively to global security, not act as a detriment to it."
Ross Greer, education and external affairs spokesman for the Scottish Greens, said: "The crimes of the US military have been well documented. From kidnapping innocent people off the streets of Europe, to the torture of captives, to the extensive use of materials like depleted uranium that will have horrific health consequences for generations to come, to the support of vicious dictatorships across the world.
"It's essential that universities are completely transparent about their involvement in Pentagon-funded research and can demonstrate that they have conducted robust human rights assessments before participating. Better yet, they could simply stay away from the Pentagon completely. We wouldn't expect them to collaborate with [Vladimir] Putin's Kremlin, war criminals have no place in our universities."
Universities say 'rigorous risk assessments' are carried out
The Scotsman asked every university in receipt of Pentagon money how they reconciled that funding with their values, and what, if any, consideration had been given to the prospect of the research being directed towards military objectives.
The universities of Dundee, Edinburgh, Glasgow, St Andrews, and Strathclyde referred The Scotsman to a statement issued by Universities Scotland.
It said: "University research is hugely valuable in advancing the frontiers of human knowledge. It addresses many global challenges, informs our teaching and drives economic growth and public service improvement. Universities take their ethical responsibilities very seriously when it comes to research partnerships, with rigorous risk assessments and policies in place.
"When it comes to international collaborations, universities partner with the Research Collaboration Advisory Team and the National Protective Security Agency, both of which provide useful advice when it comes to the effective management of national security risks."
The University of Aberdeen said it had "robust procedures" in place to ensure due diligence around international collaborations, with a team set up to review the management of "security issues", and guidance in place to identify research falling under the scope of the National Security and Investment Act.
It added its Pentagon funded projects were "largely focused" on investigating disturbances in marine environments, including research that has brought "wider benefits" in understanding the impact of marine tourism.
Heriot-Watt said it had collaborated on research "for a number of years" with organisations including UK and US government defence agencies. "This work covers a wide range of areas and all relevant research carried out by this university is of an academic nature," a spokeswoman said.
Robert Gordon said its international research projects were developed with "robust due diligence", and focused on achieving its strategic aims. The university added that its one Pentagon funded project, related to underwater AI machine learning, was in response to an open call, with funding received from the US Office of Naval Research.
A Scottish Government spokeswoman said: "Our universities are autonomous institutions and the links they forge across global academic and research networks are a matter for them and their governing bodies.
"We expect all universities to understand and manage the reputational, ethical and security risks associated with international partnerships. This includes conducting appropriate due diligence before entering into new international partnerships and monitoring existing partnerships."
Comments
 0 comments
Want to join the conversation? Please or to comment on this article.