But when the dust settles, and Ms Sturgeon departs Bute House for the final time, will Scotland's fifth and longest-serving first minister ultimately be judged a success? The answer will be subject to debate for years, decades even, and even within her own party, there will be spirited disagreements.
During her shock resignation announcement, Ms Sturgeon spoke of her pride as she looked back on her achievements, insisting Scotland had, in many ways, changed for the better since she became first minister. She pointed to the expansion of funded early learning and childcare, the record numbers of young people from deprived areas going to university, and a new progressive approach to taxation and social security.
All are undoubtedly commendable accomplishments, but it was telling that towards the end of her speech, Ms Sturgeon moved to sum up her time in office by reasserting her party's numerous wins at national and local polls. "It seems to me that eight emphatic election victories ain't a bad record together," she remarked. That may well be so, but politicians less able than Ms Sturgeon should know victory is not its own reward.
It is hard to shake the sense that lesser first ministers, who occupied the office for shorter periods than her lengthy stint, could have been said to have achieved more. Certainly, under Ms Sturgeon's watch, there was nothing as transformative as such as the free personal care policy pursued by Henry McLeish. In that regard, it is perhaps no surprise that one of the most stinging accusations levelled at Ms Sturgeon by some SNP supporters is that, for a professed social democrat, she has been far too conservative.
Arguably her greatest and most enduring achievement is hers alone to own – that of her own ascendancy to the summit of Scottish public life. For those who view politics disdainfully as a contest waged by the elite, the trail blazed by a woman brought up in a terraced council house in Ayrshire has, and will continue, to inspire generations.
Ms Sturgeon, to her credit, did not seek to exploit her working-class background for political gain, but it imbued her with empathy, compassion, and a common touch – refreshing qualities in modern politics, and which informed her tireless, reassuring approach throughout the pandemic, even if serious mistakes were made elsewhere.
But is that enough? Should it be enough? Any cursory assessment of her legacy cannot ignore the defining failure of her tenure; namely, her inability to secure independence, especially against the backdrop of Brexit, and the frequently chaotic administrations of the five prime ministers who occupied Downing Street during her time in office.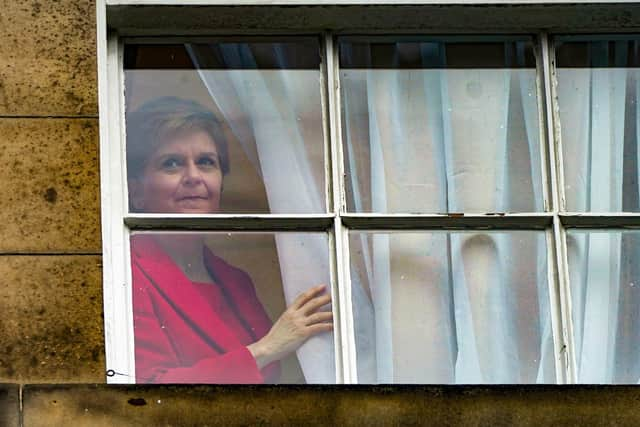 Whichever way you slice it, that constitutes an indelible black mark against her record. And for all the clever political manoeuvres she took over the years – such as calling a Holyrood vote on the triggering of Article 50 – she will depart at a time when her party lacks a coherent independence strategy, and when the public remains unconvinced on the great constitutional question. It is telling the latest public poll suggested that, were a referendum to have been held this week, Scots would vote no by a 12-point margin.
Many of her allies, and future historians, may well judge that to have been an unattainable goal, given Ms Sturgeon entered Bute House mere months after the 2014 referendum. Even so, she chose to make it a defining goal of her premiership, one integral to successive manifestos of her party. She promised it, but could not deliver. There is no way of sugar coating it.
There are myriad other failures to factor in, too, not least her inability to close, if not eradicate, the poverty-related attainment gap, something she described as the "defining mission" of her Government. Eight years after insisting she wanted to be judged on the issue, the verdict is damning.
The poverty-related gap for S3 pupils earning the third level or better has widened since 2018/19. For reading, the gap grew from 11.5 per cent to 14.2 per cent, and the gap in writing soared from 12.2 per cent to 15.1 per cent, with similar increases across literacy and numeracy.
The Covid pandemic may have exacerbated the problems, but it is now almost 13 years since the introduction of a new outcome-based curriculum across Scottish education. And despite more than £1 billion being directed at the attainment gap problem, it will fall to Ms Sturgeon's successor to try and solve it.
They will have to do so while clearing up other messes left in Ms Sturgeon's wake. Waiting times in the NHS remain well below Government targets, with thousands of Scots still waiting in A&E departments for eight hours or more; Scotland continues to have, by some distance, the highest drug death rate recorded by any country in Europe; and across deprived areas, people are dying younger and spending more of their lives in poor health.
When Ms Sturgeon gave her first address at Holyrood after being elected First Minister in November 2014, she insisted tackling poverty and inequality were among those points against which her Government would "set its compass". More than eight years on, it is still trying to find the right direction.
The strain of dealing with those challenges must have taken its toll, despite the fact Ms Sturgeon repeatedly insisted no one issue had led to her resignation. Instead, she said, it stemmed from a "deeper and longer-term assessment", and not "the latest period of pressure". That may be true, but in recent weeks Ms Sturgeon seemed to lack the dexterous and confident touch which made her a formidable opponent in the Holyrood debating chamber.
In the face of the growing row over transgender prisoners, and questions over the £107,000 loan given to the SNP by her husband, her approval ratings slumped to their lowest level since she succeeded Alex Salmond. It has been a particularly taxing time.
Soon, Ms Sturgeon will have the opportunity to step back, to recharge and reflect. She has been the dominant figure of Scotland's devolutionary era, synonymous with the role she has held for eight years, and whether it is in public office or in a private capacity, her influence will remain keenly felt for years to come. There have been hard-won triumphs in her journey so far. When it is all over, will they make up for the ambitions that went unfulfilled?