Lasers, drones, and greenkeepers' tips bring St Andrews Old Course to life in new video game
It is a marriage seven centuries in the making, with cutting edge technology ordinarily employed by oil and gas technicians and gold mine proprietors repurposed in order to sculpt a precise depiction of the oldest and most revered site in the game of golf.
Now, the team behind a new video game which will allow players the world over to hit the links of St Andrews have revealed the methods and secrets they used to produce the most accurate recreation yet of the world-famous Old Course.
From flying airborne laser scanners over its fairways in order to capture their innumerable hills, humps and hollows, to spending time with veteran greenkeeping staff to reproduce the different types of grass on the links, the developers behind EA Sports PGA Tour have spent more than three years creating the game, which will be released this Friday.
It marks the first instalment in eight years in a series that has generated hundreds of millions of pounds in sales since it began in 1990, and the first iteration to grace the latest generation of Microsoft and Sony's home consoles. Given the rapid advances in game engines and technology during that hiatus, the developers are confident they are about to unveil the most lifelike golf video game ever seen.
Whereas previous titles utilised global position system devices and surveying equipment in order to try and capture every undulation of golf courses, this time around the team at EA Tiburon went further. By equipping a low flying helicopter with light detection and ranging lasers (LiDAR) - a remote sensing method capable of generating a three dimensional map - they were able to map every millimetre of St Andrews, one of 30 courses that will be available at launch.
"We can get a lot more accurate scans of the different properties because of the different technologies that are now available," explained producer Ben Ramsour. "The last time we launched a game, we had these giant, clunky laser devices that shot at different points to help us get the terrain, the ups and downs, and it was pretty accurate for the time.
"Before, it would have taken us about a week to scan each course. Now, we can fly an aeroplane or a helicopter, and it only takes us 20 or 30 minutes. It's a geologist's laser essentially, designed to find oil and gold. It shoots out many more points per minute, and allows us to get much more dense, accurate scans."
Coupled with further scans carried out by drones and pioneering photogrammetry techniques, the in-game courses benefit from a wealth of data that is approximately 30 times more dense than publicly available records, with such pinpoint accuracy allowing the developers to accurately recreate not just the courses, but their vegetation and built structures, such as St Andrew's Swilcan Bridge and Hamilton Hall, the imposing red sandstone structure overlooking its 18th green.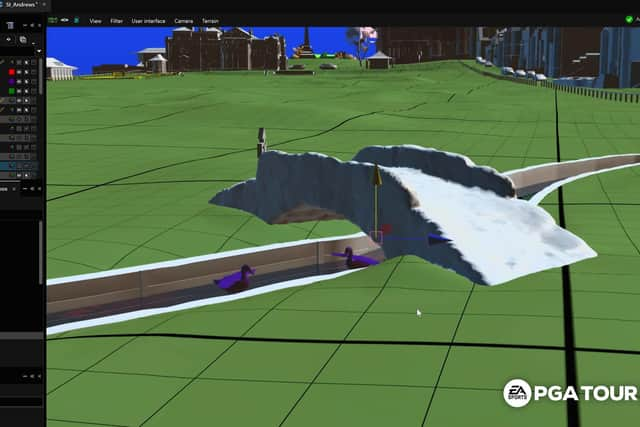 While some will seize upon such statistics as evidence of the games industry's obsession with technological spectacle and graphical fidelity, the developers stress that such granular details will inform how players contend with the terrain, slopes, and surface dynamics. Craig Penner, one of the gameplay designers, explained: "In previous golf games, when the ball starts rolling and bouncing on a really fast and firm course like St Andrews, it'd look very strange, because even though we have very high, granular data, it doesn't necessarily capture inconsistencies in grass, for instance. It looked like the ball was on a pool table, with this uncanny valley effect.
"We wanted to make St Andrews as realistic as possible, and in order to do that, we had to add in additional logic to simulate those inconsistencies in the ground and grass. You'll see the ball bounce and dribble along a little, instead of following this perfectly smooth roll."
That sense of immersion will be aided by the fact that the game includes all four major championships, with familiar features from the PGA tour, such as TrackMan ball flight data and the ShotLink scoring system, also part of the package. But the evolution of EA's golf series did not rely on technology alone.
Ramsour and Penner had the enviable task of visiting every course featured in the game in order to get a feel for how they play, and to quiz their custodians in their quest for authenticity. That experience, says Penner, was especially fruitful at St Andrews. They flew out from Florida to hang out with Gordon McKie, the superintendent of the Old Course – only the ninth person to hold that title since Old Tom Morris.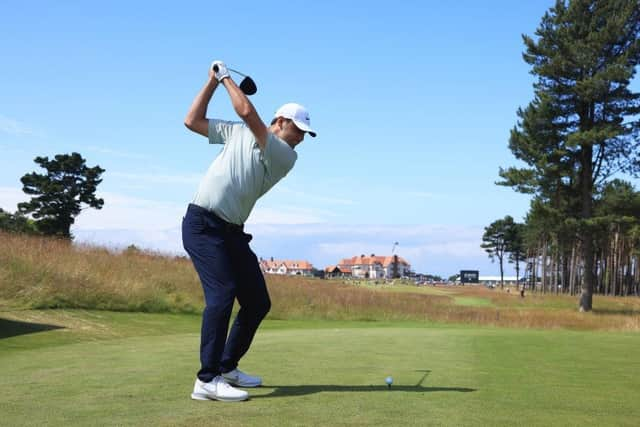 "We spent time with Gordon talking about the different surfaces, and going into detail about the fescue on the Old Course," he recalled. "If you look at the rough on the course, you'd think it's heavy and requires a pitch out, but Gordon explained that while it's thick and knee high in places, it's fairly wispy and if you get a decent lie, you can get a club on it."
The game's developers also wanted to pay a nod to golf's heritage, and nowhere is that more evident than the Old Course. Any player unfortunate enough to land their ball in the notorious Seven Sisters bunkers peppering the right of the fifth fairway can at least look forward bespoke commentary written and recorded especially for that gruelling hazard.
Indeed, Iona Stephen, the former Scottish professional golfer turned broadcaster, is part of the game's commentary team, a roster which also includes Nick Faldo. Fittingly, Stephen recorded her audio during the pandemic from a converted studio in her flat in St Andrews.
She and a team from the Old Course had the chance to play the game for the first time during a visit to Florida in January. Ramsour recalls: "They were on the 17th at the St Andrews and triggered a line of Iona's that's in the game. It was a really cool, special moment."
Comments
Want to join the conversation? Please or to comment on this article.