Hats off to St Andrews Links Trust for swiftly rectifying Swilcan Bridge 'patio' mistake
Golf, eh? The one thing it certainly isn't at the moment is boring and what an astonishing few days it's been as far as the most famous place in the sport is concerned.
At the end of last week, barely anyone, myself included, knew anything was going on in St Andrews that was about to become a major talking point around the world.
It wasn't until over the weekend that photographs started to appear on social media of new stonework in the area around the Swilcan Bridge and, on the back of that, all hell broke loose.
In fairness to St Andrews Links Trust, which is responsible for maintaining the Old Course, the area in question probably attracts more foot traffic than anywhere else in golf and you could probably even extend that to sport as a whole.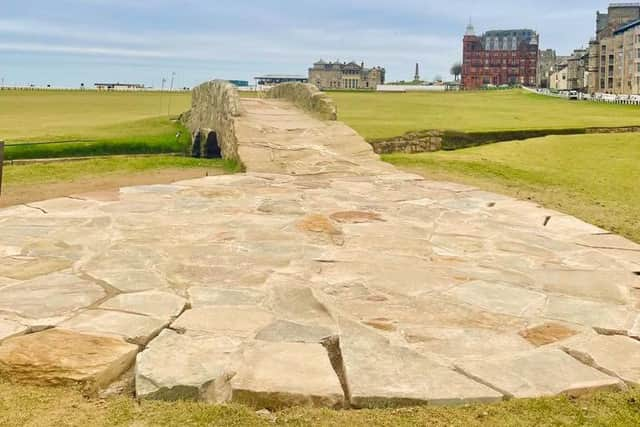 It's where people stand to take that iconic photograph of golfers in particular but also, when the public are free to roam about the Old Course on a Sunday, day-trippers and other visitors either sitting or standing on the Swilcan Bridge.
Other options, including the good old-fashioned reseeding or turf replacement, as well as the installation of hybrid and synthetic turf, have been attempted by one of the best greenkeeping teams in the business, but, according to the Links Trust, "none have proven to be successful in adequately protecting the area from significant wear and tear".
A stone pathway leading onto the bridge, apparently, is not new and you wonder if any controversy would have been stirred if a decision had been taken for this work to have involved, well, a straightforward path because there's no doubt the shape of what they went for was a big issue with lots of people.
It was smaller than a helicopter landing pad, but, having opted for something circular that looked like a patio, it was no real surprise that it had been widely ridiculed on social media through both comments and photographs, which included garden furniture and even a hot tub being deemed as more appropriate.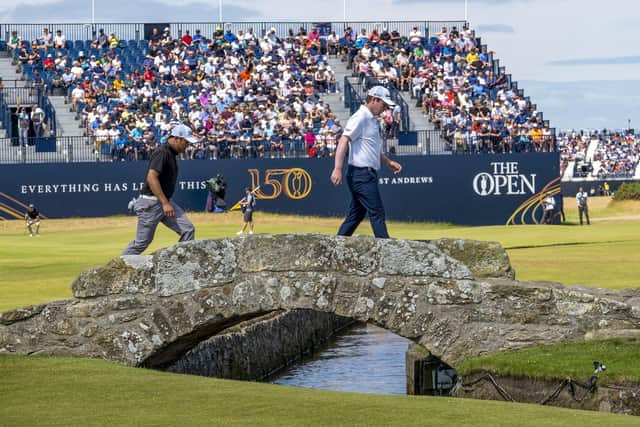 I have to say some of the reaction was a bit over the top, but, that, of course, is down to the society we now live in, with people all over the world, either educated or uneducated when it comes to the Old Course having something to say.
Hats off, though, to St Andrews Links Trust for taking the feedback in this instance on board and, at the same time, wasting no time in acknowledging that a mistake had been made.
The stonework will be removed in the coming days and the area will be reinstated with turf for the time being as "alternative options for a permanent solution are explored".
Could this unfortunate short snippet in the rich history of the Old Course have been avoided? Yes, probably, because, in hindsight, it should be simple for those involved to figure out why there was such a level of outcry from all corners of the globe.
But, rather than allow it to drag on and have the great town talked about it in an unnecessary negative tone, as would certainly have been the case, this matter has been nipped in the bud, so credit where credit is due for that.
We probably didn't need reminding, of course, but the best thing about this episode is that it shows St Andrews has a special place in the hearts of so many people and always will have. Rightly so, too.
Comments
 0 comments
Want to join the conversation? Please or to comment on this article.