Judge finds Donald Trump liable for 'false valuation' of Scottish golf resort
Former US president deceived banks and insurers, ruling states
Donald Trump committed fraud for years while amassing his international property empire, with the former US president found liable for the false valuation of his inaugural Scottish golf resort in Aberdeenshire, a judge has ruled.
In a scathing assessment of the former US president's business practices, New York judge Arthur Engoron found that Mr Trump and his company deceived banks, insurers, and others by massively overvaluing his assets and exaggerating his net worth on paperwork used in making deals and securing financing.
The ruling, part of a high-profile civil lawsuit brought against Mr Trump by New York Attorney General, Letitia James, singled out his Trump International Golf Links property in Balmedie and scrutinised the valuation of land earmarked by Mr Trump for a housing development.
Mr Engoron pointed out that a month after the resort secured planning approval from Aberdeenshire Council in September 2019 to build 550 dwellings, including 500 residential properties, Mr Trump's own annual statement of financial condition (SFC) - essentially, his own personal financial report card - derived a value based on the assumption that 2,035 private residential homes could be developed.
Mr Trump has never received planning approval for that amount of properties in Aberdeenshire. While he broke ground earlier this year on the construction of a second golf course at the resort, the status of the housing development, known as the Trump Estate, remains unclear.
In her lawsuit, Ms James argues that the value of the Aberdeenshire resort had been "improperly and materially" inflated. It alleges that in the SFCs, prepared by Mazars, a US accounting firm, Mr Trump based the value of the Aberdeenshire course on his capital contributions, adjusted by a 'multiplier' - a fixed assets approach that did not depreciation of the assets into account.
Ms James sued Mr Trump last September, accusing him, his two adult sons, Donald Jr and Eric, and the Trump Organisation of inflating the value of their properties by more than £1.65 billion to suit the needs of their business. She claimed the defendants issued false records and financial statements in order to get better terms on loans and insurance deals, and to pay less tax.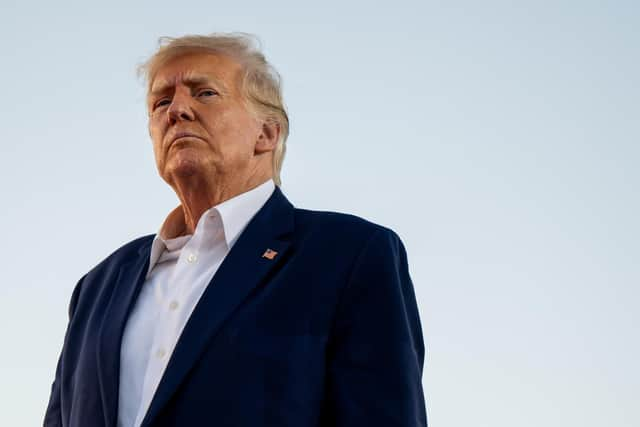 Mr Engoron's ruling comes just days before the start of a non-jury trial in Ms James' lawsuit. She had asked for a summary ruling before the trial began, arguing that finding certain facts to be beyond dispute would speed up the trial. Ms James is seeking £205 million in penalties and a ban on Mr Trump doing business in New York, his home state.
In his ruling, the judge highlighted the "obstreperous conduct" of the defendants and their "continued reliance on bogus arguments." In their world, he wrote, "restricted land is worth the same as unrestricted land, restrictions can evaporate into thin air; a disclaimer by one party casting responsibility on another party exonerates the other party's lies." Mr Engoron added bluntly: "That is a fantasy world, not the real world."
The 35 page ruling made a series of findings, with Mr Engoron stating that in one financial statement Mr Trump had overvalued his Mar-a-Lago resort in Florida by 2,300 per cent. He also overvalued his penthouse at Trump Tower in New York by claiming that it was nearly three times its actual size, the judge added. Mr Engoron said the defendants had "absurdly" argued that the calculation of the area of the penthouse in question was a "subjective process," concluding: "A discrepancy of this order of magnitude, by a real estate developer sizing up his own living space of decades, can only be considered fraud."
Elsewhere, Mr Engoron likened the Trumps' legal defence of the fraudulent financial statements to a Chico Marx line in the comedy 'Duck Soup': "Well, who ya gonna believe, me or your own eyes?" He also ordered the cancellation of business certificates that allow some of Mr Trump's businesses, including the Trump Organisation, to operate in New York. That decision will not dissolve his company, but could end his control over signature properties like Trump Tower.
Mr Trump and the other defendants plan to appeal Mr Engoron's ruling, having argued that they never committed fraud, and that the challenged transactions were profitable. In a statement, Christopher Kise, a lawyer for Mr Trump said the "outrageous decision is completely disconnected from the facts and governing law, adding: "President Trump and his family will seek all available appellate remedies to rectify this miscarriage of justice."
Ms James' lawsuit is one of several legal headaches for Mr Trump as he campaigns for a return to the White House in 2024. He has been indicted four times in the last six months - accused in Georgia and Washington, DC, of plotting to overturn his 2020 election loss, in Florida of hoarding classified documents, and in Manhattan of falsifying business records related to hush money paid on his behalf.
The Trump Organisation was convicted of tax fraud last year in an unrelated criminal case for helping executives dodge taxes on extravagant perks such as Manhattan apartments and luxury cars. The company was fined £1.3m. One of the executives, Mr Trump's longtime finance chief Allen Weisselberg, who has previously been listed in Companies House filings as a person with "significant control" over the Trump business in Scotland, pleaded guilty and served five months in jail. He is a defendant in Ms James' lawsuit and gave sworn deposition testimony for the case in May.
Comments
 0 comments
Want to join the conversation? Please or to comment on this article.