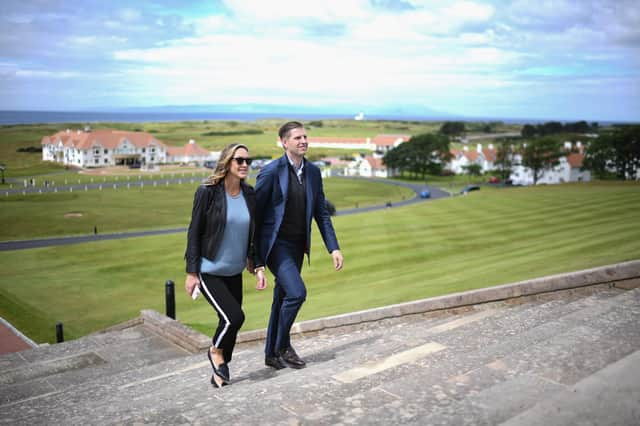 But Scotland on Sunday can reveal a significant spike in the bill being picked up by American taxpayers for the outgoing first family's dealings in Scotland on behalf of the US president's private firm.
Mr Trump's flagship Turnberry resort has been paid nearly £25,000 by his own government to cover accommodation costs for Secret Service agents assigned to protect his son, Eric, on multiple trips to Scotland to attend to the family's business affairs.
The Trump Organisation's most prized overseas property received the tranche of payments for four separate visits to Scotland by his second son, the executive-vice president of the Trump Organisation. In his father's absence, Eric has overseen both Turnberry and the company's inaugural golf resort in Balmedie, Aberdeenshire.
Details of how Mr Trump's company received the US federal funds emerged following a long fight by Scotland on Sunday to obtain spending records at the president's Scottish resorts held by the US Department of Homeland Security.
A slew of partially redacted documents were eventually disclosed to this newspaper last week by the US Secret Service, more than three years after an initial freedom of information request was submitted in August 2017.
They show that for four trips made by Eric to Scotland, the Secret Service spent a total of $32,472 (£24,180) on accommodation at Turnberry. Once car rentals and other expenses are taken into account, the total cost to US taxpayers for the visits was $62,960 (£46,880).
It means that, since his election, Mr Trump's Turnberry resort has now received close to £300,000 from the Secret Service, US State Department, and US Defence Department, according to an ongoing analysis of spending records by Scotland on Sunday. However, the property has yet to turn a profit, having run up losses of nearly £43m under Mr Trump's ownership. Its most recent annual losses stood at £10.7m.
Jordan Libowitz, communications director for Citizens for Responsibility and Ethics in Washington, a government ethics watchdog in Washington DC, said the Trump Organisation should reimburse the US government for the taxpayer funds expended during private business trips.
"We've seen an incredible explosion in Secret Service spending to protect the president's adult children as they've travelled the globe to make money for their father," he said.
While there has been widespread criticism of the way in which Mr Trump's private business has been able to generate revenue from his public office, the expense of protecting his son on his travels to Scotland will raise further questions given the purpose of the trips.
One such visit, in July 2017, saw Eric and a 30-strong party of "international guests" fly in to Scotland by private jet to play the Trump Organisation's golf courses. The transatlantic excursion, marketed by Mr Trump's company as the Ultimate Links Tour, has become a regular event, even promoted by the president on Twitter.
During the iteration held between 20 and 22 July 2017, the Secret Service paid Turnberry $7,500 (£5,590) for rooms. Its agents also stayed at the Park Inn by Radisson in Aberdeen, 11 miles south of the Trump International Scotland resort, at a cost of $1,280 (£950). Other expenses brought the total cost for the trip to $18,680 (£13,910).
The previous month, Eric and his wife, Lara - also classed as a Secret Service 'protectee' - visited Turnberry to attend the opening of the resort's revamped King Robert the Bruce course, during which they held a photo opportunity, surrounded by pipers and an actor dressed as the Scottish king.
The two night trip saw Turnberry receive $8,872 (£6,610) from the Secret Service for rooms. The visit cost $13,780 (£10,260) in total. During the visit, Eric gave an interview in Turnberry's clubhouse, where he defended his role and that of his siblings in the Trump Organisation. "Is that nepotism?" he told the Daily Telegraph. "Absolutely. Is that also a beautiful thing? Absolutely. Family business is a beautiful thing."
The Secret Service records also show a visit to Scotland by Eric that April, for which Turnberry received $9,500 (£7,070). The trip cost $18,000 (£13,400) overall. He also flew to Turnberry in December 2016, where the hotel was paid $6,600 (£4,910) out of a total spend of $12,500 (£9,310).
Kedric Payne, general counsel and senior director of ethics at the Campaign Legal Centre, a Washington DC-based non-partisan political watchdog, said: "US ethics laws and norms are intended at the very least to prevent the perception of the use of official resources for personal gain.
"If President Trump followed the tradition of his predecessors and divested his business interests, these expenses would not be an issue.
"This blatant use of taxpayers funds to subsidise the president's hotel exploits flaws in the law that the Biden administration should correct."
Austin Evers, a former senior counsel to the US State Department, who is now executive director at American Oversight, a US ethics watchdog, said: "No one objects to the president's family receiving security protection, but time and again, we've seen the Trump family exploiting the trappings of the presidency for their own financial benefit.
"An ethical president would have taken steps to guarantee that there was no chance for taxpayer money to wind up in his own pocket, and almost every week we learn more about the costs of that ongoing conflict of interest."
Scotland on Sunday asked Trump Turnberry and the Trump Organisation the room rate it charged the Secret Service during Eric's visits. Neither company responded.
A message from the editor:Thank you for reading this article. We're more reliant on your support than ever as the shift in consumer habits brought about by coronavirus impacts our advertisers. If you haven't already, please consider supporting our trusted, fact-checked journalism by taking out a digital subscription.