No casualties have been reported but at least 10 fire engines are at the scene of the incident.
Emergency services were called to the scene just after 11:30 this morning, with crews finding the building well alight when they arrived.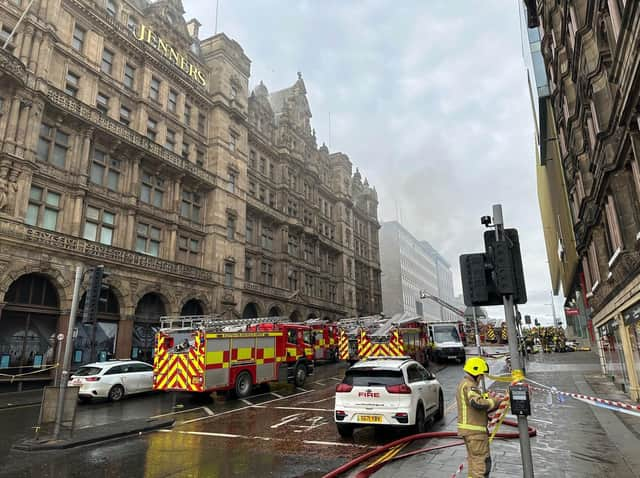 Eyewitnesses and reports on social media recalled smoke billowing out of the basement area of the former department store.
A Scottish Fire and Rescue Service spokesperson said: "We were alerted at 11.29am on Monday, January 23, to reports of a commercial building fire at Rose Street, Edinburgh.
"Operations Control immediately mobilised two appliances to the scene and on arrival firefighters found a building well alight.
"A further eight appliances, including a high-reach, were mobilised and crews remain on scene as they work to extinguish the fire. No casualties have been reported."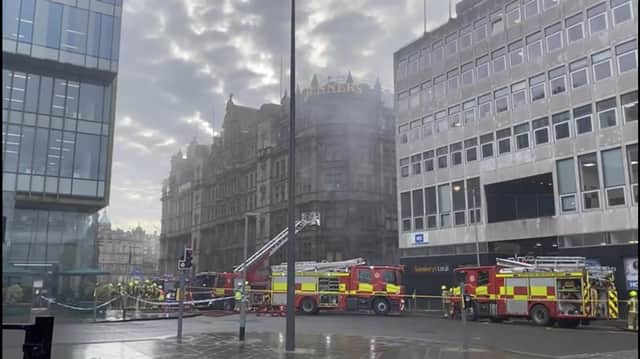 A Police Scotland spokesperson said a number of roads had been closed in the surrounding area, adding: "Please avoid the area if possible and heed advice re alternative routes."
Lothian buses has announced a number of bus diversions at North St David Street and South St David Street.
It said: "Due to a road closure buses are unable to serve George Street and South St David Street and are instead diverted via George Street, Frederick Street and Princes Street heading northbound until further notice."
Buses affected include the number 5, 45, 49, 100, 7, 10, 11, and 14.
Marks and Spencer and the Mercure Hotel, in Princes Street, have been closed as firefighters work in the neighbouring former department store, and some buildings have been evacuated.
TK Maxx and a host of restaurants have also been closed.
Charlie Douglas, assistant manager at the Festival Village bar above Waverley Mall said: "I came outside and heard all the fire trucks coming down. Next thing there was eight fire trucks outside.
"Suddenly we went from having no customers to about 80, with staff from all the places that had been evacuated rushing in, saying that they weren't sure what had happened or what was going on but they had been told to take the day off.
"Everyone who was there was from St Andrew Square at the time. Some people had photos and you couldn't see from one side of the pavement to the other.
"It was quite a scary situation really. I didn't see flames but it was like a sea of smoke. There were heaps of people coming through, just trying to get themselves out of it."
Terri Campbell was visiting Edinburgh from South Ayrshire when she witnessed the blaze. She told The Scotsman: "I got off the bus and there was smoke coming out the building. There was people everywhere and a lot of emergency services."
Her friend Aoife Abbott, also from South Ayrshire but studying in Edinburgh, said: "I was just walking along to meet Teri getting off the bus, and I saw it – all the police motorbikes and fire engines and stuff, and all the smoke. There were lots of people watching and people getting taken out of the shops and other buildings."
Oliver Lamprey, an on-street ticket seller for McGill's Bright Bus Tours, was working nearby when the fire broke out.
He said he first became aware of the fire around 11.45am. "I noticed it when I was coming off my break, passing by Jenners, and I saw smoke coming out of the building," he said.
Crowds of shoppers and visitors were gathered in the streets, looking on as the incident unfolded.
Another worker told the Press Association: "I work at one of the businesses nearby and I nipped out for lunch and tried to get in but we have been evacuated."
"I was aware of the sirens and it was one of my team that said Jenners was on fire.
"The building's beautiful. It's such a beautiful piece of architecture, it's such a shame, especially with it shutting down and lying kind of empty."
Some locals were obviously upset at the fire, with one Edinburgh woman admitting she was "feeling quite emotional".
The building housed the up-market Jenners store for more than 100 years, before its closure in May 2020.
The iconic landmark has been undergoing restoration work which will see the disused rooms, covering around 10,000m2 in the six-storey building, transformed into a hotel.
The current structure was designed by architect William Hamilton Beattie in the Victorian renaissance revival style and opened in 1895 – replacing a previous building which was destroyed by fire in 1892.
The building was sold to private investors in 2005 after House of Fraser bought the Jenners brand and property, before being purchased by Danish billionaire Anders Holch Povlsen – one of the biggest landowners' in Scotland – in 2017 for a reported £53 million.