Weather: As Scotland swelters through its warmest June, will July bring a heatwave and be hotter still?
Britons are being told to prepare for more sizzling summer sunshine as forecasts suggest the mercury could top 40C in some parts of the UK in July and potentially even exceed last year's record heat.
According to reports, a coming hot spell that could last up to 14 days is due to hit the UK and is likely to see most places baking in higher-than-usual temperatures.
But next month's forecast heatwave, predicted by the Weather Company, could see these records broken.
The Met Office advises caution when considering long-range weather forecasts, explaining it is difficult to accurately predict precise temperatures or which areas will experience the hottest weather so far in advance.
However, the agency has confirmed there is a high likelihood of extra-hot weather across most areas over the next few weeks.
"Though it's not possible to forecast for specific events for a month ahead, the signals for July are for temperatures to remain generally above average, with a greater than normal chance for heatwaves," said Met Office spokesperson Stephen Dixon.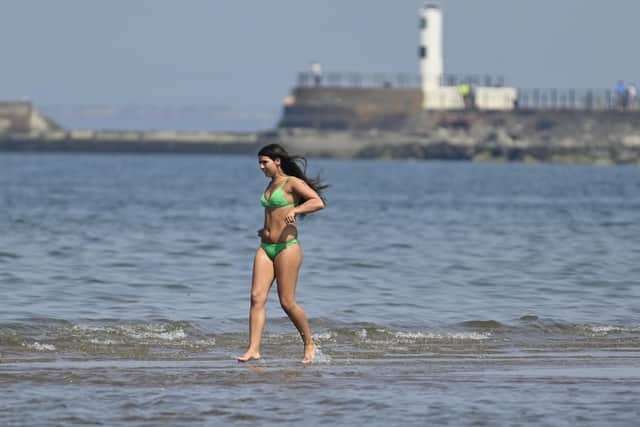 "It's looking like there will be some periods of above-average temperatures and there's a chance of heatwaves embedded in that, but at this range it's not really possible to verify the extent or intensity of heatwaves."
June has already been very hot across the UK, reaching up to 32.2C in England and more than 29C north of the border. Conditions have been a bit cooler in recent days, but remain several degrees warmer than usual, with a top temperature of 20.6C on Monday in Leuchars.
This month's average temperature in Scotland is 14.4C, the hottest ever recorded for June. The previous highest (13.4C) was set in 1940.
The past few days of the month are set to be a little cooler than previous weeks, with outbreaks of rain expected in many places.
Mr Dixon said: "Weather through much of this week for Scotland is looking unsettled in nature with various fronts moving in from the west. We'll see some higher rainfall totals, particularly in the west, and temperatures more around average for the time of year."
Temperatures this week and most of next are expected to peak around 18C or 19C in Scotland, possibly hitting 20C in some places, according to meteorologist Honor Criswick, also from the Met Office. Many areas of Scotland can also anticipate outbreaks of rain over coming days, including some heavy downpours, she says.
The west will be most affected, with up to 25mm expected widely and potential for as much as 45mm in the most prone spots. But as we move through the weekend and into next week, conditions are expected to start getting warmer.
"There is rain through this week that should be welcome for many areas of Scotland," Mr Dixon added. "The set-up for the weekend is for that unsettled weather to continue, with further periods of rain possible though Saturday and into Sunday.
"That's the current forecast, but the conditions for the next week are not a signal for the whole of summer."
Comments
 0 comments
Want to join the conversation? Please or to comment on this article.