Scotland weather: A heatwave has been officially declared in Scotland, how hot will it get, and how long will it last?
Scotland recorded its hottest day of the year on Monday, with Thrieve in Kirkudbrightshire registering 30.6C.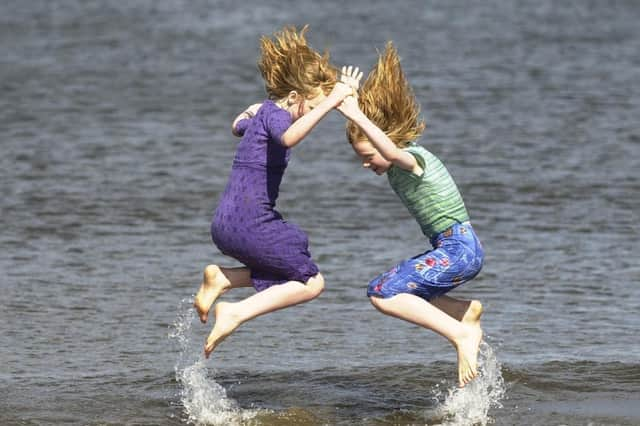 Scotland is officially in a heatwave after weeks of blue skies across much of the country.
The Met Office has strict criteria before this can be established, with maximum temperatures of 25C (77F) for three days in a row.
Thrieve in Kirkudbrightshire registered 30.6 (85F) yesterday to complete the three-day requirement.
Grahame Madge of the Met Office said: "You can safely say Scotland is now in official heatwave territory.
"We don't like to base this on just one measuring station but we are beginning to see various locations record very high temperatures, including Aviemore at 27.3C (81F) and Eskdalemuir at 26.4C (79F).
"Looking ahead, we are going to see similar values north of the border right up until next weekend."
In another remarkable development, the west of Scotland has already run up 78 per cent of the normal sunshine it would expect in any June.
You would normally see 154 hours of sunshine in the average June but in just the first 11 days of this month, the west of Scotland has already notched up 119.5 hours.
This heralds the possibility that June 2023 could become the sunniest June ever for the region.
Added Mr Madge of the Met Office: "Whether it's the sunniest June on record is still a bit early to say.
"But if you have already registered 78 per cent of average, with two thirds of the month still to go, it certainly has the potential to create a new record."
The dominant high pressure system responsible for the benign conditions we have seen since May looks to be in charge for some time to come.
Many parts of Scotland can expect to see temperatures in the mid to high 20s Celsius until Saturday at least.
The clear skies and lack of rain will do little to alleviate parched conditions in the countryside, beset by falling river levels and wildfires.
A number of thunderstorm warnings are in place for Scotland on Tuesday but intense as some downpours may be, they will do little to replenish Scotland's water levels.
The thunderstorm warning area affects isolated areas north of Glasgow, including Perth and Kinross, Stirling, Highland and western spots such as Argyll and Bute, Inverclyde and West Dunbartonshire.
The yellow Met Office warning, effective from noon until 9pm, states: "Although some places will miss them, thunderstorms are likely to develop over parts of Northern Ireland and north western Scotland from early Tuesday afternoon.
"These will be fairly slow moving with the potential for large rainfall amounts in a short period of time.
"20-30 mm (up to an inch) of rain may fall in an hour or less in a few spots with perhaps 40-50 mm (two inches) possible if successive showers affect the same location.
"Frequent lightning is also likely to be a hazard along with hail."
Looking ahead, the Scottish Environment Protection Agency fears arid conditions are likely to persist into early July.
The outlook from now until August also suggests that across the UK, there is double the likelihood of the period being hotter than normal.
Comments
 0 comments
Want to join the conversation? Please or to comment on this article.