Shetlanders to drive with tide power in the tank
Vehicles in Shetland can now be fuelled by the power of the sea, thanks to the creation of the first ever electric charge point where drivers can fill up directly from a tidal energy source.
The charge point is located on the scenic shores of Bluemull Sound, at Cullivoe harbour on the island of Yell in Shetland.
Underwater turbines have been powering homes and businesses in Shetland for more than five years.
The latest move, by Edinburgh-based marine energy specialist Nova Innovation, means the island's electric vehicles (EVs) can now also be powered solely by the tide.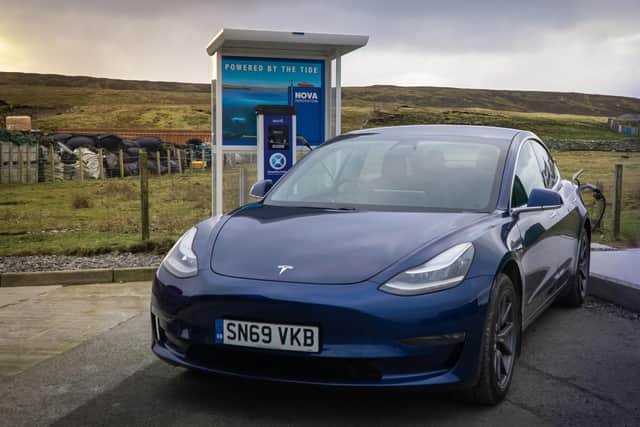 The green charge point has been welcomed by locals who have already switched away from petrol and diesel motoring.
EV driver Fiona Nicholson, from Cullivoe, says the installation will bring benefits for the local community as well as the environment.
She said: "I am delighted that we have an EV charge point powered by the tide.
"I work in Lerwick, so I need access to a charge point, and it is exciting to have this on my doorstep.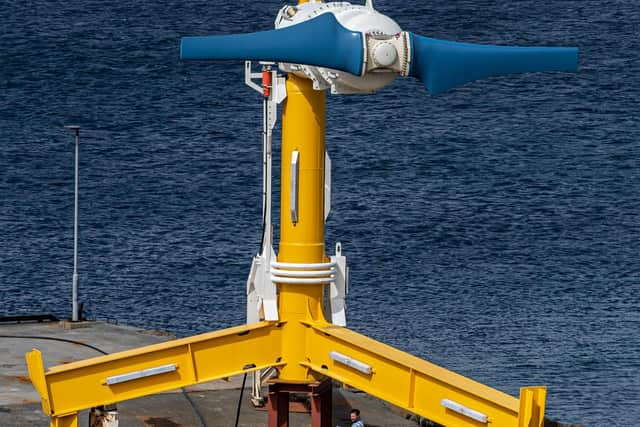 "Most people in Shetland live close to the sea – to be able to harness the power of the tide in this way is a great way to use this resource.
"I have followed Nova Innovation from when they built their test model in Leith up until now.
"We are very lucky to have a long stretch of coastline in Shetland and I think there will be a lot of interest in this technology and how different businesses could use it."
Simon Forrest, chief executive of Nova Innovation, said: "Our technology generates electricity from the immense power of the seas, and it is changing the way we power our lives - from how we make a cup of tea to how we travel.
"We now have the reality of tidal-powered cars, which demonstrates the huge steps forward we are making in tackling the climate emergency and achieving net-zero by working in harmony with our natural environment."
Transport is one of the biggest contributors to climate change.
Traditional combustion engine vehicles are responsible for around a fifth of the UK's total carbon emissions.
The Scottish Government has banned the sale of new cars powered solely by petrol or diesel by 2032 in a bid to help achieve its 2045 goal to reach net-zero carbon.
This means new sources of clean energy to power vehicles must be rapidly developed.
The Nova project received grant support through Transport Scotland to install the EV charging infrastructure.
Scottish transport secretary Michael Matheson said: "It's fantastic to see that Nova Innovation is demonstrating yet again that Scotland remains at the forefront of developments in zero-emission transport solutions.
"I'm pleased that Scottish Government funding is enabling the installation of a new charge point in Shetland which operates entirely on renewable tidal energy.
"This type of innovation is key in responding to the global climate emergency and highlights the opportunities that can be realised here in Scotland as we transition to a net-zero economy."
A message from the Editor:
Thank you for reading this article. We're more reliant on your support than ever as the shift in consumer habits brought about by coronavirus impacts our advertisers.
Comments
 0 comments
Want to join the conversation? Please or to comment on this article.