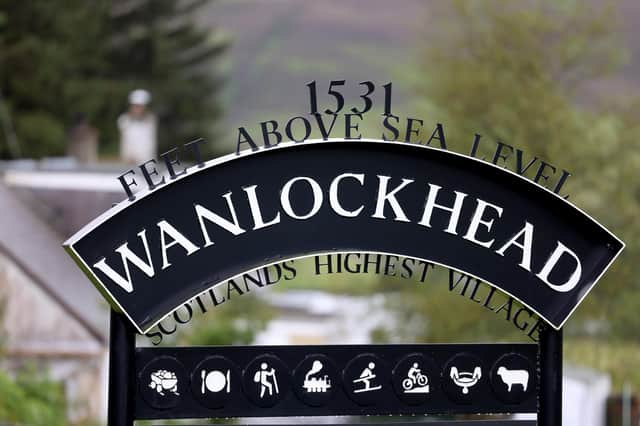 Wanlockhead Community Trust wants to buy nearly 4,000 acres of land surrounding the village. Picture: Jeff J Mitchell/Getty Images.
Wanlockhead Community Trust wants to buy nearly 4,000 acres of grazing, moors and brownfield land surrounding the village in Dumfriesshire from the property group owned by the Duke of Buccleuch, one of Scotland's largest landowners.
In August, an independent valuation set a price of nearly £1.5m, and the Scottish Land Fund (SLF) last week told the buyout campaigners it had rejected their application for public funding, saying it was concerned about levels of local support and lack of community consultation.
However, the buyout plan has split opinion in the village. Picture: Jeff J Mitchell/Getty Images.
Lincoln Richford, the trust's chairman, said: "It is disappointing that there are insufficient funds to support Wanlockhead's bid at this time. If we really want to redress the land ownership inequality in Scotland then surely we have to allocate sufficient funds to support communities when they make the huge effort that is required to pursue a buyout. Five years so far and we are not giving up – but it's far from easy."
His comments come after he said on Facebook that the trust is urged to reapply in July.
"SLF had 11 applications for this round of the fund, and they said if they funded Wanlockhead they would not have had enough funds for the other ten projects. That is a reasonable position to take and we have to accept that.
"They have alongside that criticised our application in a number of areas, suggesting we need to strengthen our position. They are concerned, for example that Covid has prevented the community from meeting to discuss the plans. Hopefully before July we will be able to rectify that. WCT is in talks with SLF to clarify the points they raise… On a brighter note, we are progressing well the rest of applications with other funders and as expected we'll start receiving further funding updates in the course of the new year."
The Guardian however cited reports that the fund had 32 applications and will announce later this month that nearly 30 have been successful.
The buyout plan had cross-party support from local politicians, but was backed by only 69 people, with 55 against, after a village-wide vote in August. Turnout exceeded 80 per cent, but second-home owners could not participate.
Trust treasurer David Tkocz said in August: "It is an amazing opportunity for the village now and for the whole community. We've got some young families in the village and they are very excited."
Critics of the buyout say there is little need for it, and it would have made the village responsible for assets and problems – including contaminated land –that are currently handled by Buccleuch Estates. Additionally, some villagers are said to be unconvinced by the trust's plans to invest in eco-tourism, camping, gold panning, and small businesses, creating a new mountain destination.
A Buccleuch spokesman reportedly said: "We have had very constructive discussions with the trust to date and we will be in contact with them to understand and discuss the implications of the funding decision."
A message from the Editor:
Thank you for reading this article. We're more reliant on your support than ever as the shift in consumer habits brought about by Coronavirus impacts our advertisers.
If you haven't already, please consider supporting our trusted, fact-checked journalism by taking out a digital subscription.