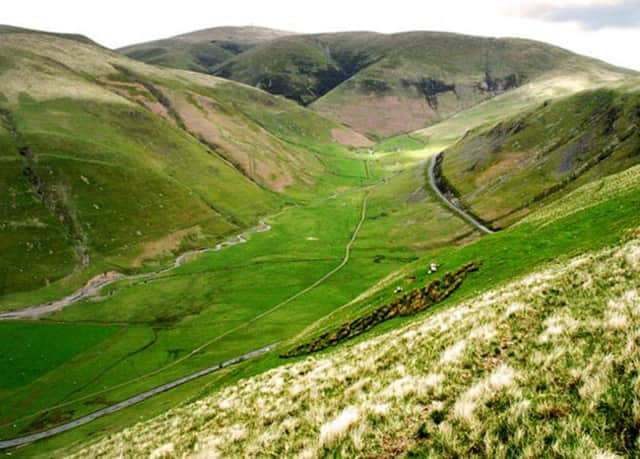 The Lowther Hills could become a new 'mountain destination' in Scotland if a community buyout of more than 3,000 acres from the Duke of Buccleuch is successful. PIC: Scothill/Creative Commons.
Residents of Scotland's highest village are set to buy thousands of acres from one of Scotland's largest landowners and create a new mountain destination where skiing, gold panning and wild camping will be used to draw visitors.
Wanlockhead in Dumfries and Galloway could be transformed after the Duke of Buccleuch agreed put up 3,863 acres of his Queensberry Estate for community land purchase.
It is hoped the sale will be completed by the end of the year with an indepth study now outlining the ambitions of the trust to build a new tourist destination in the south of Scotland.
Lincoln Richford, chair of the Wanlockhead Community Trust, said: "This feasibility study represents many years of work as well as Wanlockhead's highest aspirations regarding land ownership and land use."
If the sale is approved, the trust will take over mineral rights of the rivers and burns that run off the Lowther Hills, a key gold panning area, with revenue to be raised from the sale of licences for those searching for the precious metal.
Expanding the work of the Lowther Hills Ski Club, which has around 300 members, is also another potential option to drive visitors to the area, with mountain bike trails and zip wires being considered.
A new caravan and camping site -as well as compost toilets to serve the wild campers that head to the Mannock Pass area - are under discussion.
Wanlockhead and neighbouring Leadhills have a proud history of mining with the Leadhills Mining Museum and the Leadhills and Wanlockhead Railway bringing to life the area's past.
But there was further potential to build tourism industry in the area, Mr Richford said.
He added: "There are a few things that we haven't really exploited and one of them is being the highest village in Scotland. If we had a sign that said ' Scotland's highest village' then I think it would draw more people, like John o' Groats or Lands's End."
"We are just seven miles off the M74 so we are really just an hour from Glasgow, Edinburgh and Carlisle. We are really not that remote anymore and I think we are really in a very good position for people to come and visit."
Mr Richford said the trust had a good relationship with the Duke of Buccleuch's estate but added there was now an opportunity to develop further the village and its surrounds.
"If you didn't own the land, you couldn't do any of these things as it would always be up to the Duke what he wanted to do. The whole point of community ownership is to develop the potential around the community."
A land valuation is now due with funds for the purchase, if approved, likely to come from the Scottish Land Fund.
A spokesman for Buccleuch Estates said: "We have been involved in constructive dialogue with the Wanlockhead Community Trust for some time in relation to their plans to acquire land. These discussions are continuing and we hope they will come to fruition a soon as possible."