Scotland wildfires: Ranger assaulted for asking someone to put out campfire in Fife forest
Vast swathes of Scotland have been devastated by wildfires over the last few months.
A ranger monitoring forest land in the wake of one of the biggest wildfires in the UK was attacked by campers after asking them to put out a campfire for safety reasons.
The assault happened in Tentsmuir Forest in Fife, which, only last week, was savaged by a separate wildfire that had been started by a campfire.
The blaze required helicopter assistance and Scottish Fire and Rescue Service (SFRS) crews to douse the flames, with fire crews only leaving on Saturday morning.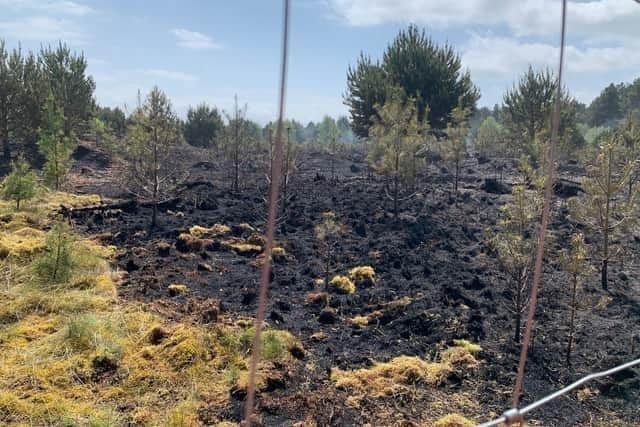 In responding to an alert from a member of the public, a Forestry Land Scotland (FLS) ranger advised two campers in the forest on Wednesday of the heightened fire risk and asked them to extinguish their campfire.
The request was refused and the ranger, when confronted with aggressive and abusive behaviour, left the scene and advised the couple that Police Scotland would be contacted. The ranger was followed to his vehicle and had to leave the carpark when his vehicle was attacked.
Police Scotland said they were made aware of a man "behaving aggressively" at Tentsmuir Forest in Fife around 8.10pm on Wednesday.
Officers attended but the man had left the area and no further complaint regarding an assault was made.
FLS, a government agency, said this behaviour from members of the public towards rangers is increasing. The organisation has urged more needs to be done to highlight the responsibilities that go with access rights following the attack.
David Leven, FLS's east region manager, said: "Unfortunately, this sort of unacceptable attitude and behaviour is becoming more of an issue for our rangers and for the staff from other organisations.
"For this to happen soon after Tentsmuir was damaged by a wildfire and when a much larger wildfire at Cannich has been burning for over a week is hugely frustrating and disappointing. We are there to protect and look after our forests and woodlands, to promote access and to make sure that members of the public are safe.
"With the underbrush and land being exceptionally dry, the risk of wildfire is even greater than normal and no-one should be taking any chances with campfires."
The government agency's call comes as firefighters have spent days battling a wildfire in the Scottish Highlands that officials suggested could be the largest by area on record in the UK and which has been photographed from space.
The fire broke out at Cannich near Inverness on Sunday and has grown to an area measuring roughly 24 square miles. The site is an RSPB Scotland reserve and it is the second time in 25 years it has gone up in flames.
Two firefighters were injured on Tuesday after being in an accident in their all-terrain vehicle while tackling the blaze.
They have since been discharged from the hospital, and SFRS said the blaze was now under control, but with some fire crews remaining on site until it is safe to leave.
The wildfire has since prompted Scottish Gamekeepers Association (SGA) to renew calls to the Government to introduce compulsory wildfire mitigation.
The group has warned about significant taxpayer spend on habitat schemes and planting programmes being lost through lack of proper wildfire planning.
"The rest of the world is waking to measures required to protect people and habitats from wildfire," said SGA chairman Alex Hogg.
"In Scotland, through the Wildlife Management and Muirburn Bill (WMMB), we risk going in the opposite direction by making it much harder for land managers to protect land by reducing un-managed fuel loads."
If passed, the WMMB, currently hearing evidence, will put down heavier restrictions on muirburn and where it can be carried out in Scotland.
Mr Hogg said poor access to the right fire equipment and skills and lack of necessary fuel load management was placing a major strain on Scotland's fire service and risking human safety, property and wildlife.
Comments
Want to join the conversation? Please or to comment on this article.